Washington County crowns princesses
KINGSBURY — The 54th Washington County Dairy Princess pageant crowned a new team of dairy princesses for the 2019-20 on April 28. In front of more than 100 people at the 1925 Barn in Kingsbury, five candidates offered speeches on dairy promotion and information.
The new team is anchored by Dairy Princess Erin Armitage, daughter of Lee-Ann and Kevin Armitage of Greenwich. First Alternate Dairy Princess is Mackenzie Spencer, daughter of Daniel and Emily Vincent of Salem. Alternate Dairy Princesses are Hannah Groesbeck, daughter of John and Kim Groesbeck of Salem; Haley Spezio, daughter of Craig and Margaret Spezio of Greenwich; and Jenna Wilbur, daughter of Jon and Melanie Wilbur of Greenwich.
For more information on hosting a Dairy Princess at an event or learning more about the program, call 518-744-7942. For more info or updates on the team's activities, check out www.washingtoncountydairyprincess.org.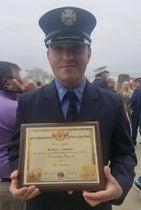 Lake George native joins FDNY ranks
Bradley L. Schreiber, son of Debra L. Schreiber of Jupiter, Florida, and Oscar L. Schreiber of Saratoga Springs, graduated from the New York City Fire Academy on April 18 to become the newest member of FDNY.
Schreiber, a 2014 graduate of Lake George High School, began his emergency services career volunteering in the junior program at West Glens Falls Emergency Squad at 14 years of age.
During his last year of high school, he volunteered at Lake George Emergency Squad and the Glens Falls Fire Department in the CEIP with LGHS. Schreiber went on to earn his associates degree in paramedic studies from Hudson Valley Community College in June of 2016.
While at HVCC, he worked full-time and volunteered at various emergency squads in both Saratoga and Warren Counties. In October of 2016 he was accepted into the EMT/paramedic program that included an additional 20 weeks of training, where he has worked until his career advancement to the NYC Fire Academy.
He continues to volunteer and work part-time at various emergency squads near his residence.
Museum seeks youth art entries
EASTON — The 2019 Youth Art Competition presented by The Washington County Fair Farm Museum is now accepting submissions. This year's composition theme is "Family Chores 1850-1910 in Washington County." Each entrant's original work should depict scenes of daily or seasonal family and farm chores during the 19th century in Washington County. During this time in history, families were busy all year with planting, harvesting, maple sugaring, canning, laundry, milking cows, making butter and cheese, and many other tasks throughout the year.
The competition is broken up into three different age divisions. Only one entry per person will be accepted and the size of the entry cannot be larger than 12-by-18 inches. The artistic work can be created using paint, charcoal, pencil, crayon or marker.
Finished artwork and a completed entry form should be dropped off at the Washington County Fair Office with the artwork clearly labeled with a name, age, address and phone number.
All the submitted artwork will be showcased in the farm museum until October. Winning submissions will receive fair passes and carnival tickets. For more information, visit the Washington County Fairgrounds website at www.washingtoncountfairgrounds.com.
Showboat Cruise to benefit scholarship
LAKE GEORGE — The Lake George Scholarship Association will be holding its 30th annual Showboat Cruise at 6 p.m. Friday aboard Shoreline Cruise's Adirondac. Boarding will be at 5:30 p.m., departure at 6 p.m. and return at 8 p.m. at the Shoreline docks.
This year's entertainment will have the traditional Lake George Jazz Ensemble and special performer Ryan Clark, a 2013 graduate and scholarship recipient of Lake George High School currently based in Nashville, Tennessee. He has made a name for himself as a singer-songwriter with a pop-country Nashville sound. He released his first original EP, titled "Take a Chance," last year and this year a new single, titled "Show Me How," which has had 400,000 hits on Spotify.
While visiting his home in Lake George, he will be featured in many local venues during spring. His work and scheduled performances can be seen on his website, www.ryanclarkmusic.com.
The cruise will feature hors d'oeuvres supplied by local restaurants and individuals, a silent auction and door prizes. All money raised from the event will be used to recognize graduating Lake George High School seniors attending college in the fall of 2019.
The Scholarship Association has been awarding scholarships since its founding in 1953 to over 1000 students, giving over $1,000,000 during those years. In 2018, 46 students received a total of $97,000. Funds for scholarships come from this cruise, an annual phonathon, special dedicated scholarships, general donations and proceeds from scholarship investment funds.
Tickets for the event are $25 each, available at the Lake George High School, Scholarship Association Board members, from Jody Chwiecko at 518-656-3002 or at the Adirondac on May 10. Information regarding the Scholarship Association is also available at the website: www.lgscholarship.org.
Bolton Free Library to host trivia nights
BOLTON LANDING — The Bolton Free Library will host a trivia night at 6:30 p.m. Monday at 4922 Lake Shore Drive. The library will provide popcorn and water. Anything else to drink is BYOB. The second trivia night will be held on May 20. The cost to play is $3 per person, and the winning team (or person) wins the pot.
Queensbury seniors to hold book sale
QUEENSBURY — The Queensbury Senior Citizens will hold the semi-annual book sale on from 9 a.m. to 7 p.m. Thursday and from 9 a.m. to noon Friday at the Senior Center, corner of Bay and Haviland Road. There will be special pricing from 9 a.m. to noon Friday. The sale includes a collection of hard-covered books for $1 each. Trade paperbacks are 75 cents; regular paperbacks, puzzles and videos are 50 cents each. CDs and DVDs are also available. Leftover books are distributed throughout the community. For more information, call 518-761-8224.
Tick talk scheduled Wednesday night
LAKE GEORGE — The growing threat of ticks and their diseases will be the subject of a talk by Mary Beth Pfeiffer, investigative journalist and author of "Lyme: The First Epidemic of Climate Change," and Holly Ahern, associate professor of microbiology at SUNY Adirondack, at 5:30 p.m. Wednesday at the Caldwell-Lake George Library, 336 Canada St.
In her book, Pfeiffer documents the spread of Lyme disease around the globe as ticks move to places they could not survive before. The disease infects half a million people in the U.S. and Europe each year, and thousands in many other countries. Pfeiffer and Ahern will discuss how modern medicine has underestimated the epidemic's danger by framing Lyme disease, mistakenly, as easy to diagnose and straightforward to treat. Pfeiffer has been a journalist for four decades. Since 2012, Pfeiffer has emerged as the nation's leading investigative reporter on Lyme disease. As a result of her family's personal experience, Ahern co-founded the Lyme Action Network, a nonprofit Lyme disease education and advocacy organization and joined the Focus on Lyme Foundation as scientific advisor in 2014. This event is free and open to the public. For further information, contact the library at 518-668-2528.
Spaghetti dinner to benefit mission trip
HUDSON FALLS — The Hudson Falls Methodist Church will host a mission trip benefit spaghetti dinner from 4 to 6 p.m. Saturday at 227 Main St. The menu includes spaghetti, meatballs, tossed salad, bread and homemade desserts. Adults cost $10; children under 12 cost $5; a family costs $25 max. For more information, call 518-747-6832.
Essential oil event planned at library
CORINTH — A workshop will be presented at the Corinth Free Library to introduce people to different aspects of essential oil from 2 to 3 p.m. Saturday at 89 Main St.
An essential oil is "essential" in the sense that it contains the "essence of" the plant's fragrance — the characteristic fragrance of the plant from which it is derived. There will be information on how essential oils are used in aromatherapy as well as the benefits of using essential oils as a natural way to clean in the home. Seating is limited. Reserve a space by contacting the library at 518-654-6913.