Every day, we walk on top of past lives, dormant in the ground.
We walk and drive and live on the remains of battlefields, homes, cemeteries and roads.
In the Lake George and Capital Region especially, artifacts and human remains from the French and Indian War and Revolutionary War are plentiful.
But the protections afforded to these underground, often invisible, heritage sites vary across the world, the country and New York state, too.
Historical sites are in different categories of protection and preservation in the region, from highly developed and conserved places like Fort Ticonderoga to the newly discovered Revolutionary War soldiers cemetery in Lake George.
While laws are in place to protect artifacts and human remains found on state and federal lands, private property owners are free to do as they will. That can make things tricky when forgotten sites are accidentally rediscovered by a landowner digging a post for a new fence or a foundation.
"They turn up kind of the hard way, later, under the blade of a bulldozer, and sometimes it's difficult to figure out what to do with those sorts of things," said Chuck Vandrei, an archaeologist for the state Department of Environmental Conservation.
"A lot of municipalities have control over what they consider to be important, and what they don't consider to be important. While it is protective, a lot of it is up to local control and what people want to do in their community."
A global perspective
The United States offers far fewer protections of its buried history than other countries.
"We default to private property and give our private property owners a ton of rights to do things that other countries don't," said Marion Werkheiser, a managing partner of Cultural Heritage Partners, a law firm based in Washington D.C. "Here, private property owners own everything below the ground, unless they sold it to someone else."
Those conditions stun other countries, such as Egypt and Turkey, which have laws that give the federal government ownership of historical artifacts, Werkeiser said.
Even Great Britain, which our historical protections are modeled after, has a treasure trove law, she said.
"People are always finding coin hoards in England, where they find a bag of Anglo-Saxon coins that were buried there hundreds of years ago," she said. "If you find something like that, you have to notify the government, and they'll give you a reward."
Mark Warner, president of the Society of Historical Archaeology, said the United States has a robust suite of historical protection laws at the federal level.
"The state level varies dramatically from one place to the other, to the point where there are a number of states that really don't have any laws that protect historic resources on state lands," Warner said.
FORT EDWARD — Sometimes we miss the magic that exists in our own backyards, but the magic of Rogers Island was not lost on visitors who came f…
Kelley Berliner, northeast region director for the Archaeological Conservancy, said her organization formed specifically because there are no protections for these kinds of sites found on private property.
"If you have a fort in your backyard, you can go dig up and do whatever you want to do with it, because it's private property," Berliner said. "We formed to try and fill in that gap, to try and acquire those properties and protect them for future research."
Rogers Island: Once private, now public
Rogers Island in Fort Edward was, during the French and Indian War, the largest British military installation in North America. It is the birthplace of the U.S. Army Rangers, where Major Robert Rogers wrote his rules of forest warfare.
The island on the Hudson River is an example of a historical site that has gone from private to public hands.
It had various private owners over the years, most of whom knew its role in history. One of its last private owners, Earl Stott, built his home on the island and conducted a number of digs himself.
FORT EDWARD — In the 1960s, Rogers Island was the place where the local Boy Scouts would go, digging and turning over their finds to whomever …
Stott would host Boy Scout troops from all over the area. They'd camp for the weekend, and using whatever spoon or shovel their families would send them with, they'd get to digging.
Peter Martin, who dug there as a Boy Scout and now digs with archaeologist David Starbuck, remembered using his mother's soup spoon.
Lawrence Dudley of Glens Falls said he was 11 or 12 at the time and watched his friends digging up floorboards and wooden steps of what might have been 18th century soldiers huts.
"It was a treasure hunt," Dudley said. "It was found treasure and there were kids finding broken muskets, spoons, lots of broken crockery, just dug up all over the place and it went into buckets and bins."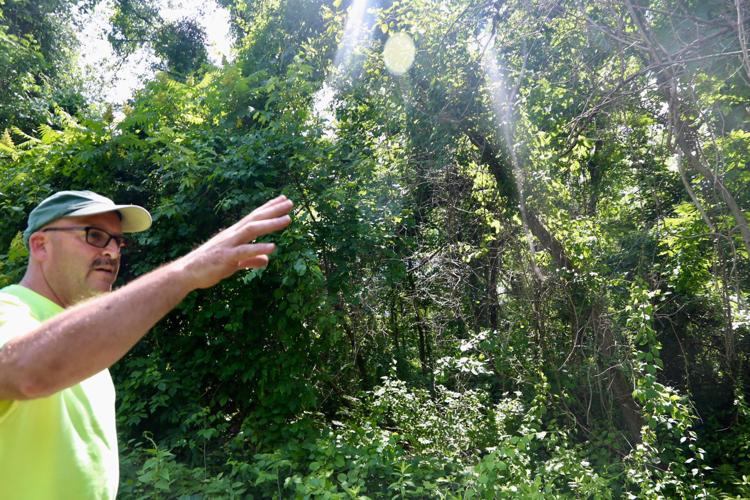 Ed Carpenter, president of the Rogers Island Heritage Development Alliance, said Stott donated some of his finds to the Fort Ticonderoga Museum, because there was no local museum where the artifacts could be displayed.
"When it was in private hands with private owners, no records had been kept," Carpenter added. "Back then, there was no visitor center or local museum. A lot of those things remained in private collectors' hands, homes, garages."
The island took a turn about five years ago, when the village and town purchased it. Carpenter, also a Village Board member, has taken the lead and is working on a conservation easement for the property with the state Department of Parks, Recreation and Historic Preservation.
Bringing the public in
For Carpenter, it is a thrill to see this historic site now open to the public, but that, too, has drawbacks.
It's expensive to operate a visitors center, and the town and village contributed very little financially, after investing more than $1 million in its first few years to get it running.
Carpenter has also found people looting on the island and using metal detectors. Sometimes, people drive their cars up onto the island's lawns.
Vandrei said looters are a problem for all public lands.
"People somehow believe they own these objects when they really belong to everybody," he said.
Even professionals given permission to dig at sites have changed how they protect what's underground.
You have free articles remaining.
David Starbuck, an archaeologist, has been digging in Fort Edward since the 1990s. Starbuck and others uncovered the first smallpox hospital and an officers hut, among numerous other finds, on the island.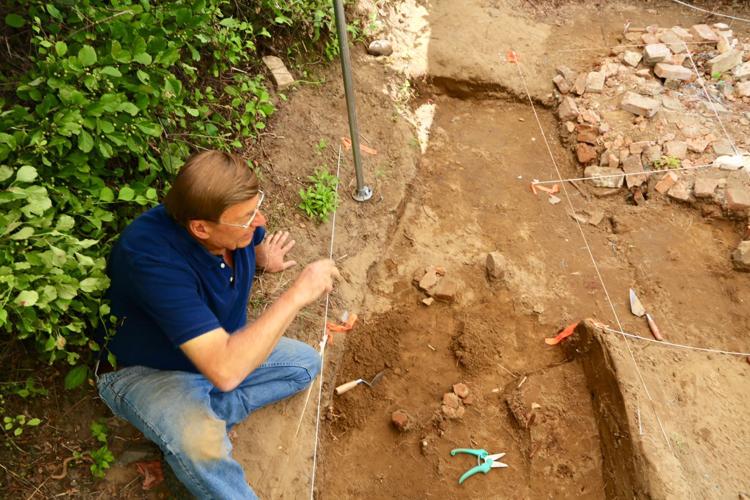 In the 1990s, Starbuck said, the goal was always to dig. Now, the state of New York and others are focused more on preservation.
"Archaeologists are now thinking of the future," he said.
Vandrei said part of the reason it's important to preserve archaeological sites for future generations is that technologies improve. When Vandrei was in field school, for example, to carbon-date an item you needed a golf ball-sized piece of it. Now, a much smaller piece will do.
"Archaeology is destruction," Vandrei said. "It's kind of a saying in the field that archaeologists are the only anthropologists to kill their informants. Again, people try to be a little more thoughtful these days and recognize they're spending a resource."
The people occupying an officers house on Rogers Island more than two centuries ago could read and write, new discoveries during the archaeological dig there show.
Fort Ticonderoga
Fort Ticonderoga is privately owned but under the control of an independent nonprofit focused on protecting the historic military post.
Matt Keagle, curator for Fort Ticonderoga, said the grounds have changed hands over the years — from the federal government, to the state, to Union College and Columbia College (now Columbia University), and then to private landowner William Pell.
Pell, around the 1820s, fenced in a portion of the fort's ruins — "and in doing that, signaled his intention to preserve those historic remains," Keagle said.
The Fort Ticonderoga Association was formed, and in 1909, the grounds were opened to the public. The association owns most of the 18th century military landscape of Fort Ticonderoga, Keagle said.
But even this highly protected site has seen its share of historical losses. At the end of the 18th century, the site's artifacts were treated as raw materials, and cannons and cannon balls were auctioned off.
"There wasn't that same historical understanding," he said.
In the 20th century, Keagle said, "undoubtedly people were taking" artifacts and items, until the museum was formed and more protections put in place. Fort Ticonderoga now follows national standards created by the American Alliance of Museums.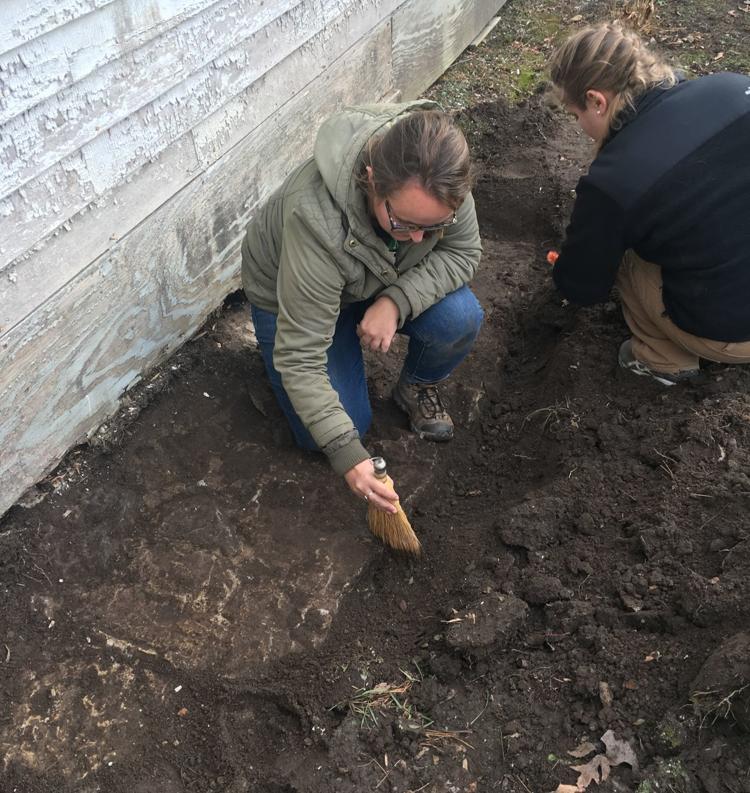 Miranda Peters, director of collections for Fort Ticonderoga, said, like Starbuck, she is seeing the shift to digging less at historical sites.
With digging, historical information can get lost.
"The position where artifacts are found, their relationships to other artifacts, their depth in the ground, all of this is information about the past and beyond," Keagle said.
The site still suffers from looting, too, although it fights back through legal means like trespass and criminal mischief laws.
A new old cemetery in Lake George
At the start of this year, contractors digging the foundation to a basement for an apartment building in the village of Lake George came across human remains.
Vandrei said there are abandoned cemeteries all over New York , but this one on Courtland Street likely holds Revolutionary War soldiers from the Quebec campaign of 1775.
LAKE GEORGE — Lake George Town Supervisor Dennis Dickinson said Friday that he would like to to see the Courtland Street military burial groun…
Vandrei said at first it was "a little rocky to figure out what to do, but we got through it and everybody has been working to recover what's there."
Starbuck has also helped with the dig.
"I think all archaeologists feel that so many cases, when it's private land, private money, and something is being built, there really is not much protection," Starbuck said. "It's great in a case like this when the developers and folks from a host of agencies in Albany, state agencies, and students from a number of different colleges, have been coming to help sift."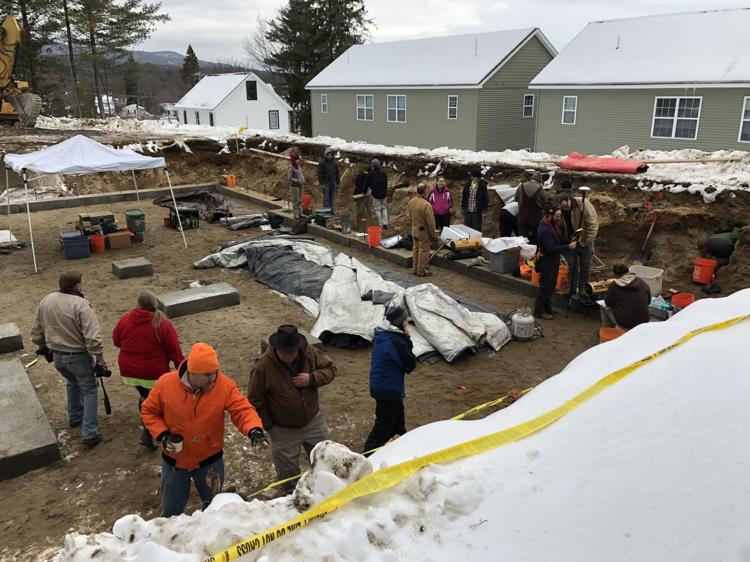 So far, volunteers have found about 29 sets of human remains. Since very few artifacts have been unearthed along with the bones, Vandrei and others think they were hospital patients.
The 18th-century soldiers, some of whom may have had smallpox, would have been wearing long shirts down to their knees in a hospital. Their uniforms may have been laundered and held until they got better or burned if they were infectious.
Vandrei said hospitals and camps were more deadly for soldiers than the battlefield, and researchers are guessing about 1,000 men died in the summer of 1775 in Lake George. Your chances of dying on the battlefield were 2%, Vandrei said, while your chances of dying in a hospital were 25%.
More work to be done
The Lake George case is an example of the challenge of balancing historical preservation with economic development.
"Honestly, there's not a clear answer," Warner said.
People like Starbuck, Berliner and Werkheiser are hoping for more protections of unearthed human remains, at least.
After learning about the Revolutionary War remains found in Lake George last week, I could not but help think about the time a former inmate b…
"I deal with Maine down through North Carolina, and most of those states have no protections for unmarked graves," Berliner said. "And who's usually in an unmarked grave? You got your prisoners, African Americans, Native Americans, you get your poor whites, people who don't have the money to have an elaborate headstone. Those burial grounds get bulldozed, destroyed, covered up, nobody says anything about them, so there's a lot of work to be done."
Werkheiser and many others are excited that legislation is going through the U.S. House and Senate to protect African American burial grounds across the country.
There are some existing laws protecting Native American remains, but Starbuck worries about sites like the one in Lake George.
"Courtland Street is a good example of cooperation, but we all wish this didn't keep happening," Starbuck said. "In towns like Lake George, there are unmarked graves in so many parts of the village. This is going to keep happening, and people just have to be aware."