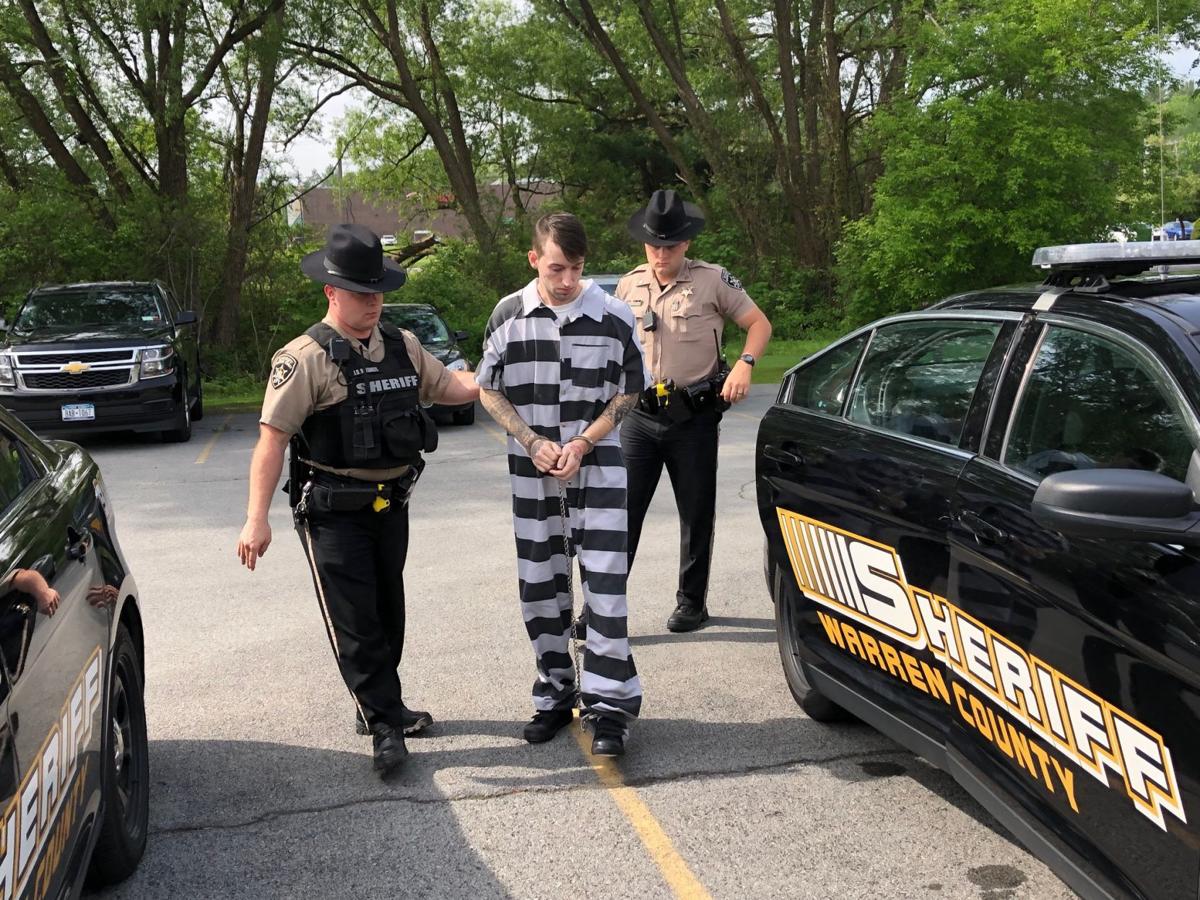 QUEENSBURY — The Glens Falls man accused of a fatal stabbing in Queensbury earlier this year is scheduled to appeal in court later this month for a possible guilty plea.
Jesse J. Breault is scheduled for a possible plea on Sept. 27 for the May 24 stabbing death of 36-year-old Queensbury resident Christopher Goss, court records show. Breault allegedly stabbed Goss in the parking lot of Rick's Bike Shop on Quaker Road, where they had met to fight.
The court file shows a plea offer had been discussed at a recent pretrial conference that would include a guilty plea to first-degree manslaughter, with a second-degree murder charge being dropped. The sentence would range from between 20 and 25 years in state prison, to be followed by 5 years on parole.
Warren County District Attorney Jason Carusone acknowledged there had been discussions of a possible resolution to the case, but said no formal plea offer had been made or accepted by Breault. He said he could not comment further as of Friday.
Breault's lawyer, Derrick Hogan, did not return a phone call for comment Friday.
Breault told a Post-Star reporter at his arraignment in May that he acted in self-defense.
Police said the confrontation between Breault and Goss occurred early that morning because of a dispute between their girlfriends, which had resulted in words being exchanged in the days before Goss' death.
Breault, 26, brought a knife with him to the fight, and Goss suffered a torso wound that caused him to stagger to a nearby home and die a short time later. Carusone said at Breault's arraignment that the defendant "gave several iterations of what took place" when he was questioned by police.
Breault faces a six-count indictment that includes counts of second-degree murder, first-degree manslaughter, first-degree assault, criminal possion of a weapon and lesser counts.
Breault's girlfriend, Ashley N. Bell, 29, of Queensbury, accompanied him to the store and was charged with tampering with physical evidence and hindering prosecution, both felonies. She is accused of lying to police and assisting Breault in removing evidence from the crime scene, as police said he dropped his cellphone there and they returned to get it a short time later.
Charges against her are still pending in Queensbury Town Court, and she has pleaded not guilty.
Breault is being held in Warren County Jail, while Bell is free on bail.
Breault is on probation in Saratoga County for a 2014 burglary conviction and remained free and on probation despite at least three arrests in the years since he was put on probation.
He has since been charged with violating probation, and could face an additional 4 years in prison in that case, consecutive to any time he serves in the murder case.
Don Lehman covers police and court matters and Warren County government. He can be reached at 518-742-3224 or dlehman@poststar.com
Get local news delivered to your inbox!
Subscribe to our Daily Headlines newsletter.