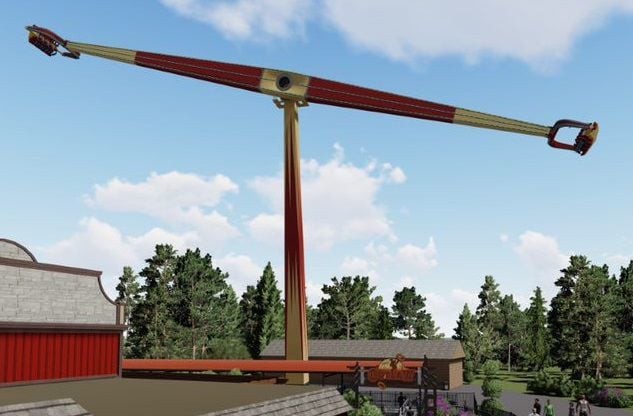 QUEENSBURY — Great Escape has given up its effort to place a 165-foot-tall ride in Ghost Town.
The amusement park withdrew the proposal from the town Planning Board, and park officials will resubmit the plan with the same ride, but in a new location.
Zoning Administrator Craig Brown said he expects the new location to be an area in which rides of that height are allowed. However, he had not yet seen the new plan, he said Monday.
It has to be submitted early this week to be on the next Planning Board agenda, and Brown said he expects Great Escape will meet that deadline.
Great Escape officials backed off after the Planning Board decided the proposal could have a negative impact on neighbors. If Great Escape wanted the ride considered anyway, Planning Board members said they would need to closely analyze many factors. They made an interim list at last month's board meeting, while Great Escape officials squirmed and tried to interrupt, indicating that they were now willing to move the ride.
You have free articles remaining.
The list included requiring the company to find out the age, species and expected life of every tree between Great Escape and the neighbors around Glen Lake, a distance of about a half-mile of forested land. Those trees block most of the sights and sounds of the amusement park, but would not completely block the sight of the proposed ride.
Board members also wanted Great Escape to pay for an analysis on how the noise, light and movement of the ride could affect loons and osprey on the lake, as well as other wildlife. It could have been a lengthy and extremely expensive endeavor.
The board appeared to take some glee in making the list. As soon as it was clear they would require the environmental study, Great Escape officials tried repeatedly to interrupt and were told sternly that they had to wait. At one point, one Great Escape official shouted, "You don't have to do this!"
Planning Board Chairman Stephen Traver answered, "Thank you for your advice" and carried on with the vote.
Great Escape officials then asked if they could avoid the study by moving the ride. They were sternly told to stop interrupting the board during a vote.
Two months ago, board members asked Great Escape officials to simply move the ride to one of the areas of the park where the 165-foot height was allowed, but Great Escape stood its ground. That forced the unpaid board members into research that sometimes extended past 1 a.m. in the weeks before the November meeting, they said.
They needed to become intimately familiar with a 19-year-old agreement between Great Escape and the town. It is more than 700 pages long, including maps, measurements of where balloons could be seen from nearby neighborhoods, comments from the public and plans for ways to mitigate noise, traffic, lights and other impacts.