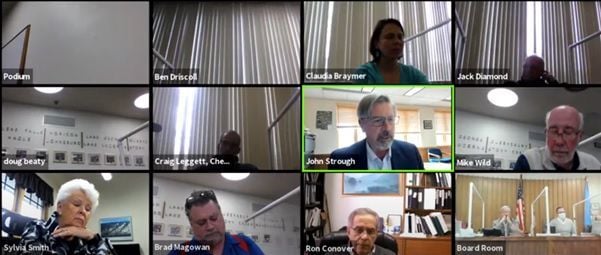 QUEENSBURY — A resolution by Queensbury at-Large Supervisor Mike Wild to censure fellow supervisors over remarks accusing Queensbury Supervisor John Strough of misogyny failed to get support.
Wild, a Republican, introduced the resolution at Monday's meeting of the Governmental Operations and Advocacy Committee to censure Minority Leader Claudia Braymer, Johnsburg Supervisor Andrea Hogan, Queensbury at-Large Supervisor Brad Magowan and Majority Leader Doug Beaty over their conduct at the April 16 meeting.
Braymer, a Democrat, had said Strough's behavior appeared to be "misogynistic" because her fellow Democrat has repeatedly tried to repeal the new majority and minority leader positions.
Braymer said Strough has been attacking her and board Chairwoman Rachel Seeber, who is a Republican. She also claimed that Strough's behavior toward women is the reason why two other Democrats — Catherine Atherden and Jennifer Switzer — left the Queensbury Town Board.
Hogan also said Strough's behavior could be described as misogyny. Magowan and Beaty made comments asking supervisors to stop pursuing a debate over the board's structure but did not mention misogyny.
Wild was seeking censure and a public apology from those board members.
"The comments that were made during the board meeting by a number of supervisors regarding misogyny and the name-calling that came along with that is definitely inappropriate. It's against all the rules of Robert's Rules of Order. It's also the responsibility of the chair of the board to stop that, which did not happen," he said.
Wild said that board members need to show respect for one another, and he has always done his best to respect everyone's opinions. That has not been happening and the board needs to address it, he said.
Glens Falls 1st Ward Supervisor Jack Diamond said he disagreed with Wild. He said the problem is that several of the supervisors continue to "poke" at the same issues and prevent the board from doing the county's business. Every month, the same questions are asked and the same comments made, he said.
Diamond called for people to unite around Seeber, saying she is honest and doing a good job.
"We have new leadership and we have to work collectively together, and I would like to see some of this finally stop. It's aggravating and annoying — not only to us as board members, but I heard it out in public all the time," he said. "I've been in government 25 years and we've hit an all-time low as far as I'm concerned."
Diamond added that if people want changes, they will have the opportunity to implement them in January.
Bolton Supervisor Ron Conover said he believes in due process. Earlier in the meeting, he introduced a successful resolution to send out a letter containing relevant sections of Robert's Rules of Order to all board members.
Among the provisions he wants highlighted are rules saying that debate must be confined to the merits of the pending question; speakers must address their remarks to the chairperson; supervisors should avoid interjecting personal comment; and they should never attack or make any allusion to the motives of members.
He said some people may not know they are violating the rules.
Conover said a board member can raise a point of order at any time, even when a discussion is going on.
Conover said he was "taken aback" by what happened at the last meeting, although neither he nor other supervisors called for a point of order.
He does not want meetings to degenerate into name-calling, he said.
Muted or not
Conover said there has been an accusation a microphone was muted during the midst of a discussion at the last meeting.
"I assume that was a technical glitch, something happened. Some people are reading far too much into that," he said.
"No supervisor has the authority or has been given the authority by the board to terminate any microphone of any elected official at any time," he added.
Magowan said the county has had to overcome some technical glitches in the age of remote meetings. He does not believe anything malicious was done.
Wild asked if people had any idea why the whole board was muted during that time.
Board Clerk Amanda Allen said she did not know. Some board members were attending remotely and some were in the board room.
County Administrator Ryan Moore said if someone has a thought that a staff member muted a board member, he would look into it.
Seeber jumped into the discussion, saying she was glad that board members were muted when she took her oath of office on Jan. 8.
"I was not aware what was occurring during that oath of office, but there were board members that were swearing, that used profanities, that made very off-color comments that should have never been put to our public and it was a horrible representation of the tone and tenor of our board."
Magowan said board members have to be mindful how they speak and be careful of what they mumble under their breath, because the microphones can pick it up.
Strough said foul language is not appropriate, and name-calling is just as bad as offensive language.
"You should not name-call an individual because they're putting forth thoughts that they're having and they want the board to consider. There's decorum that I'm seeing that I don't like. I think these and other issues need to be addressed," he said.
Wild's motion did not receive a second.
Conover said he would not support Wild's motion, at least not at this time. He said the board should be put on notice that the behavior must improve.
"Should this continue going forward, believe me when I tell you, you will have my second in a heartbeat," he said.
Braymer said in an email on Friday that she believes that she and Supervisor Hogan are allowed to raise concerns about a fellow supervisor's behavior.
"The idea that another supervisor would try to censure us for raising our concerns is very troubling. If silencing us, as elected officials, were to be successful, imagine what message that sends to our county employees and residents. I want women in this county to know that they will be heard and that they will be taken seriously," she said.
When contacted, Beaty said Wild's request to censure the women who have spoken out about the behavior of him and Strough proves Braymer and Hogan's point.
"He want to silence these women. His clear-cut bullying tactics on these women is appalling. The gall to try and censure any supervisor from expressing their viewpoints and to attack any other supervisor who may support them is outrageous and undignified," Beaty said in an email.
Beaty said that Wild does not represent the views of Queensbury Republicans toward women in power.
Michael Goot covers politics, crime and courts, Warren County, education and business. Reach him at 518-742-3320 or mgoot@poststar.com.