U.S. Rep. Elise Stefanik is poised to become the third-most powerful Republican in the House of Representatives — a little more than six years after she made history as the youngest woman elected to Congress at that time.
Stefanik, R-Schuylerville, officially declared her candidacy to seek the House Republican conference chair on Wednesday morning — moments after the party ousted U.S. Rep. Liz Cheney of Wyoming over her outspoken criticism of former President Donald Trump. Cheney was one of the Republicans who voted in favor of impeaching Trump for inciting the insurrection at the U.S. Capitol on Jan. 6.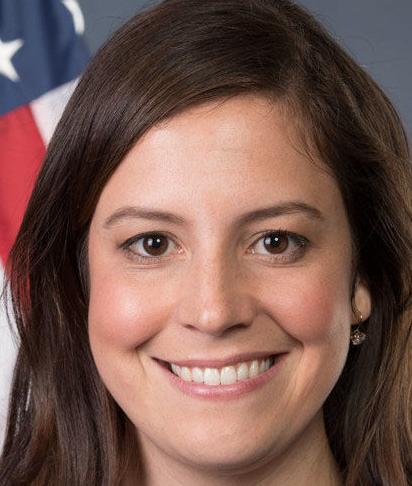 Stefanik said that despite the media's attempts to divide Republicans, the members of the party are united in a "laser focus" to defeat the agenda of President Joe Biden and House Speaker Nancy Pelosi and win back the majority in 2022.
"President Joe Biden and House Democrats have wasted no time ramming through and proposing a radical and catastrophic legislative agenda including trillions of dollars in new taxes on hard-working Americans, trillions in reckless federal spending, unconstitutional gun control bills, amnesty measures that accelerate the crisis at the border, job-killing regulations, a federal takeover of our elections, dangerous national security policies, and invasive government overreach trampling our constitutional freedoms and liberties," Stefanik said in the letter.
Stefanik said Republicans must unite and go on offense to communicate across all media platforms the party's platform "to protect our borders, secure our elections, reopen our schools, get Americans back to work, support law enforcement, protect our Constitution and strengthen our military to counter adversaries like the Chinese Communist Party."
According to Rep. Ken Buck, R-Colo, the party is set to vote on a replacement for Cheney on Friday.
Stefanik, who is in her fourth term, has gone from rising star to political force, with a national profile and an unmatched ability to raise money. Local political experts believe that Stefanik can parlay this leadership position into an even higher profile role with the party.
"If she is ambitious as she presents herself to be, I would think the White House is the goal," said Wendy Johnston, associate professor of political science at SUNY Adirondack.
Johnston said the first step would be the speakership if the Republicans are able to regain control of the House of Representatives after the 2022 mid-terms.
Stefanik helped climb the ladder because of her vocal support of Trump, but Johnston wondered if that was a good long-term political strategy.
"Will Trump have the same influence three years, five years down the road?" she asked.
Stefanik had been a more moderate Republican. She voted against the 2017 Trump tax cuts and has differed with her party on environmental issues.
Some conservatives have expressed opposition to her nomination. Johnston said Stefanik has been able to overcome questions about her conservative credentials because of her record on challenging the 2020 election results. She was one of the members of Congress that raised objection to the certification of President Joe Biden's electoral victory.
"They're willing to forgive the fact that she didn't vote for the tax cuts and she took a pro-environment (stance)," Johnston said.
The leadership post would enhance her ability to raise money even more, according to Johnston.
Stefanik's rising profile
Chris Mann, assistant professor of political science at Skidmore College, said Stefanik was seen as an up-and-comer beginning with her ties to the administration of former President George W. Bush, where she worked in the chief of staff's office. Stefanik was a campaign aide to former U.S. Rep. Paul Ryan, who was the 2012 Republican vice presidential nominee.
After being elected to Congress, Mann said Stefanik kept a relatively low profile for her first few years. Then, she got into a high-profile spat with leadership after the 2018 midterms.
"She said the Republican Party was doing a terrible job recruiting female candidates," he said.
Stefanik formed the E-PAC, which has raised hundreds of thousands of dollars for female Republican candidates.
Stefanik was then thrust into the spotlight during Trump's first impeachment as a member of the House Intelligence Committee, when she aggressively questioned witnesses.
"That brought her into Trump's favor, despite a voting record that was far more moderate," he said.
There are conservatives who would like to challenge her for the leadership post, but Mann said Stefanik took some of the sting out of her being appointed to the position after she said she only wanted to serve through the end of this Congress. Then, she would serve on another committee.
Mann added that it is difficult for another conservative to mount a challenge to the conference chair position because Stefanik represents a woman who stood up for more gender diversity in the party.
The Republicans want a leader who will help raise money and lead the party to victory, according to Mann.
"The electoral considerations here are front and center and probably trump the ideological ones," he said.
In addition, Mann said Stefanik is building a loyal cadre of supporters, including Republican congresswomen who she helped get elected. She can continue to build upon on this base of support in Congress.
Power broker
Mann said this potential new leadership post could give Stefanik a seat at the table when crafting policy, albeit in the minority, and can help advise GOP leaders about where to pick their battles.
For example, she could tell her colleagues not to oppose the Democrats if they are seeking to repeal the portion of the Trump tax cuts that capped at $10,000 the amount of state and local taxes that people can deduct on their federal return, which hurt high-tax states like New York. Also, when Congress is crafting defense bills, Mann said she can lobby to make sure this area gets its fair share.
Being in a leadership post could even help her as New York prepares to redraw its district boundaries because it is losing one seat in Congress. Political pundits have speculated that the majority Democratic state Legislature could influence the redistricting commission to redraw the lines to favor of Democrats.
"Elise Stefanik is looking like a less attractive Republican to squeeze out because she has all this seniority and power," Mann said. "If the Republicans take back Congress, you're going to want somebody from New York."
Instead, the redistricting commission may try to make U.S. Rep. Claudia Tenney's NY-22 district in Central New York a little more blue. Tenney barely won a rematch with former U.S. Rep. Anthony Brandisi to reclaim the seat she lost after the 2018 election.
Mann said Stefanik, already a prolific fundraiser, will be in a stronger position to bring in donations as a leader. The climb just got steeper for any challenger. A Democratic candidate would be able to raise money because of Stefanik's high profile.
"But you're going to run into a wall of money on the other side," he said.
Mann believes that Stefanik is not going to take her eye off the ball and would be able to keep representing NY-21 while serving in the leadership position.
If she needs a role model about how to balance a leadership role in the party and service to the district, Mann said all Stefanik has to do is look at a fellow New Yorker of the opposite party — Democratic U.S. Sen. Chuck Schumer.
"That formula works, and she's shown that she will take care of the district. She's here. She's visible. She runs a good operation," Mann said.
Local officials react
Local elected officials and party leadership are fully in support of Stefanik's bid.
"Elise's ascension in the ranks of Congress would be really good news for the North Country," said state Sen. Dan Stec in a statement. "She's worked very hard for our region and has worked hard to elect Republicans, especially women, to the House of Representatives. She's earned the respect and support of her colleagues. As conference chair, she'd be in a position to do great things on behalf of the party as well as the constituents we both serve."
Stefanik was also endorsed by the Republican chairpersons from each county. The NY-21 Congressional District is made up of all of Warren, Washington, Clinton, Essex, Franklin, Fulton, Hamilton, Jefferson, Lewis and St. Lawrence counties and portions of Saratoga and Herkimer counties.
"Elise has been a fighter for her constituents and a defender of our conservative values in Washington. She has been a champion of our law enforcement community, helped rebuild our military, protected our farmers, brought vital jobs back to NY-21, defended our Second Amendment rights and has been a leading voice against Gov. (Andrew) Cuomo's criminal behavior," they said in a joint statement.
Michael Goot covers politics, crime and courts, Warren County, education and business. Reach him at 518-742-3320 or mgoot@poststar.com.