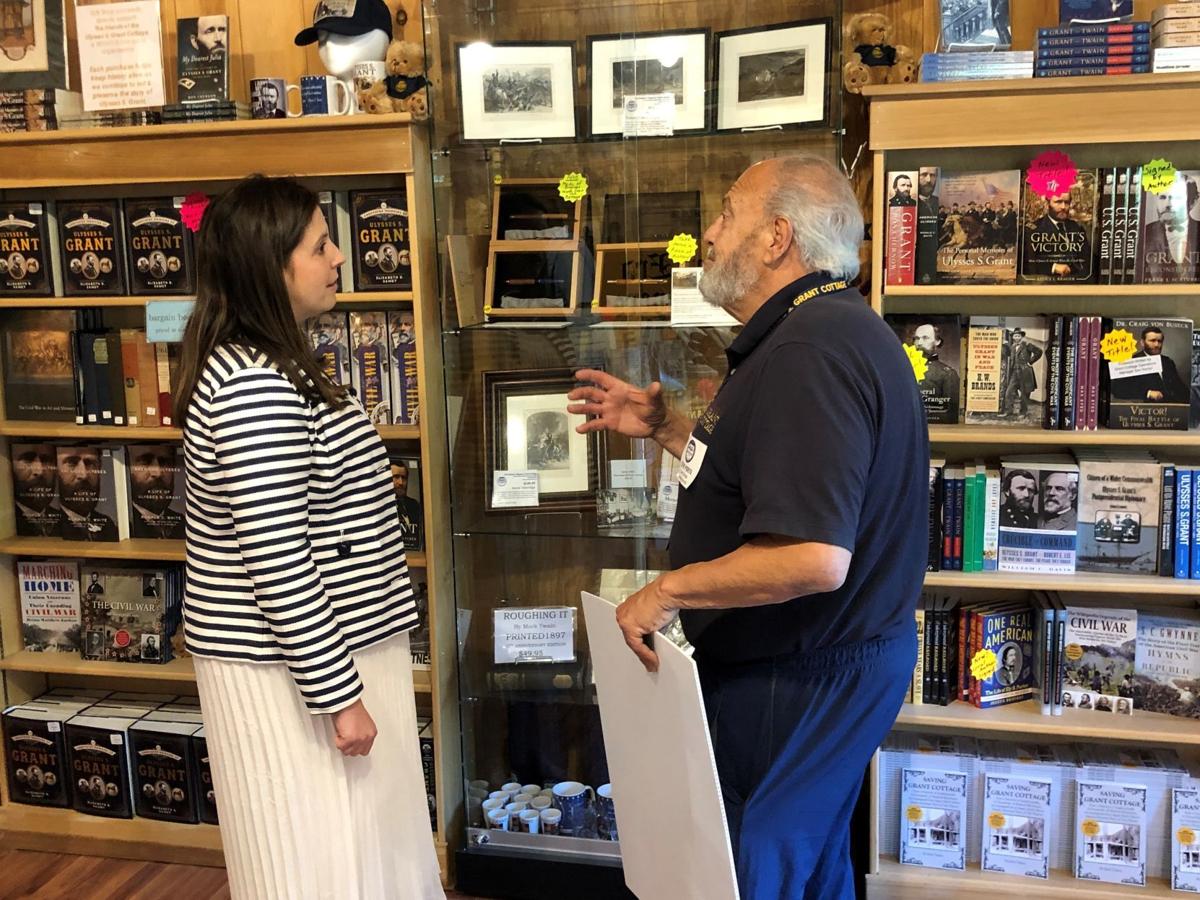 MOREAU — U.S. Rep. Elise Stefanik said Thursday that she voted against the creation of a commission to investigate the Jan. 6 attack at the Capitol because it was too narrow in scope.
"If we are addressing political violence broadly, we need to go back to look at multiple acts that were committed — not just by those on Jan. 6 — but the targeting of Republicans at the congressional baseball practice, where there was a shooting which injured my colleague, (Minority) Whip (Steve) Scalise, and many people almost lost their lives at that event," she said, referring to the June 14, 2017, shooting by James Hodgkinson.
In addition, Stefanik, R-Schuylerville, said the commission should address the violence from Black Lives Matter and the destruction of federal property.
Stefanik said she was also concerned that language in the bill would have the potential for the commission to interfere with law enforcement agencies' ability to investigate and prosecute cases stemming from the Capitol insurrection.
Stefanik made her remarks to reporters after an event to celebrate Grant Cottage achieving designation in January as a National Historic Landmark by the National Park Service.
The 43-acre property was where former President Ulysses S. Grant completed his memoirs about six weeks before his death in July 1885.
Stefanik pointed out that numerous agencies are investigating the Capitol attack, and the House has a working group that is making recommendations about how to make sure Capitol Police have the resources they need and that there is adequate sharing of intelligence.
Stefanik also addressed Georgia U.S. Rep. Marjorie Taylor Greene, who has come under fire for likening requirements to show proof of vaccination to Jews being forced to wear a star during Nazi-era Germany. She also has compared House Speaker Nancy Pelosi's requirement to wear masks on the House floor until everyone is vaccinated to that of Jews being taken to the gas chamber, according to media reports.
"I condemn that comment. That does not represent the House Republicans' position," Stefanik said. "Obviously, there's no comparison to the horrors of the Holocaust. I've been very active to make sure we're increasing education of the next generation of the horrific atrocities that occurred during the Holocaust."
Stefanik said she has not spoken to President Donald Trump about the news of a grand jury being convened to consider criminal charges relating to his business dealings, but called the investigation "politically targeted."
"This is nothing new for New York state and Democrats to target the president. I'm proud to have the president's support and was proud to have the support to win overwhelmingly my position as the House Republican chair," she said.
She also took a shot at President Joe Biden, who earlier in the day, at an appearance in Cleveland, had held up a card with the names of Republican lawmakers who had voted against the American Rescue Plan stimulus package, but touted its benefits after passage. Stefanik was the third name on the list.
Stefanik said she did not support that bill because it was a very partisan piece of legislation.
"It provided funds for illegal immigrants. It provided funds for felons. That's not what the North Country supports. I know Joe Biden needs to have a cue card given to him by his staff. Certainly, I'm going to continue doing my job making sure that resources that are available, North Country businesses, communities and families know how to apply for them," she said.
Among her priorities for this session are making sure that rural infrastructure, particularly rural broadband, is part the ongoing negotiations over an infrastructure spending package.
Grant Cottage eager to welcome visitors
Grant Cottage Executive Director Steve Porto said the organization is excited to show off its remodeled visitors center and gift shop. Also, there are some new exhibits including one of Grant's suits and a robe.
Tim Welch, president of the Friends of Grant Cottage, said the museum has opened up a month early — just one weekend until June — to make up for some of the losses in attendance last year because of the pandemic.
State Sen. Daphne Jordan, R-Halfmoon, presented a proclamation.
"Grant Cottage is a special place. It's a nexus of American history and culture that we are truly fortunate to have in our community," she said.
The property is open from 9:30 a.m. to 4 p.m., with the first tour of the day starting at 10 a.m. and the last one at 3:30 p.m.
Michael Goot covers politics, crime and courts, Warren County, education and business. Reach him at 518-742-3320 or mgoot@poststar.com.