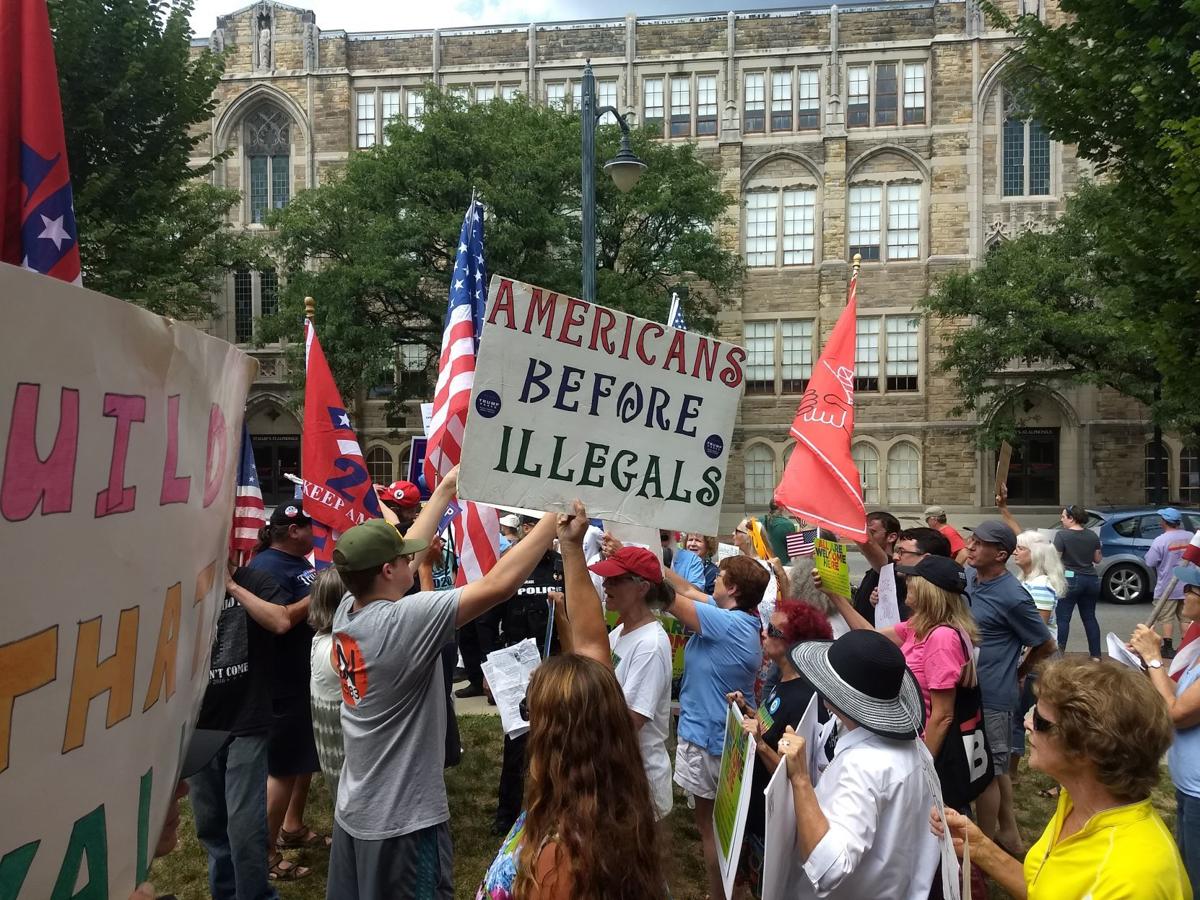 GLENS FALLS — Business owners and residents are expressing concern over the volatile and increasingly heated downtown protests, which they say are hurting the city's image.
The most recent demonstration on Oct. 5, in which city officials alerted the news media that they had received word that a group was going to be bringing unloaded weapons, seemed to be a tipping point.
"People who come to us for our charm, arts, dining, shopping, sports — are going to avoid us because of what they are seeing in the news. People who find themselves downtown tonight are going to feel unsafe and that's what Glens Falls will forever mean to them," wrote one person to Mayor Dan Hall on Oct. 5, according to an email obtained by The Post-Star through a Freedom of Information Law request.
The newspaper requested all correspondence regarding protests to the mayor from Aug. 1 through Oct. 7.
The person also says that residents have "worked so hard to cultivate and market a city that is attractive to tourists and is the best place to live and raise a family."
The demonstration is getting a lot of press and there was a "Boycott Glens Falls on Oct. 5" graphic on Facebook and comments from people who said to stay away from Glens Falls because it is full of Trump supporters causing traffic hazards.
"Is this what we want to be known for?" wrote one.
The personal identifying information is redacted.
City Clerk Robert Curtis said that a New York State Committee on Open Government opinion has found that "portions of a complaint which identify complainants may be deleted on the ground that disclosure would result in an unwarranted invasion of personal privacy."
A local business owner wrote Hall on Oct. 5 that the owner was deeply troubled by the fact that a group may be bringing unloaded rifles and asked how families going to dinner downtown or to a hockey game will have confidence that the demonstrators are following the directive that the guns not be loaded.
Another person said the police officers should check each person carrying a rifle to see if it is loaded.
A person who says they have been doing business in the city for 40 years wrote Hall on Oct. 4 and said she promotes how great the city is to everyone she knows and meets. However, the protests are souring the mood and she has had four people from out of town ask about whether they are making a mistake about the city.
"I'm referring to the Trump rallies and the lack of required permits, resulting in some belligerent individuals who are intimidating others with loud swearing, megaphones and now carrying rifles," she wrote.
This person goes on to say that she remembers the dark days after the shopping malls came into existence when the only restaurant downtown was Elie's Deli.
Another person wrote on Oct. 4 about dangerous comments from Trump supporters on Facebook.
"The group has stated that they feel they should be able to shoot counterprotesters. Similarly, another individual posts 'I want you in my sights. I want your neck under my boot. See you on the streets you anti-white scum.'"
"It scares me and should scare other rational individuals that this group will be allowed to gather with weapons in public when tensions have already become quite tense in the recent past."
Another person wrote a note sharing that same concern, worrying that something like Charlottesville, Virginia, where a right-wing extremist drove his car into a group of liberal protesters, killing a woman and injuring 19 others, could happen in Glens Falls.
Another resident wrote on that same day that they are concerned about anybody bringing rifles.
"I love calling this city home and find it very family-friendly. Displaying firearms during a protest detracts from that. I know there are free speech considerations, but this seems a bit much and is not the type of environment I want to raise my son in.
Another person said they love Glens Falls but would not bring their children downtown.
"And if that's me, feeling the way I do about Glens Falls, I'm just so heartbroken knowing there are so many others who have this taste in their mouth about us and will never come as a tourist when our economy so badly needs them to," they wrote.
That sentiment was shared by another person who said they would "make it my business to stay as far away as possible from this rabble tomorrow and every other time this group assembles."
A lifelong resident wrote on Oct. 4 that they will avoid downtown Glens Falls the whole weekend.
"Typically, I would go to dine or meet friends both Saturday and Sunday. I will also be talking to others to inform them that the city is an unfriendly place to spend money when loud, disruptive and potentially violent Trump supporters are there to intimidate others."
Other correspondence is from the anti-Stefanik group who expressed concern about the verbal language, foul language and threatening physical posturing of Trump supporters who, they say, wanted to disrupt their demonstration.
They urged the city to enforce laws against disorderly conduct and they wanted to know why the police did not do more to keep the Trump groups at a distance from them.
"We do not gather to be cheerleaders for any leader, and that is the difference between our groups. Trump rallies are just that: rallies. Rallies stay in one place. We protest and march our concerns to our congresswoman's office, again our right as citizens, and we are being prevented from doing so. We are being stalked."
A member of American Patriots Express said that there has been no violence or threats of violence at any of the pro-Trump rallies in Glens Falls and "this sort of fearmongering that is being pushed does not help anyone."
The Common Council will hold a hearing on Oct. 22 at 7:20 p.m. about proposed regulations for demonstrations. The law would require people to give the city 10 days' advance notice when organizing demonstrations of 25 people or more and prohibit air sirens, face coverings and banners being affixed to private property. It would also prevent anyone from obstructing traffic flow or the sidewalk.
Hall said the city is reviewing feedback received at the meeting and suggesting changes. One of the main concerns was the lengthy notice requirement to hold a demonstration.
He said he is not sure if the city would be ready to adopt the law at that meeting.
"We would shoot for that," he said.
Get Government & Politics updates in your inbox!
Stay up-to-date on the latest in local and national government and political topics with our newsletter.