GLENS FALLS — Protesters for and against the impeachment of President Donald Trump squared off downtown on the eve of a historic vote in the U.S. House of Representatives.
Shouting various chants, including "hey, hey, ho, ho, Donald Trump has got to go" and holding signs saying "Stop Covering for Trump," about 100 supporters of impeachment marched from Glens Falls City Park to across from the office of U.S. Rep. Elise Stefanik, R-Schuylerville.
"I think Donald Trump has not upheld his duties to the country and the Constitution," said Sarah Hussa of Queensbury.
Hussa said she believes there are larger issues than just the phone call that Trump had with the president of Ukraine, in which he pressed for the investigation of former Vice President Joe Biden and his son Hunter Biden's business dealings in the country.
She believes that Trump is in violation of the emoluments clause, which prohibits the president from accepting gifts, because he owns a hotel in Washington, D.C. and he would benefit from foreign leaders who stay there.
Trump is expected to be impeached by the House on Wednesday, based upon a running tally compiled by the Associated Press. The two articles are abuse of power and obstruction of Congress. Approval would set up a trial in the Senate.
No Republicans have indicated that they will vote in favor including Stefanik, who said she opposes impeachment.
The Democratic-majority House Rules Committee met through the day Tuesday, with lawmakers arguing over the parameters for Wednesday's debate.
Trump would become the third president impeached in history.
"It's unfortunate that we have to be here today, but the actions of the president of the United States make that necessary," said Chairman Jim McGovern, D-Mass. "The evidence is as clear as it is overwhelming.''
He said the president "jeopardized our national security and he undermined our democracy" and added that "every day we let President Trump act like the law doesn't apply to him, we move a little closer" to rule by dictators.
The pro-impeachment protesters at Tuesday's event shared that feeling.
"I think no one should be above the law," said Al Ormsby, of Saratoga Springs.
Agnes Kearon, of Hudson Falls, said she is upset that Trump has blocked some administration officials from testifying in the impeachment inquiry and in the investigation of former Special Counsel Robert Mueller.
"I want to know the truth. I want Trump to testify," she said.
Kearon said Trump has been a con artist his whole life, citing the $25 million fine he had to pay to settle lawsuits for students claiming they were defrauded at the now-defunct Trump University.
"So many lies," she added.
Protesters face off
The group purposely stayed on the other side of the street because in front of the office was a group of pro-Trump supporters, including one with a bullhorn shouting "Commies, go home!" and "Trump 2020!"
Among the groups represented were American Patriots Express, the North Country Deplorables and Friends who Support President Trump.
A few Trump supporters crossed the street and attempted to engage the anti-impeachment demonstrators with taunts, but there were no physical clashes.
Pro-impeachment demonstrator Sara Carpenter, of Queensbury, expressed concern that the police were allowing the Trump supporters to get very close to them.
"They're disrupting our right to peacefully protest," she said.
The city has proposed a buffer of 30 feet between rival groups in its proposed protest regulations that the Common Council has pushed off adopting until it meets with the New York Civil Liberties Union, which has expressed concern.
Mike Kibling, of the North Country Deplorables, kept blowing a whistle, and yelling that it was the pro-impeachment group was blocking the sidewalk.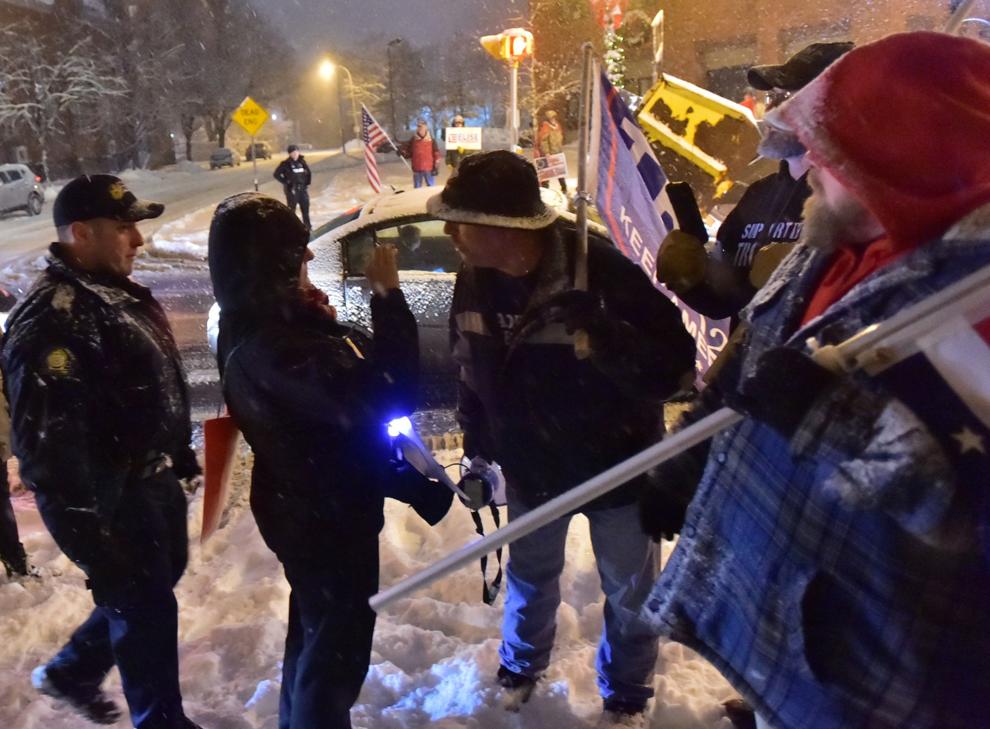 At one point, a woman got within inches of his face until police stepped in and another impeachment supporter pulled her aside.
The impeachment demonstrators, which included members of Saratoga Progressive Action, New Resistance USA and pro-democracy groups, took an oath at the beginning of the event not to engage with the other side.
Supporters back president
Most of the Trump supporters stayed on the other side of the street including Hugh Phillips, of Glens Falls, who stood next to a cardboard cutout of the president.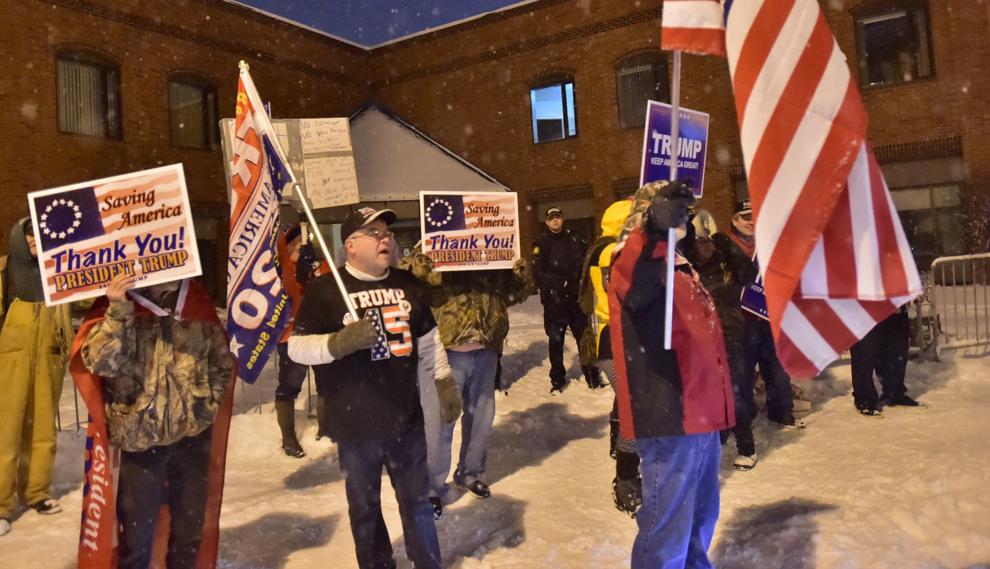 "I think it's a joke. I think it's a waste of money," he said of the impeachment process.
Phillips added that if these people cared about corruption, they would have done something about the case of Hillary Clinton having classified information in emails on an unsecured server.
Bill Bombard, founder of the Friends who Support President Trump group, called the impeachment process a "farce."
He said the case is thin and he predicted that some Democrats would vote against impeachment.
Hudson Falls resident Tom Fitzpatrick said these demonstrators just do not like the fact that Trump became president.
"They day after he got elected, they started impeachment talk. It's ridiculous," he said.
Trump sent a letter to House Speaker Nancy Pelosi maintaining that he did nothing wrong and attacked Democrats for focusing on impeachment rather than other issues.
Trump also said "more due process was afforded to those accused in the Salem Witch Trials."
The top committee Republican, Rep. Tom Cole of Oklahoma, said the split view among Americans over impeachment should be reason enough not to proceed with the rare action. "When half of Americans are telling you what you are doing is wrong, you should listen," he said.
Senate Majority Leader Mitch McConnell is rejecting the Democrats' push for fresh impeachment testimony in a last-ditch plea for the House to "turn back from the cliff" of Wednesday's expected vote.