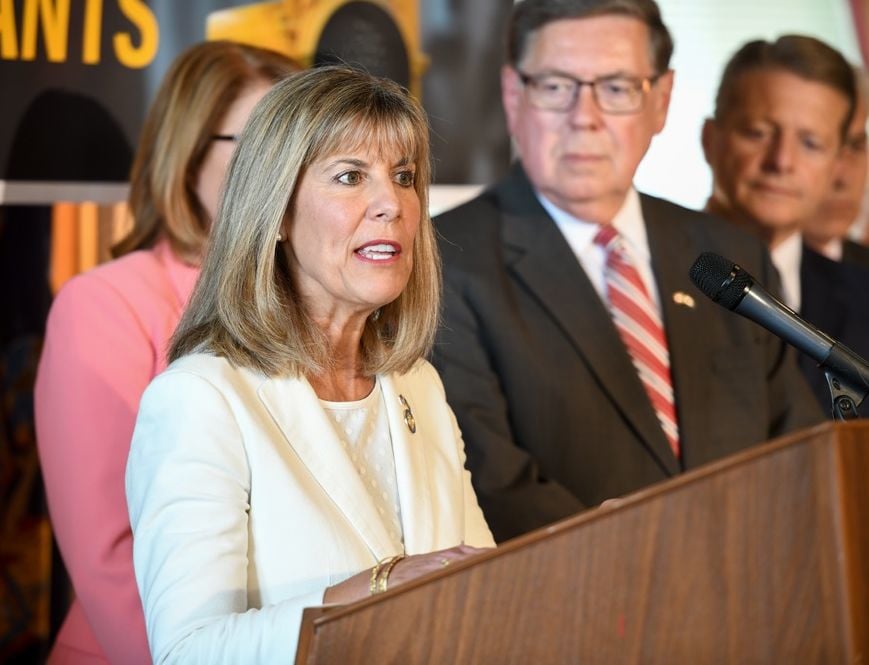 U.S. Rep. Elise Stefanik, R-Schuylerville, joined a coalition of Republican and Conservative Party groups in opposing the so-called "Green Light Bill," which would allow immigrants in the country illegally to apply for New York driver's licenses.
Stefanik released a statement opposing the state legislation, which would allow county clerks' offices to accept forms of foreign identification from these illegal immigrants applying for licenses. It would also prohibit the Department of Motor Vehicles from sharing any databases that could contain information about immigration status with third parties, including law enforcement.
She said the "reckless" agenda of Democrats in Albany and Washington, D.C. would make law enforcement officers' jobs more difficult by implementing state policies that circumvent federal policy.
"Legitimizing and recognizing illegal immigration is a step towards turning New York into a sanctuary state. Our nation needs comprehensive immigration reform, which starts by securing our border. Last Congress, I was proud to vote for the rule of law and to defund sanctuary cities."
Stefanik criticized Democratic opponent Tedra Cobb for her support of giving driver's licenses to immigrants in the country illegally, but not publicly endorsing the new immigration policy of the Democrats.
When asked for a comment, Cobb said Stefanik was trying to "scare" voters.
"Congresswoman Stefanik supports making New York roads less safe and giving drivers less recourse in the event of an accident. More unlicensed, uninsured drivers on the roads is her idea of a good solution. I disagree," Cobb said in a news release.
State Sen. Daphne Jordan, R-Halfmoon, joined her Republican colleagues in the state Senate at a news conference last week to speak in opposition to the bill.
Jordan said people in the country illegally should not be rewarded. She said previously that passing this bill would lead to voter fraud, bank fraud and identity theft.
"This bill is the ultimate political pander and invites potential abuse by anyone — not just an illegal immigrant — looking to do wrong or to hide prior traffic offenses or a criminal record," she said in a news release. "Anyone can reinvent themselves multiple times. The Democrats' bill is a back door effort for illegal immigrants to obtain voting privileges, a privilege reserved for American citizens."
Jordan added that a Siena College Research Institute poll found that 61% of New Yorkers opposed the legislation.
Sen. Betty Little, R-Queensbury, also opposes the legislation.
"Notwithstanding the concerns raised by county clerks and others, my belief is that accommodating those here illegally by offering driver's licenses sends the wrong message," she said.
Assemblyman Dan Stec, R-Queensbury, spoke out in opposition to the bill during the Assembly Committee on Transportation vote last week.
"We should be enforcing our laws, not rewarding and encouraging people to break them. This is a dangerous precedent that not only legitimizes illegal immigration but encourages it," Stec said in a news release.
Stefanik opposes immigration bill
Stefanik last week voted in opposition to House Resolution 6, which would have shielded immigrants who entered the country illegally and as minors from deportation.
The bill would cancel any deportation proceedings against people who entered into the United States illegally and as minors and would grant them permanent residence status for 10 years. It also would repeal a restriction that prohibited states from providing higher education benefits to undocumented immigrants, according to www.GovTrack.us.
Stefanik called the bill "openly partisan legislation" that does not address the crisis at the southern border.
"Unfortunately, H.R. 6 is a sweeping amnesty bill that will expand the flow of illegal immigration, allow criminals and gang members to enter our country, and make our Customs and Border Patrol Officers' jobs significantly more difficult," she said in a news release.
Veteran joins staff
Stefanik has added Mary Rose Planchon, a chemical specialist in the U.S. Army, to her staff in the Watertown district office.
Planchon was previously stationed at Fort Campbell in Kentucky and is now at Fort Drum. She served as a VA benefits advisor there, where she helped provide benefits training and assistance for service members. She will serve as a congressional defense fellow in Stefanik's office with a focus on VA casework and educating veterans about navigating the VA, according to a news release.
Fuel standards bill
Assemblyman Carrie Woerner, D-Round Lake, said Assembly Bill 5262a to establish low carbon fuel standards in New York is expected to be added to the New York League of Conservation Voters' legislative scorecard.
The bill would establish a standard to reduce carbon emissions from the on-road transportation sector by 20% by 2030.
There is companion legislation introduced in the Senate.
"This bill will encourage the use of clean energy technologies like on farm anaerobic digesters, which transform farm waste into renewable natural gas," she said. "This will create a sustainable revenue stream for struggling farmers, eliminate issues of overburdened manure pits and remove methane from the atmosphere."
Get Government & Politics updates in your inbox!
Stay up-to-date on the latest in local and national government and political topics with our newsletter.