Tedra Cobb, Democratic candidate for the NY-21 Congressional District, criticized incumbent Republican U.S. Rep. Elise Stefanik for not speaking out initially in response to the media report that Russian President Vladimir Putin asked the Taliban to put a bounty on American and allied soldiers' heads in Afghanistan.
The New York Times reported that President Donald Trump was aware of the bounties. The Trump Administration said it was not briefed on the matter.
Stefanik, R-Schuylerville, represents Fort Drum, which has soldiers deployed in Afghanistan, and serves as the chairwoman for the Emerging Threats Subcommittee and sits on the House Intelligence Committee and the House Armed Services Committee.
"Her silence is a complete abdication of her duty to protect the brave men and women of the 10th Mountain Division. Congresswoman Stefanik should immediately join her Republican colleagues and call for an independent investigation into Russia, and this administration's failure to act," Cobb said in a news release.
Stefanik's campaign released a statement Monday afternoon at 5 p.m., saying she participated in a White House classified briefing with the director of national intelligence, national security adviser and other personnel.
Stefanik said she will work with the administration to ensure that protecting the country's military force and national security is the top priority.
"Since 2017, the Trump administration has taken decisive actions to counter Russian aggression, including imposing strict sanctions, expelling Russian intelligence officers, closing Russian consulates, and significantly increasing U.S. funding for the European Defense Initiative," she said.
Police reform bill
Stefanik is co-sponsoring the House companion legislation to Sen. Tim Scott's police reform bill.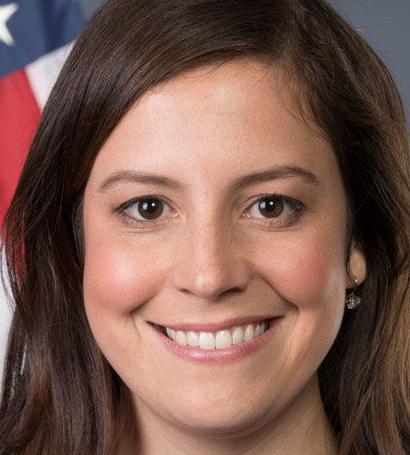 The legislation would require annual reporting on use of force and whether applications on "no-knock" warrants resulted in any death, injury or discharge of a firearm; require law enforcement agencies to maintain and share disciplinary records of officers; provide $500 million for state and local law enforcement agencies to equip officers with body cameras; and increase criminal penalties for people who knowingly falsify a police report.
It would also ban use of chokeholds in all situations other than in which deadly force is authorized; direct the attorney general to develop training regarding the duty of law enforcement officers to intervene when another officer uses excessive force; and make lynching a federal crime.
"The North Country has strong and effective relationships with our law enforcement community, and this legislation will build upon those relationships by improving accountability and transparency, increasing officer training and putting an end to police brutality and excessive force anywhere in our country," Stefanik said in a news release.
Stefanik voted against a Democratic bill. She criticized Democratic opponent Tedra Cobb for saying that she would have voted for that bill, which Stefanik said "allows more rights for violent criminals than it does for good police officers doing their jobs to protect our North Country communities. This is an unacceptable position in our district, where we have productive and effective relationships with our brave law enforcement who put their lives on the line for us each day."
Cobb said in a statement that she does not support defunding the police, but believes reforms are needed. She supports the George Floyd Justice in Policing Act of 2020, which bans chokeholds, eliminates no-knock warrants, requires de-escalating and demands the duty of officers to intervene when excessive force is being used.
Student loan relief
Stefanik has introduced a bipartisan bill to provide temporary relief for Perkins student loan borrowers.
The legislation would allow the nearly 2 million borrowers to forgo making payments on the loans until October, according to a news release. This bill would close a loophole in which certain borrowers were not eligible for the student loan program under the federal stimulus package.
Helping apple farmers
Stefanik has sent a letter to the Department of Agriculture requesting that apple growers be included in the Coronavirus Food Assistance Program.
Apple prices have declined anywhere between 6.5% and nearly 25% because of the COVID-19 pandemic and growers have faced significant supply chain disruptions.
Limiting executive power
Assemblyman Dan Stec, R-Queensbury, is once again calling on the Legislature to limit Gov. Andrew Cuomo's executive powers during states of emergency. His current emergency powers are not set to expire until April 30, 2021.
The Legislature needs to reassert its authority, according to Stec.
"We've seen the major problems with the governor and his staff controlling the entire decision-making process, from the tragedy that's unfolded in our nursing homes to the inconsistencies and waffling in reopening our economy," Stec said in a news release.
Stec is running for the 45th Senate seat being vacated by Sen. Betty Little, R-Queensbury.
His Democratic opponent, Clinton County Treasurer Kimberly Davis, criticized Stec for focusing on this legislation, which has no chance of getting passed.
"That is what we would get if Mr. Stec were elected — someone who is ineffective. He has become very good at sending out a myriad of press releases, taking credit for anything that the governor does and calling for change when the governor doesn't do something he wants," she said in a news release.
Candidates gain endorsements
Four candidates picked up endorsements last week in their bids for office.
U.S. Rep. Elise Stefanik, R-Schuylerville, was endorsed by the 22,000-member Greater Capital Region Building and Construction Trades Council.
Stefanik's Democratic challenger Tedra Cobb was endorsed by the 42,000-member New York State Nurses Association.
Assemblyman Dan Stec, R-Queensbury, has picked up the backing of the New York State Corrections Officer and Police Benevolent Association in his bid for the 45th Senate District seat.
Glens Falls 3rd Ward Supervisor Claudia Braymer, a Democrat, has been endorsed by the Sierra Club in her bid to win the Assembly seat that Stec is vacating.
Get Government & Politics updates in your inbox!
Stay up-to-date on the latest in local and national government and political topics with our newsletter.