Democrat Kimberly Davis on Tuesday criticized Assemblyman Dan Stec for being too partisan and vowed to work across the aisle to represent the North Country if elected to serve the 45th Senate District next month.
Davis, the current Clinton County treasurer serving in her second term, is running against Stec, R-Queensbury, to succeed Sen. Betty Little, R-Queensbury, who announced late last year she would be retiring after representing the district for 17 years.
In an interview with The Post-Star's editorial board, Davis said she decided to run for the seat in order the make people's lives better and to ensure that residents of the sprawling district have a voice in the Legislature's Democratic majority.
"I think it's really important for the North Country to have a representative in the majority," Davis said.
The 45th Senate District covers all of Warren, Clinton, Essex and Franklin counties and parts of Washington and St. Lawrence counties.
Davis considers herself a "moderate Democrat" and said she has a track record of working across the aisle, while her opponent "tends to demonize the left."
"It's not a good idea, in my opinion, to keep people at arm's length because they have a different letter next to their name," she said.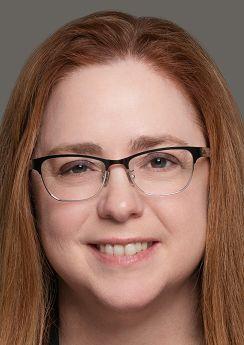 A Long Island native, Davis grew up in a Republican household and served as the town assessor for the town of Hampton. She moved to the North Country in 2002 to attend SUNY Plattsburgh, where she majored in business and philosophy.
After college, Davis joined the Plattsburgh branch of Glens Falls National Bank where she received multiple awards and promotions, including to branch manager, during her five-year stint.
She left the bank after being elected Clinton County treasurer in 2013.
Davis said her background in finance gives her an understanding of the state budget that many in the state Legislature lack.
"I think my fiscal background is important aspect to what I bring to the table," she said. "I think we don't have enough people in Albany that have a financial background."
Davis said she supports increasing taxes on the state's most wealthy to close a looming budget gap brought on by the coronavirus pandemic, but added some services would likely have to be cut to ensure taxpayers aren't responsible for filing the hole.
"I do think we are going to have to cut some things," she said. "For me, it's anything that is non-essential. … We have to look at things that are not affecting people's day-to-day lives."
Davis said she is opposed to defunding the police and suggested expanding mental health services for police stations by hiring mental health professionals that could ride along with an officer in an emergency to help deescalate situations.
Those same professionals would also provide officers with support services after witnessing a traumatic event, like a suicide or homicide, which Davis said departments throughout the state currently lack.
Davis said she would like to expand the state's legislative calendar — which currently runs from January to June — to align more with Congress' schedule and is in favor of term-limits.
"Keeping people in government is not healthy long-term," she said.
She would also like to increase the term for Assembly and Senate to four years from two so lawmakers can focus on legislating rather than fundraising.
The state's economic development policies have been beneficial to the North Country, but more must be done to ensure companies receiving state funding are fulfilling their promises, Davis said.
She proposed adding "clawback" provisions to state contracts in order ensure the state can recoup its money if promises are left unfulfilled.
Davis took a similar stance on the state's effort to increase broadband access, which have lagged behind their intended target.
Parts throughout the district have had no access to broadband despite more than $500 million in state spending to ensure New Yorkers would have reliable high-speed internet access throughout the state.
"We got to hold these companies accountable," Davis said.
Davis said climate change is a "very serious issue" and supports the state's recent efforts to protect the environment, including the Climate Leadership and Community Protection Act, which will reduce the state's carbon emissions 100% below 1990 levels by 2050.
Preserving the environment will not only help ensure the region's tourism economy is protected, but could lead to new, good-paying jobs in the clean energy sector, Davis said.
"We have to make sure the reason people come here is protected," she said.
Chad Arnold is a reporter for The Post-Star covering the city of Glens Falls and the town and village of Lake George. Follow him on Twitter @ChadGArnold.