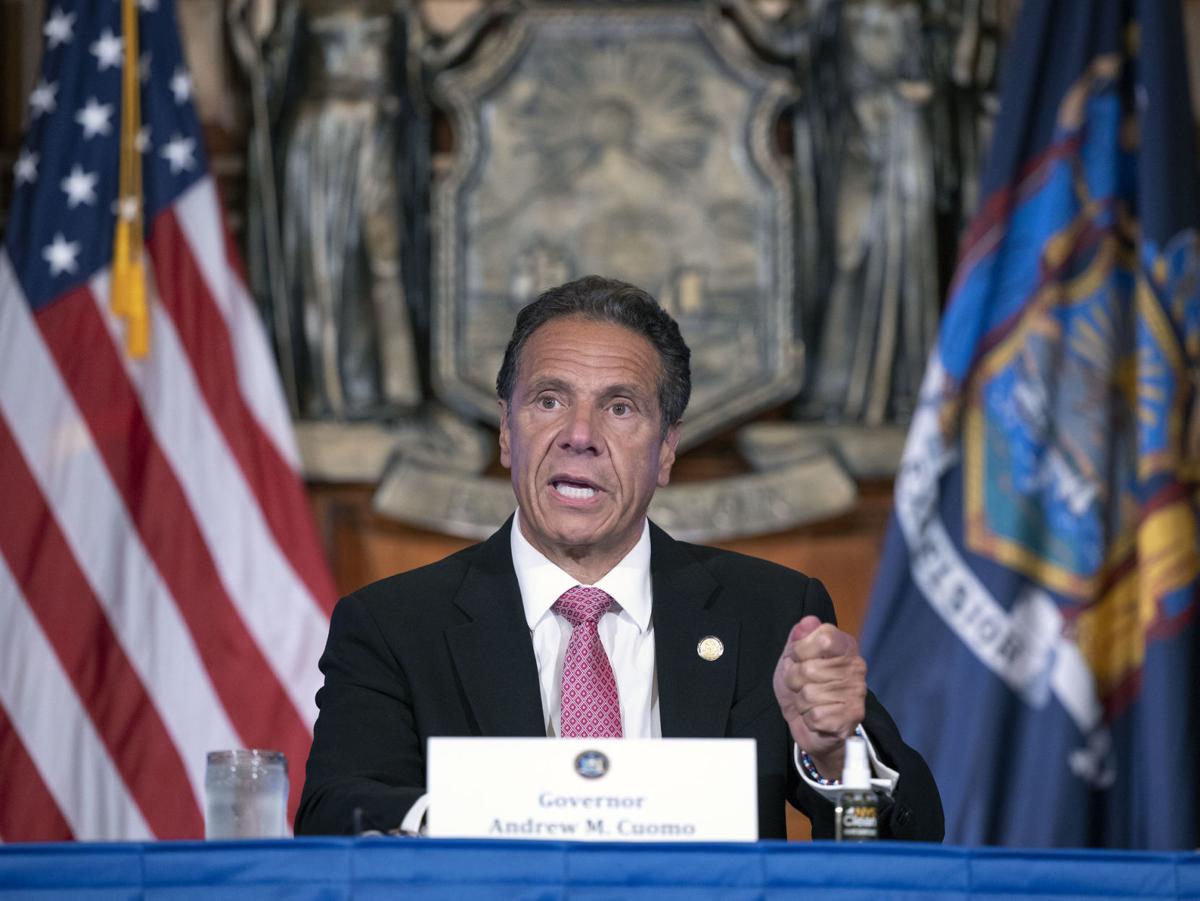 ALBANY — Gov. Andrew Cuomo, setting himself up for a fight with fellow Democrats in the state Legislature, says he is opposed to efforts to raise taxes on high-income New Yorkers to help balance a deficit estimated at $30 billion over the next two years.
The governor and other chief executives in states across the nation are trying to build pressure on Congress and President Trump to provide $500 billion in unrestricted aid to states trying to rebuild their economies battered by the Covid-19 pandemic.
On Wednesday, in a conference call with reporters, Cuomo dismissed the idea – being pushed by many Democrats in the state Assembly and Senate, labor unions and social services organizations – that New York will need to turn to higher taxes on millionaires and billionaires to stave off the possibility of spending cuts to schools, as well as local governments and nonprofits that provide services on behalf of the state.
Appearing to do some quick math on the fly, Cuomo estimated that $50 billion is needed – to help erase deficits facing the state, City of New York and that city's bus and transit system.
"You have 100 billionaires. You will have to tax every billionaire half a billion dollars to make it up. You know what that means? That means you have no billionaires," Cuomo said.
The governor's idea was quickly panned by the top Democrat in the state Senate.
Senate Majority Leader Andrea Stewart-Cousins, a Westchester Democrat, said officials are working to convince Washington to get as large a bailout as possible.
But, she added, "There is no question that substantial revenue action from the state will be necessary," she said in a written statement issued after Cuomo's dismissal of revenue raising moves by Albany.
"We are all hurting and this crisis calls for multimillionaires and billionaires to help our state shoulder this extraordinary burden," the Senate leader said. She added that Senate Democrats have a working group to study possible revenue raisers and that New York State "shouldn't be looking to the already burdened working and middle class to solve the crisis."
Assembly Speaker Carl Heastie, a Bronx Democrat, said additional federal funding is critical. But, he added, that Assembly Democrats have "long favored asking those with more to pay their fair share."
"So many of our neighbors are suffering during this crisis, and we must ask those New Yorkers who do very well to do a little bit more," Heastie added.
The Cuomo administration has been using $13 billion as the estimated deficit in the current fiscal year – which began April 1. The deficit, which many saw coming before the current budget and its spending increases, was adopted in April as Covid-19 spread and the state's economy crashed.
On Wednesday, Cuomo put the current deficit at $14 billion. He said next year will total an estimated $16 billion – assuming all the promised spending increases and tax levels envisioned for 2021 are kept on the books.
Cuomo said he is worried about wealthy people fleeing New York. He said many have temporarily moved from New York City to second homes out of the city – and that higher taxes will keep them from moving home to a city that has its own income tax system.
In the conference call, Robert Mujica, Cuomo's budget director, joined in with his boss's urging to avoid new state tax hikes. He said it would take a "staggering amount" of revenue raisers to try to balance the budget. "The only alternative is really to have the federal government provide the assistance. There's not a way to tax us out of this problem," Mujica said, adding that New York State already heavily taxes its wealthy residents.
The issue is making for some political squirming. Cuomo has been courting the most left of his Democratic Party on a host of issues. Now, however, he's getting increasingly attacked from the left on his refusal to consider higher taxes on the wealthy, a position he also outlined in the spring when the state budget was being adopted.
Groups on the left and those looking to protect education, health care and other areas from deep spending cuts in the months ahead have been pushing a host of revenue-raising ideas. They include everything from higher income tax rates on super wealthy New Yorkers and ending state rebates on stock transfers to big new taxes on second homes owned by rich people and higher taxes on those with $1 billion or more in assets.
The gambling and pro sports industries, meanwhile, are pressing for legalization of mobile sports betting, while others say now is the time to legalize marijuana and collect taxes from the drug's sales in New York.
"We're not experimenting with tax policy. We're in a prolonged social crisis and the stakes here are very high. It seems Governor Cuomo seems to care more about keeping billionaires happy than keeping millions of New Yorkers from going hungry," said Michael Kink, executive director of the Strong Economy for All Coalition, whose members are an advocacy group for homeless people and unions representing teachers, retail workers and health care workers.
"We're already seeing five hour lines at food pantries, a 20% unemployment rate and 2 million people out of work. Governor Cuomo says he spends all his time on the phone with billionaires trying to get them to stay in New York? It just doesn't seem right," Kink added.
The state Legislature this year provided Cuomo with extraordinary budget cutting powers, leaving it up to him to determine what gets cut and when throughout the state fiscal year. For months, he has been threatening to cut big cost centers of the state budget – notably state aid to 700 public school districts – by 20%. He already has cut state aid, quietly, to local governments, like cities, and to programs such as drug treatment providers.
Cuomo released a letter he sent to New York's two senators and congressional delegation in Washington that was different in tone than his recent verbal rhetoric. He has been criticizing the state's federal delegation and said they would have a difficult time going home to their districts unless they score a big federal aid package for the state.
Lawmakers in Washington are still discussing the next federal stimulus bill. In their plan, House Democrats include a big pot of unrestricted money for states and localities; a Senate Republican measure does not.
Get Government & Politics updates in your inbox!
Stay up-to-date on the latest in local and national government and political topics with our newsletter.