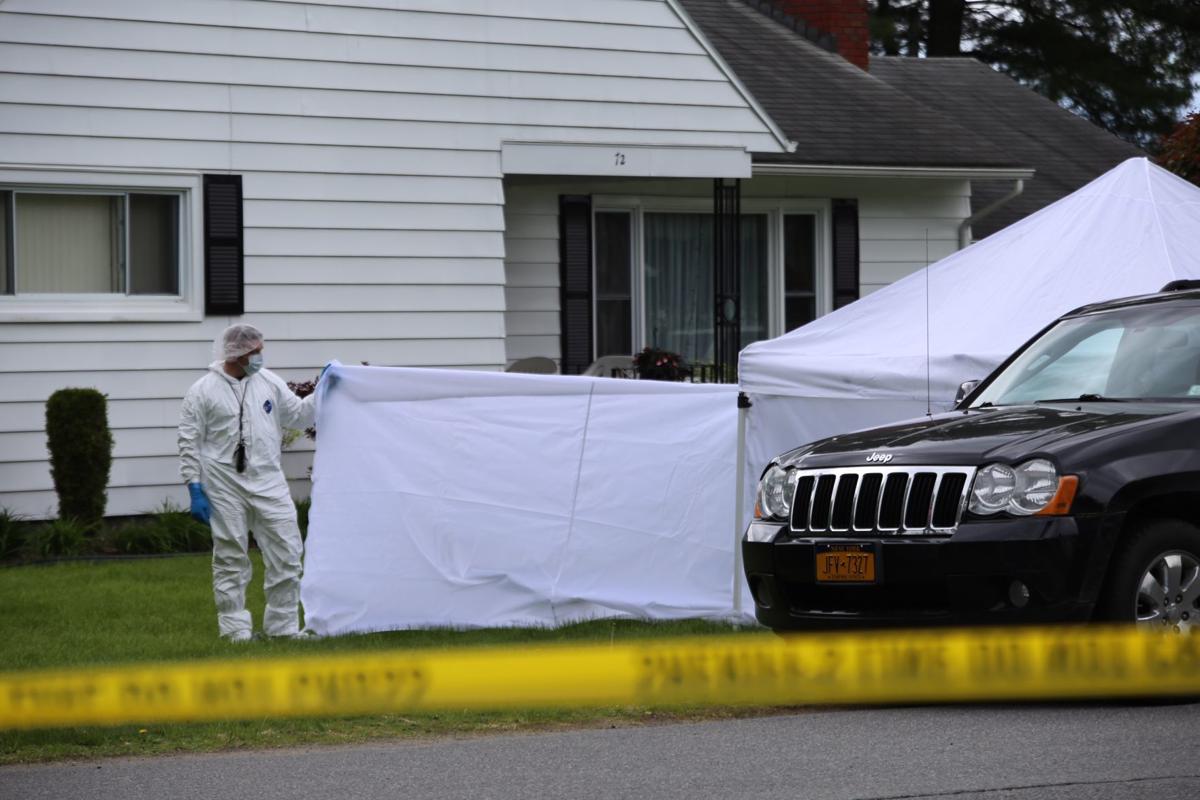 QUEENSBURY — A Glens Falls man has been arrested on a murder charge involving the stabbing death of a Queensbury man, the Warren County Sheriff's Office announced Friday night.
Jesse James Breault, 25, of 22 Morgan St., was charged with second-degree murder, a felony.
Police made another arrest, of 29-year-old Ashley Nicole Bell, also of 22 Morgan St., who was charged with one count of second-degree hindering prosecution, a felony; and one count of second-degree tampering with physical evidence, a felony.
The arrests come at the end of a tumultuous day, after 36-year-old Christopher Goss was found dead early Friday morning on the lawn of a residence at 72 Meadow Lane.
The Sheriff's Office said Goss had been "in the area to meet with an individual regarding a dispute that the two were having. During the confrontation, Goss was stabbed multiple times in the torso."
Officers interviewed Breault and Bell, before charging them with the felonies. Both were scheduled to be arraigned Saturday morning in Queensbury Town Court.
Breault has been in trouble with the law before, arrested in July 2017 on burglary and misdemeanor drugged driving charges in Moreau. In October 2017, he was arrested on a misdemeanor petit larceny charge in Wilton.
Friday's arrests mark the end of a day that started around 4:50 a.m. when investigators responded to Hyacinth Charles-White's 911 call.
Charles-White, who lives at 72 Meadow Lane, had gone to bed around 1 a.m. after watching television, but woke around 4:40 a.m. to use the bathroom. She always looks out the bathroom window, she said, to see whether it's raining or snowing.
That's when she saw something suspicious on the lawn, and her husband told her to call 911.
"I didn't go outside," she said. "I was too scared."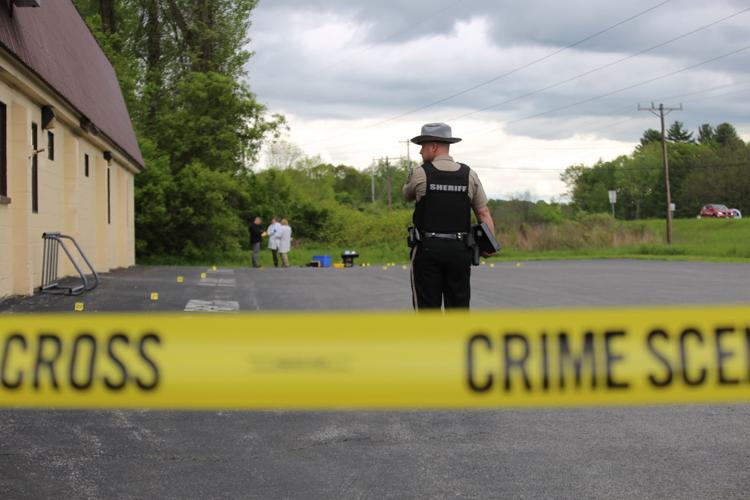 When police came, they shined a flashlight on the lawn, and that's when she saw it was the body of a young man. He appeared to have gotten out of a Jeep, also found at the scene, and walked around to her yard.
A nurse for 45 years, Charles-White said based on where he was found, it seemed like he was coming to her house for help.
Fighting back tears, she said, "I feel he was coming here for a reason, you know, to get help or something, and I wasn't in time. I was just not in time to do whatever he was coming for. He got so far, and I couldn't know why he didn't go over there to the other side," she added, pointing to the neighbor's house across the street, which was closer to the driver's side of the vehicle.
"It seems he figured if he come here, he could get some help," she continued.
Neighbors stood around Charles-White, consoling her and telling her there was nothing else she could have done.
Collen Geczy, who lives diagonally from Charles-White, said she sleeps with the window open and has a dog, and they were not woken up by any disturbance in the night. Also a nurse, Geczy came to check on Charles-White because she knew that Charles-White would have been upset that she couldn't have helped the young man.
Throughout the morning, police set up a white tent around where Goss' body was found.
Police had canvassed the neighborhood in the morning to see if anyone recognized the Jeep that was found next to the body. Geczy said it was not a familiar vehicle.
"We're a small neighborhood, and everybody knows everybody and what they drive," Geczy said. "You know when somebody is a stranger comes through."
Investigators expanded the crime scene during the early afternoon to include the parking lot of Rick's Bike Shop on the corner of Ridge and Quaker roads. York added at the press conference that police were looking at other places of interest in the area, but would not say where.
The bike shop was closed as police investigated and reopened later.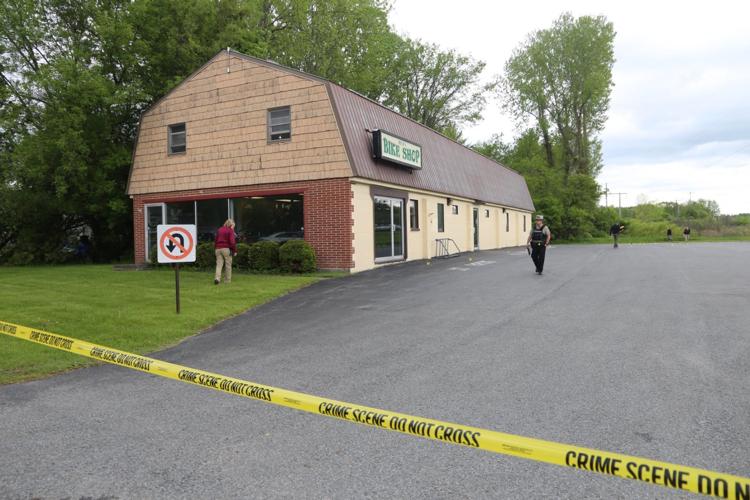 Owner Rick Chiasson said he found a hat in the parking lot when he opened the shop, but left it there. He saw police activity across the street, and a few hours later they came into the shop.
Chiasson had five families inside looking to buy bikes, but police had him clear out the store and the parking lot. They roped off the scene with crime tape. Then he learned there were droppings of blood outside his store.
"I have no idea what happened, but something might have happened here and ended up there," Chiasson said, pointing across to Meadow Lane.
During the search, evidence technicians placed 23 markers and then scraped or scooped up evidence into bags. Chiasson said it was the kind of thing you only see on television.
Resident Staycia Sheerer, who lives across the street and next to Rick's Bike Shop, said the corner of Meadow Lane is where the school bus stop is, but the Queensbury school district was closed Friday.
"Thank goodness we didn't have school today," Sheerer said. "We have baseball, so our life runs on baseball hours, which is 6 o'clock in the morning, and this was the first morning we got to sleep in."
She said it was about 9 a.m. when her children woke her up and told her that a bunch of police officers were outside.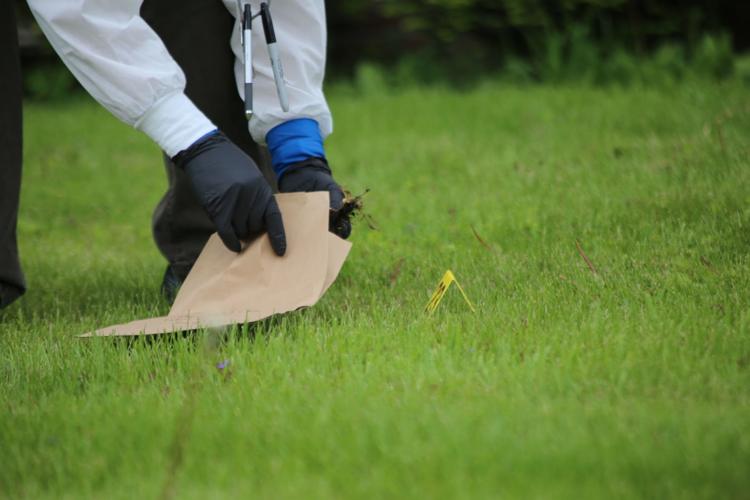 Dressed in their baseball uniforms, her children continued to watch the investigation throughout the day, some sitting up high in a boat parked in the driveway. They were surprised when police took the investigation to the bike shop next door.
"We're all in kind of a shock because we thought it was just over there," Sheerer said.
Following a press conference around 3:30 p.m., Charles-White said police had finally removed the body and the Jeep.
She was upset at how long the body was left on her lawn — more than 10 hours. At first, police covered the body with a sheet, but the wind kept blowing it off, exposing his arms and hands, she said.
"I was wishing to cover his arms, or at least put them to the side, or something, and that was the most horrifying thing," Charles-White said.
Then police set up a tent around the body.
York said the reason for keeping the body there for so long was because police had to obtain the proper search warrants.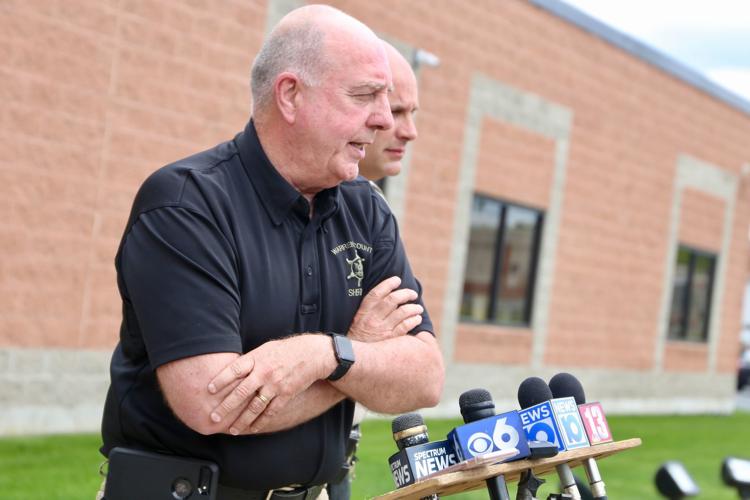 "That takes time from a court," York said. "So until we get the proper paperwork and search warrants to do the in-depth crime scene (examination) that we want to do, we have to get them, and that takes a while."
Richard O'Brien, captain with the State Police's Bureau of Criminal Investigation for Troop G, said the evidence gets photographed, documented and collected by their forensic identification unit. Some of the evidence is processed on scene. Other parts are analyzed at the Warren County Sheriff's Office, others at the State Police headquarters in Latham, and O'Brien added that some things will likely be submitted to the forensic investigation center in Albany.
In addition to the Warren County Sheriff's Office, the State Police's Bureau of Criminal Investigation Unit from Queensbury and Wilton assisted, as did the State Police commuter crimes unit, forensics identification unit, major crimes unit and personnel from the New York State Intelligence Center from East Greenbush.
Editors Ken Tingley and Adam Colver and reporters Kathleen Moore and Don Lehman contributed to this report.
Get local news delivered to your inbox!
Subscribe to our Daily Headlines newsletter.