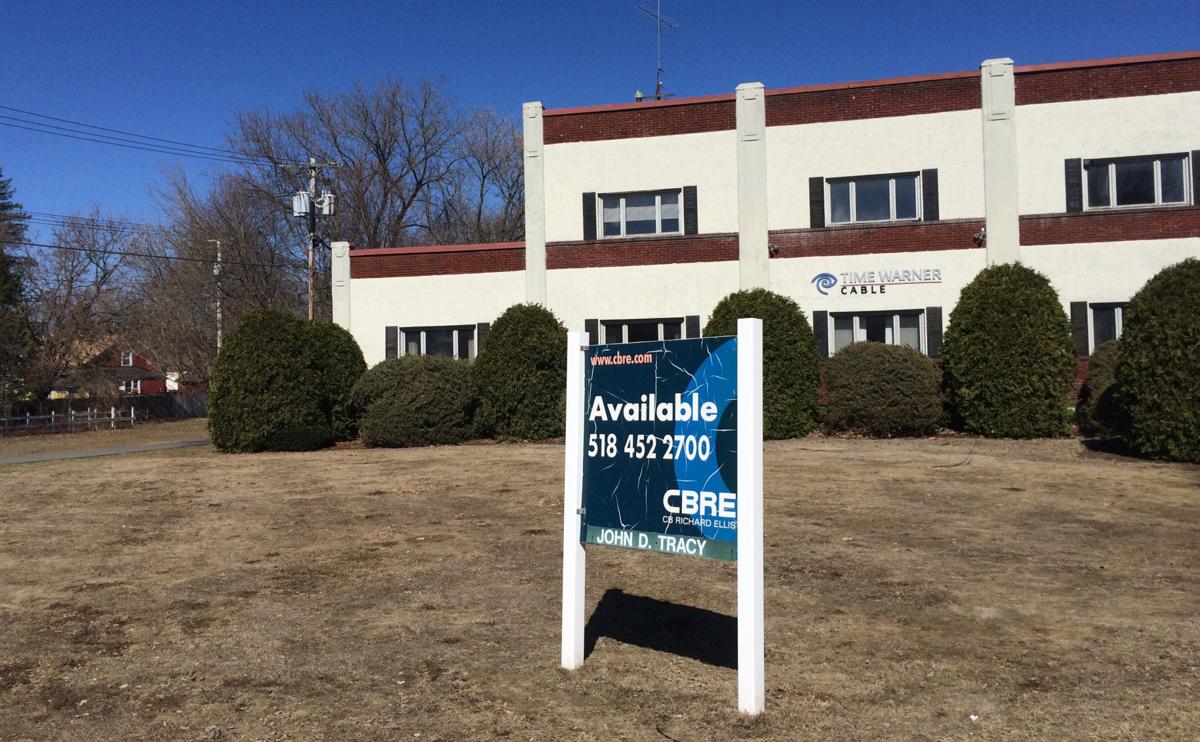 GLENS FALLS — The proposed Stewart's Shop at the site of the old Time Warner Cable building has hit a snag, as the Planning Board wants the company to consider relocating the building on the property to reduce the amount of pavement and improve access for pedestrians.
The board on Tuesday tabled the application by Stewart's to build a roughly 3,850-square-foot store and four-pump gasoline canopy, which will have eight fueling stations, at 250 Ridge St. and two adjacent parcels.
The project had been tabled from the last meeting, because the board had wanted more information about pedestrian traffic in response to neighbor concerns about the safety of children walking to nearby Jackson Heights Elementary School.
Stewart's submitted data from a 2014 traffic study, saying the pedestrian counts are not that high. The report did not recommend any substantial improvements, according to Matt Fuller, lawyer for Stewart's.
"There isn't off-site mitigation that's needed," he said.
Neighbors still expressed concern about the design of the property and its impact on pedestrians.
Resident John Caffry, who lives on Wing Street, suggested moving the building closer to Ridge Street and away from the houses on Graves Street, for more of an urban design. The current layout is automobile-centric and not pedestrian-friendly, he said.
In addition, he said there needs to be more of a landscaped buffer between the store and homes, since many of the trees only have leaves on them for half the year.
"I'm not asking them to do anything radical. It should fit in the neighborhood better," he said.
Resident Tambrie Alden of Cameron Avenue said the project would disrupt the quaint neighborhood because of additional traffic.
She also worried about how long Stewart's would be happy with this design and want to build a still larger store. She cited a larger store being rebuilt at Exit 18.
"Where does it stop?" she said.
Heather Shoudy-Brechko agreed with Caffry that the building should be pushed south to promote pedestrian access. She said she would also like Stewart's to consider reducing the number of gas pumps.
Martha Noordsy, whose property abuts Stewart's, would like a taller fence to provide a visual buffer. She said a more through traffic study is needed, with counts for multiple days.
Resident Sharon Morphis said there does not appear to be any easy solution.
"There is no answer to this that does not affect a lot of people," she said.
Fuller said any changes made to the location of the building would likely make two thirds of the neighbors happy and the rest unhappy.
In addition, relocating the building on the site would mean the building may not comply with setback requirements.
"If we proposed variances, we'd be opposed (by neighbors) for variances," he said.
Board member Rachel Murray said she agrees with the neighbors.
"That's a lot of pavement, and I have to agree with the neighbors that it seems car-friendly, but it doesn't seem pedestrian-friendly in a neighborhood like that," she said.
She also said four gasoline pumps seems too many.
Board member Peter Accardi asked whether the parking could be placed behind the building.
Board member Ethan Hall said he heard many of the same arguments when Stewart's redid its store on Warren Street with more pumps.
"I use Warren Street fairly often. I have not seen any issues down there," he said.
Board member Brigit Culligan said she disagrees that Glens Falls is a car-centric city. She believes the number one reason people move to the city is walkability.
"It was a lot of asphalt. It was a lot of concrete," she said of the proposal. "To me that looks exactly like the Stewart's on Ridge Road in Queensbury."
Culligan said she wants Stewart's to revamp the plan to come up with a more urban design.
"I would like you to meet with neighbors to try to come up with a solution," she said.
The board voted to table the application to the Oct. 1 meeting so Stewart's representatives could come up with alternative designs and obtain more pedestrian traffic counts now that school is back in session.
Get local news delivered to your inbox!
Subscribe to our Daily Headlines newsletter.