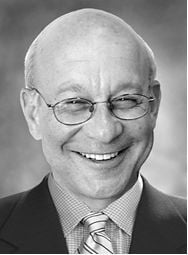 Glens Falls lawyer Robert J. Kafin has been chosen to lead the Adirondack Council's board of directors.
Kafin will succeed Ann Carmel, who chaired the council's board from 2011 to 2015.
"We are thrilled to have Bob Kafin as our new chairman," said Adirondack Council Executive Director William C. Janeway. "Bob is a highly respected environmental attorney who began his career in the Adirondacks, but made a name for himself nationwide with his legal skills and expertise. He is one of the nation's top environmental lawyers and he also cares deeply about the future of the park's communities and its residents."
Kafin is a founding board member of Friends of Coles Woods, Glens Falls Action Committee and the Lower Adirondack Regional Arts Council.
Since 1971, Kafin has developed expertise in the major federal and state environmental laws, was one of the primary authors of the initial set of regulations implementing the NYS Environmental Quality Review Act and among the first lawyers to conduct hearings under the Adirondack Park Agency Act.
He currently serves as chairman of the Times Square Alliance, the business improvement district for the Times Square neighborhood in Manhattan. In addition, by appointment of the NYC Mayor, he is chairman of GrowNYC, the operator of 54 greenmarkets that bring local produce to the city, and other environmental conservation programs in New York City.
From 1991 to 2009, he was a member of the senior management team for Proskauer Rose, a law firm in New York City, serving as its chief operating partner for 15 years and also as its general counsel. He is the founder and a member of the firm's environmental group.
Kafin has served as chairman/president of Citizens for Clean Air; Council on the Environment of NYC (now known as GrowNYC); Environmental Law Section of the NYS Bar Association; Friends of Crandall Library; Glens Falls Conservation Commission; and Parks & Trails New York.
Founded in 1975, the Adirondack Council is a privately funded not-for-profit organization whose mission is to ensure the ecological integrity and wild character of the Adirondack Park. The council envisions a Park comprising core wilderness areas, surrounded by farms and working forests, as well as vibrant, local communities.
The council carries out its mission through research, education, advocacy and legal action. Adirondack Council members live in all 50 United States.
Get local news delivered to your inbox!
Subscribe to our Daily Headlines newsletter.