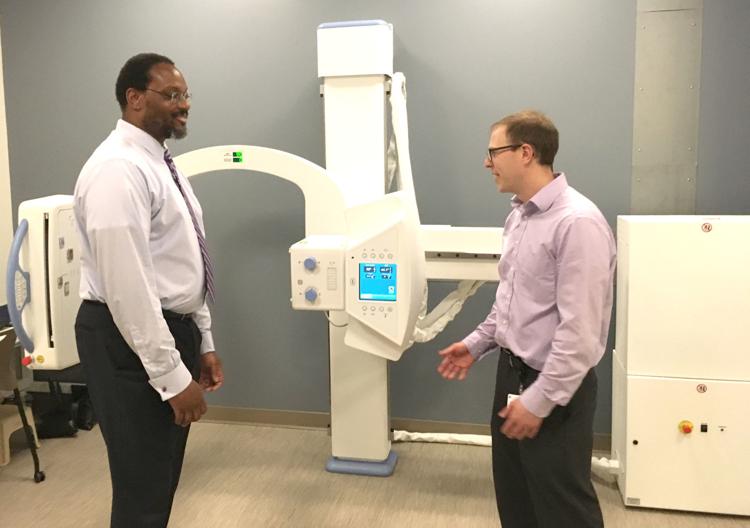 GLENS FALLS — Glens Falls Hospital unveiled its new Surgical Specialists building Wednesday, complete with a cello player to welcome visitors.
Pragmatically, the building at 14 Hudson Ave. is important because the hospital will now get paid more for the same services.
The Surgical Specialists of Glens Falls Hospital office building is located across the road from the hospital, but it counts as "on campus," which allows the hospital to be paid more for professional services.
Six physician surgical practices have joined together (orthopedics, urology, thoracic and general surgery) at the new office.
"We will get additional reimbursement for every patient that is seen," Glens Falls Hospital CEO Dianne Shugrue said recently.
Physicians said Wednesday that the new location is allowing them to treat more patients, too.
They have more exam rooms now, so patients can get in quicker. Providers can also come back from the hospital between surgeries to see an emergency patient.
"We can come back and forth. That to me has been a big, big advantage," said Dr. Mike Lieberth, who specializes in general surgery.
For Dr. Matthew Anderson, who is also a general surgeon, the new location means he can get more work done when he's on call for Emergency Department patients. Before, he had to stay at the hospital, perhaps hauling in paperwork and setting up in an unused cubicle between patients. Now he just walks back to his office, about a two-minute jaunt across a parking lot.
"Catching up with paperwork: reviewing records, charts, lab results," he said. "It's a little bit of a haven versus having a cubicle next to a cubicle. There is something to be said for having your own little spot."
General surgeons take on everything from gall bladder removal to breast cancer surgery.
Orthopedic surgeons at the new practice are also happy because they now have two X-rays, versus one before. They use X-rays a lot, and having two means less waiting. One of them is a digital X-ray, which can rotate around the patient rather than forcing the patient to move into possibly painful positions.
They have also found that the new location allows them to get to Emergency Department patients faster.
Before, they had a surgeon on call at the hospital, but if more ER patients needed orthopedic help, they had to wait their turn.
"Now a PA can run over across the street and take care of it," said Dr. Adam Brod. "So people won't have to wait as long."
They also did not have procedure rooms before, said Dr. Andre Johnson. Now they don't have to send a patient to the ER for procedures that are "a little more complicated" than the standard casting.
Suturing a laceration, for example, used to take place at the ER. Now they can do it onsite.
"It's better for the patients," Brod said.