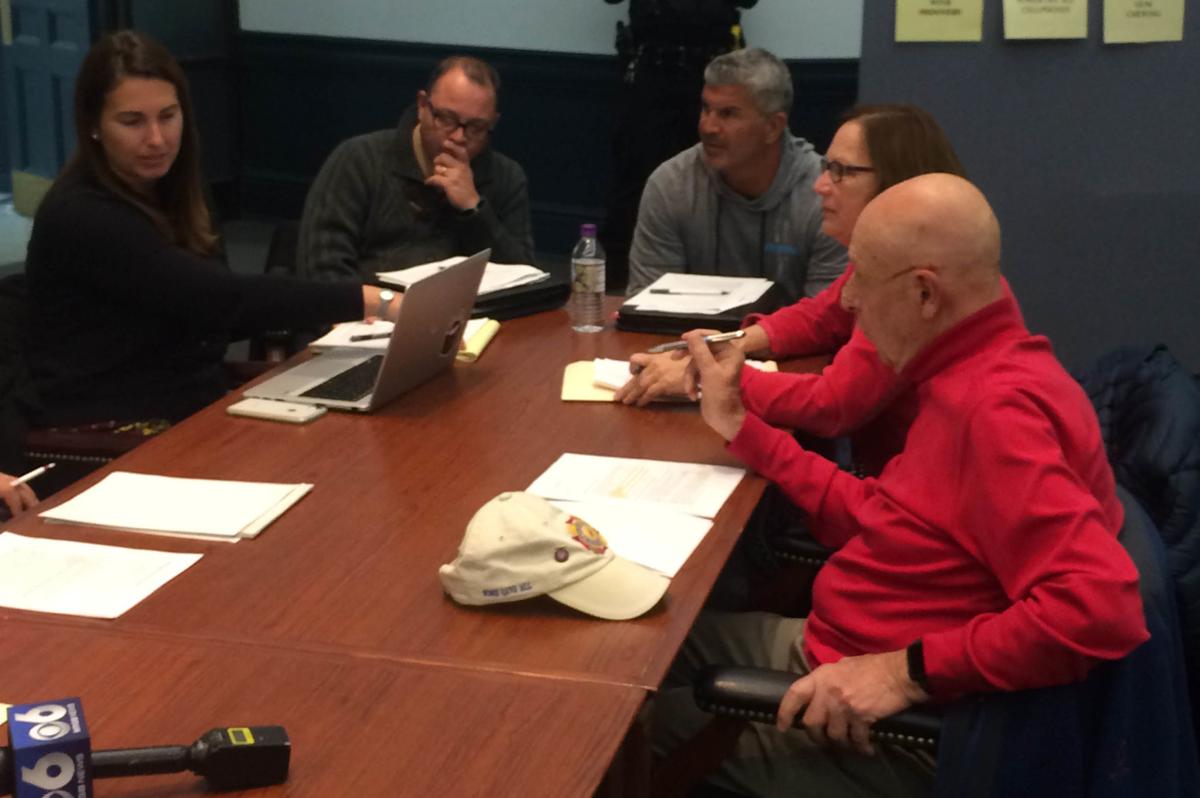 GLENS FALLS — The Glens Falls Common Council made some changes to the proposed protest regulations in a workshop Wednesday evening, including specifying the distance that protesters must be back from the street and removing the ban on facial coverings.
The Common Council is set to take up the final adoption of the rules at its Nov. 26 meeting.
The council made mostly minor changes after City Attorney Ronald Newell went through the document line by line and asked for input.
Council members added the setback requirement to remove any ambiguity in the law.
The proposed regulations would prohibit groups from being in Centennial Circle or at the Civil War monument and require demonstrators to be at least 5 feet back from the roadway in those general locations.
The council wanted a more defined requirement instead of leaving it up to the discretion of law enforcement, but was unanimous in keeping demonstrations away from Centennial Circle.
First Ward Councilman Jim Campinell said people have enough trouble getting through the circle without any protesters.
"I see a lot of people hesitate with no demonstrations — no signs, no honking, no yelling. Now when they have all those factors into play, that's a total distraction," he said.
The council also deleted a reference to facial coverings.
"Facial coverings is too broad, and I feel I could infringe on people's right to express themselves or religion," said Councilwoman-at-Large Jane Reid.
Someone who is wearing a mask is intentionally trying to conceal themselves, according to Reid.
The council also deleted a reference that prohibited splinter groups from breaking off from the main group. Reid noted that protesters move during the course of the demonstration.
"It's not a separate demonstration," she said.
Palmer suggested removing the provision against obscene material, as the state law cited referenced sexually explicit material rather than language.
Fifth Ward Councilman Jim Clark wanted a provision added prohibiting objects from blocking the sidewalk, as well as people.
Also, Reid said that nothing in the local law would prohibit the ability for law enforcement to step in if there was a public safety situation.
The council left unchanged the requirement that organizers of demonstrations of at least 15 people give at least 5 days' notice of the event. For events of 25 people or more, 10 days' notice is required.
There was a lengthy discussion about whether to create an exemption for so-called "spontaneous" demonstrations based upon current events.
Newell said he believes that would defeat the purpose of the local law.
"You may very well find that everybody will say it's spontaneous," he said.
Resident Robin Barkenhagen cited the hypothetical example of "Little Timmy falls down the well" and people rush to City Park to hold a vigil. He also asked if the impeachment hearing is something people could have spontaneously protested.
The council left it up to organizers of demonstrations to make the effort to inform the mayor and city officials about these short-notice demonstrations. The city would review it based upon the ability to staff the event and keep people safe.
"Our concern is trying to make sure we have public safety and ensure it. If we can do that on a moment's notice, we will," said Second Ward Councilman Bill Collins.
Palmer said the city could always amend the law if this became an issue.
Mayor Dan Hall said all of the groups have been pretty good about giving the city a heads-up about their demonstrations.
They also added a third provision to the section that says that violators of the local law can face fines of up to $250, up to 15 days in jail or "such other penalties afforded by law." Reid said she wanted to make sure that people are not limited to just those two punishments, if they commit other offenses.
Even though it was a workshop meeting, the council allowed some public input.
One speaker worried about protesters piling up a lot of infractions if they unknowingly violate certain rules.
"I think the goal is compliance," Palmer said, adding that authorities would like people to correct the violations.
David Archambault, of the pro-President Donald Trump group called the North Country Deplorables, said he believes the council is violating the First Amendment with these proposed regulations.
"It's a constitutional right for us to assemble," he said.
City officials responded that they have the right to regulate the time and manner of these demonstrations.
"You have a right to protest whatever issue you wish to and at any time. We have a responsibility to provide public safety for the residents and businesses of city of Glens Falls," Collins said.