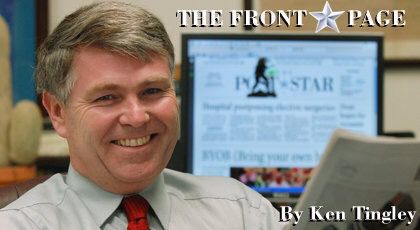 I am a big believer in local media partnerships.
Shortly after I became editor at The Post-Star 20 years ago, we began talks with WNYT in Albany about helping each other.
They would promote the headlines in the next day's newspaper in their 11 p.m. newscast and we would share photos and stories that they couldn't get to up north.
Eventually, we shared a Saratoga bureau office while often sharing our news reporting. Just this week, we used their photos as part of our courtroom coverage in Warren County.
After the 21st Congressional District was reconfigured to include all the Adirondacks and North Country, we began sharing our stories on campaign events with some of the other newspapers — Watertown Times, Plattsburgh Press-Republican and the Adirondack Daily Enterprise. At first, it was just for the debates or rallies during the campaign, but later it became a more formal arrangement, where we all agreed to share our stories on the campaign and the congressional representative.
The arrangement worked so well — at a time when all our resources were being reduced — that a couple years ago we agreed to share all our regional stories. We believe it has been beneficial to all our readers.
Sharp-eyed readers might have noticed something on Thursday's front page that they had not seen before. It was a story from the Albany Times-Union in The Post-Star.
Both the Times-Union and The Post-Star are part of a new AP Story Share program designed to foster collaborative journalism in upstate. The program also seems to be a response to upstate newspapers' complaints about less Associated Press coverage from the Albany bureau.
The Associated Press is a wire service with approximately 10,000 employees around the world.
It is a nonprofit collaborative, and anyone who pays for its services is expected to contribute to its report as well.
When we were asked to be part of the test group for this new project, I jumped at the chance.
Since we get a great deal of news from our partners in the Adirondacks, I was hoping that one of the Capital District newspapers would also contribute.
The story they contributed this week took a close look at the new executive director on the Committee on Open Government. It is a strong piece of watchdog journalism by our friends at the T-U and a subject we might not have gotten to for a while. I was so excited by the prospects for more collaboration I immediately went to the AP Story Share site and shared two more of our stories — Tedra Cobb's appearance in Glens Falls Wednesday and Michael Goot's story about how enrollment in rural schools is declining. This is a partnership that has great potential and one that should do nothing but benefit our readers.
Guest essays
We are always looking for guest essays to run on our Viewpoints page.
The trouble is that more often than not, the guest essays that readers submit are nothing more than long letters.
This is what we are looking for in a guest essay:
Expertise is a good place to start. Anyone who has specific experience in a field or with an issue that is in the news would be qualified to write a guest essay.
We are looking for insights into local issues and challenges that communities face. It doesn't matter how well versed you are in national politics, that's not what we are looking for.
We're always interested in hearing the viewpoints of public officials, especially when it is not right before an election.
While we don't see it very often, a story that touches the heart strings is also always welcome.
If you are interesting in getting a guest essay published, you should first pitch an idea to me with an email (tingley@poststar.com) or phone call (518-742-3225) to see if we are interested. We can talk about your angle and whether it would work for us. Guest essays can be anywhere from 500 to 700 words and shouldn't be time-sensitive. We generally like to run them in Sunday's Viewpoints page, but we like to have a week or so to process any essay.
I'm looking forward to hearing from you.
Ken Tingley is the editor of The Post-Star and may be reached via email at tingley@poststar.com. His blog "The Front Page" discusses issues about newspapers and journalism. You can also follow him on Twitter at www.twitter.com/kentingley
Get local news delivered to your inbox!
Subscribe to our Daily Headlines newsletter.