GREENWICH — David deVries stopped his car.
A high-pitched whistle of staccato notes pierced the air, and two adult bald eagles appeared to tumble out of the sky.
Swooping over the Battenkill in the hamlet of Battenville, the pair separated. One bird perched on a bare tree in view of the car. The other flew a few trees down before alighting on a different perch.
Even bird couples need space sometimes.
deVries craned his neck to watch while Annie Dileo and Ron Renoni whipped out their binoculars for a closer look.
"This is a great start," Renoni said.
They had barely made it a mile from Renoni's house before coming upon the birds.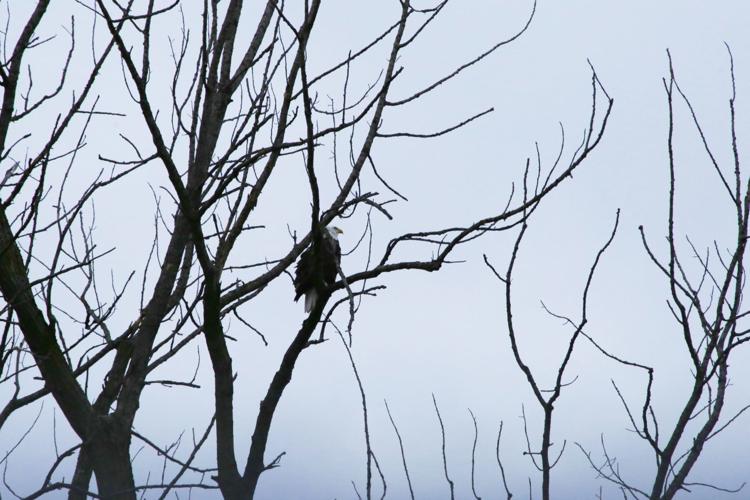 Renoni was conducting a bald eagle survey around Washington County and parts of Rensselaer County on Jan. 10, and deVries and Dileo were helping. Renoni has done the count for two decades. It's part of the nationwide Mid-Winter Bald Eagle Survey, now organized by the U.S. Army Corps of Engineers.
The population survey has changed hands over the past several decades, but the mission has remained the same: monitoring the bird that serves as a symbol of America and was once on the endangered species list. In the 1960s, New York had just two bald eagles left, nesting in the western part of the state.
Peter Nye, who led the state Department of Environmental Conservation's Endangered Species Program for decades, said now there are close to 500 bald eagle nests in New York.
When only two were left
It was 1965 and he was sitting in his truck parked near Hemlock Lake in Livingston County. There, in a shagbark hickory tree, were the iconic white heads and brown bodies.
He kept track of them in a birding journal for years, and time and again he watched the couple try to hatch a chick and fail.
DDT, a pesticide that has since been banned, made its way up the food chain and had a particularly devastating effect on eagles. The chemical weakened their egg shells, so offspring would often not survive.
This compounded on the eagle's already disappearing habitat as trees were cleared for timber harvesting, agriculture and development, not to mention the toll illegal hunting took on the species.
The U.S. Fish and Wildlife Service asked Rauber to document New York's last eagles, according to his journals, which he later published in a 2014 book called "Bald Eagles Soar Again: One Man's Quest to Prevent the Extinction of the Bald Eagle in the U.S." The federal agency even gave him permission to, using his lineman skills, retrieve an egg from the nest.
It was sent to the Patuxent Research Center in Maryland for analysis. No embryo had developed, and DDT was detected in the egg.
As Rauber quietly monitored these rare raptors, the state Department of Environmental Conservation established an endangered species office following the federal government's passage of the Endangered Species Act in 1973. Nye said the federal government gave the state $411,000 to set it up, and it wasn't just for eagles.
Timber rattlers, bats, turtles, falcons and myriad other species were on the list.
Nye graduated from college in 1973 and was a trained wildlife biologist. He was hired in a temporary position with the DEC, but that work led to two job opportunities — one monitoring bears in New York and the other working with this new endangered species program.
In 1976, the state's Bald Eagle Recovery Restoration Program began.
"I didn't have any special expertise in eagles, and I didn't know how to climb trees," Nye said.
Neither did Mike Allen, a 23-year-old wildlife technician with the DEC who worked out of a regional office in western New York.
Nye, who was working out of the Albany office, said there was always a little conflict between people working out of the state agency's central office and people who were working out of the field offices.
That wasn't the case with Allen.
"We hit it off almost immediately," Nye said. "We spent a lot of hours in the field together in vehicles, (using) spotting scopes, monitoring nests — you name it."
Restoration begins
Rauber took the young biologist out to Hemlock Lake on a bitterly cold winter day. Allen remembered seeing the last adult female eagle in the state fly over a hill toward its nest.
"I was hooked," Allen said in October 2016 during an event celebrating the restoration program's 40th anniversary at Montezuma National Wildlife Refuge. "That's all it took, and it's been like that ever since."
Nye, Allen and others embarked on a plan to save these birds, doing something that had never been done before — hacking.
In a partnership with the U.S. Fish and Wildlife Service, the DEC was going to hand-rear young birds to fledge, without human interaction. It had been done before with peregrin falcons, but never with bald eagles.
"It was very much an experiment, very much an iffy situation," Nye said.
Nye, Allen and others traveled to Alaska, Wisconsin, Michigan and Minnesota, where the eagle population was in much better shape, and brought young eagles on a journey to New York.
They erected a tower at Montezuma National Wildlife Refuge, which is in Seneca, Cayuga and Wayne counties, a centrally located place with plenty of habitat for the eagles. The tower included a bird blind with a one-way mirror.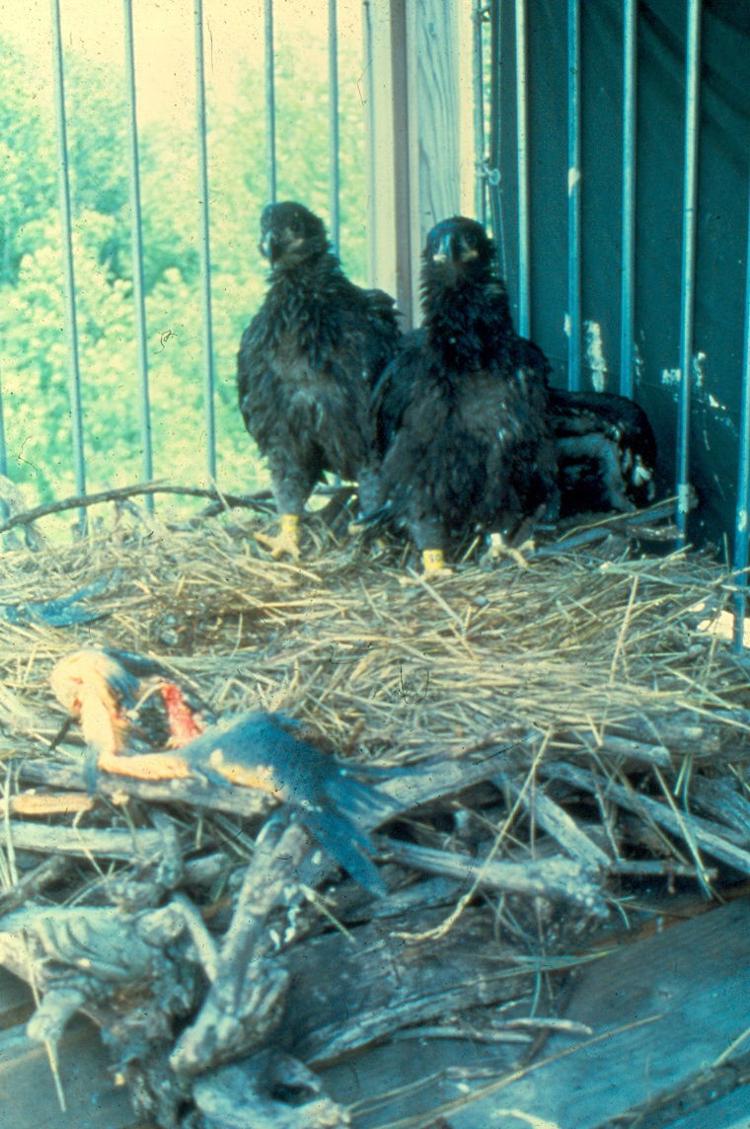 Setting the chicks in the cage of the hacking tower, the wildlife biologists would hide behind the mirrored bird blind, rearing wild eagle chicks up in the tower until they were old enough to fly on their own. At least two attendants monitored the site 24 hours a day, seven days a week, Nye said.
The hacking tower also had a trap door, so once the birds did fledge, the biologists could hurry and place a fish in the cage without being seen. Nye said a retired state trooper helped them with their fish supply, delivering large carp fish, which can get up to 4 1/2 feet long and weigh up to 80 pounds.
Cameras were also placed at the front of the cage so Nye, Allen and others could monitor which birds were eating.
When the young birds started to fledge, sometimes they'd land right in the marshland. They hadn't quite figured out how to fly back up to the cage, and Nye said part of the work became slogging through the swamp to retrieve eagles.
The birds were banded, so when they did finally fly the coop, the DEC could keep track of where they went. Some died, but the program had one of its first major breakthroughs in 1980, when a new nesting pair was discovered in Watertown, about 84 miles from Montezuma. Both birds were banded.
"They were the first eaglets we released in 1976," Nye said. "We were just ecstatic about that. This is phenomenal. They actually set up a nest and had young. That was like a huge shot in the arm. We said, 'This can work. This is no longer an experiment. This can work.'"
Over five years, Nye said they released 23 eaglets from the hacking cage. In 1981, they added more hacking towers around the state, including a tower in the Adirondacks.
The program hit another milestone in 1988, when New York officially had 10 pairs that had settled down to nest. Nye said that was their signal to stop hacking and let nature take its course.
From then on, the state would monitor the eagle population and nest numbers. When Nye retired from his post as leader of the DEC's endangered species unit in 2010, there were 192 nests that fledged 244 young.
A bright future for bald eagles
Rauber and Allen died within two months of each other at the end of 2017. Allen was just 65. He had been battling a long illness.
"He was my best friend," Nye said.
But in his last couple of years, Allen, with the help of a cane and his dog, would get into a car and drive around Montezuma during the mid-winter surveys. On his last in 2017, the Montezuma survey counted 44 eagles, some likely the living legacy of the first birds he fostered in 1976.
Record-breaking numbers were counted the following year — 81 in 2018 — at the site where it all started.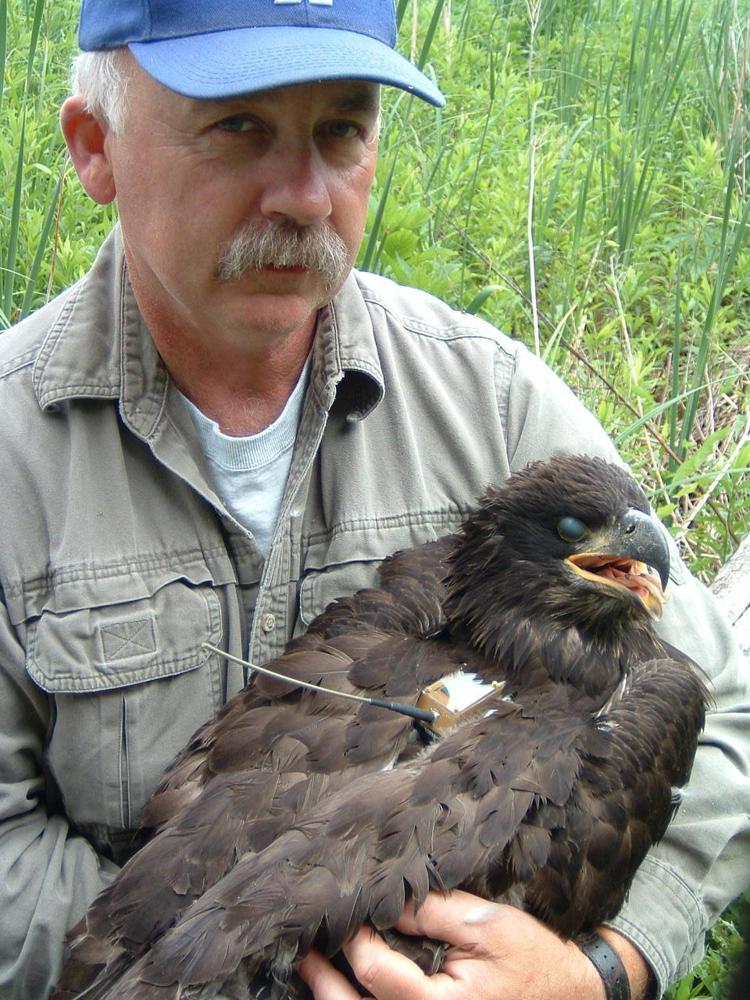 This year's survey at Montezuma has been delayed, said coordinator David Marsh in an email, due to the federal government shutdown. Four gated areas that need special access on the national wildlife refuge were the locales of more than 50 of the eagles counted in the 2018 survey, he said.
The U.S. Army Corps of Engineers told Marsh that if the survey could be completed by February, the data could still be valid.
Meanwhile, counts happened all across the state this month, and Renoni's Washington and Rensselaer counties tally by the end of the day Jan. 10 included 17 bald eagles — 10 adults and seven juveniles. That was close to last year's count, when Renoni saw 19.
Not all the eagles counted in January are resident birds. Some are migrating from Canada, looking for spots of open water to fish.
One of the adult eagles spotted in Greenwich had a blue band on its leg, which Renoni said was from the DEC's banding program that had gone on for many years.
Nye is encouraged by the numbers cropping up across the state. It's better than the DEC had every hoped. He said there are between 400 and 500 nests now. In 2007, the birds were removed from the U.S. Fish and Wildlife Service's endangered species list.
Ever the conservation biologist, Nye still worries about his birds, "even though," he added, "there are many, many eagles, to the point where I'm just smiling every day."
He worries that lead from bullets is poisoning them when the eagles eat carrion. He worries about bird watchers and photographers getting too close, flustering the birds, and causing them to use precious energy to fly off to another perch.
But he feels blessed, he said, to have shepherded the eagles' return with the help of Allen.
"We used to say to each other, 'Nobody can really imagine what this is all about, or how much effort has gone into this, or the passion that we both had for the program,'" Nye said. "That really made a difference."