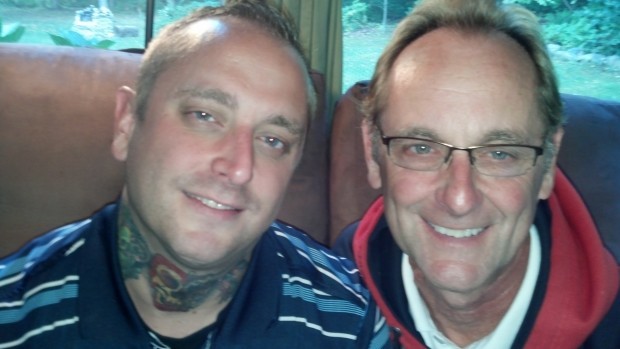 David McDonnell of Moreau said he never takes for granted the simple acts of dressing, getting in and out of the car, or even getting food from the refrigerator after watching the struggles his 34-year-old son encounters daily.
Dylan McDonnell is afflicted with Friedreich's Ataxia, a rare, inherited disorder that affects the muscles and heart.
Structures in areas of the brain and spinal cord that control coordination, muscle movement and some sensory functions are affected and there is no cure.
Since 2008, the McDonnells have worked to raise awareness of Friedreich's Ataxia, and more than $50,000 to benefit Friedreich's Ataxia Research Alliance.
They're now preparing to host the fifth annual free concert on Saturday at the Elks Lodge pavilion in Queensbury.
The FARA event, featuring local bands and basket raffles, is becoming something that people pencil in on their calendars, Dylan said.
"We still have to go out and ask for donations, but half the time people come up and offer," he said. "They'll ask, 'When's your benefit? What can I give? What can I do?' "
The free concert is becoming so well known, David said, that other organizations are donating a portion of funds raised through their events to FARA. At least two benefit golf tournaments and the Adirondack Runners Club, through its Goblin Gallop, have contributed to the cause.
In addition, two friends of Dylan's, Mike DelSignore and Ben Wetherby, have completed a hike up Mount Washington in New Hampshire to help and this year raised a few thousand dollars by climbing the Sierra Madres in California.
"A lot of money is being raised and it's sorely needed because the research is terribly expensive." Dylan said. "People have been great. We couldn't do it without them."
"It's heartwarming," David added.
Dylan was diagnosed at 18 with the disease, and up until about five or six years ago he could walk 50 percent of the time with a walker or a cane. In the last few years, his condition has progressed to where he spends spend most of his time in a wheelchair as the disease has robbed him of his balance and coordination.
"When we go to hockey games we have seats at the very top so he can hold onto the railing. He stands up and stretches," David said.
Dylan's speech remains pretty clear, however, and he seems to remain upbeat and keeps a sense of humor.
He has participated in different treatment trials over the years, including one at Yale University and another at Children's Hospital of Philadelphia, to which he had to travel every other week for two months.
Dylan said the progression of his disease has "plateaued." He doesn't have the common heart problems or diabetes associated with Friedrich's Ataxia and still has strength in his arms, though he is confined most of the time to his wheelchair and tires easily.
David said he feels the $50,000 that has been contributed over the four years is making a difference because most of the money goes to research.
"We're giving more back to FARA for our buck than (others) that have 40, 50, 60 percent administrative overhead," he said. "Expenses have been minimal because we've been cutting down and people have been pitching in quite a bit."
Get local news delivered to your inbox!
Subscribe to our Daily Headlines newsletter.