GLENS FALLS — Edward Bartholomew, the former Glens Falls mayor and current economic development expert who led an initiative to bring $10 million in revitalization funds to downtown, died Tuesday at age 70.
Bartholomew served two terms as mayor, from 1978 to 1985. He also worked for the state Senate and currently was president of EDC Warren County.
He died at St. Peter's Hospital in Albany. Because of the COVID-19 pandemic, funeral services will be private and at the convenience of the family, and a celebration of his life will occur at a later date.
Bartholomew left a huge impression on the community.
State Sen. Betty Little, R-Queensbury, said Bartholomew was a tireless worker.
"He put his heart and soul into every single project that he worked on," she said.
His goal was always to improve the community, she said.
"I love the city of Glens Falls. I would say if there was anyone who loved it more than me, it was Ed Bartholomew," she said.
Little said among Bartholomew's accomplishments was developing the Civic Center and promoting it. Bartholomew was also critical to the effort to win the $10 million state Downtown Revitalization Initiative grant.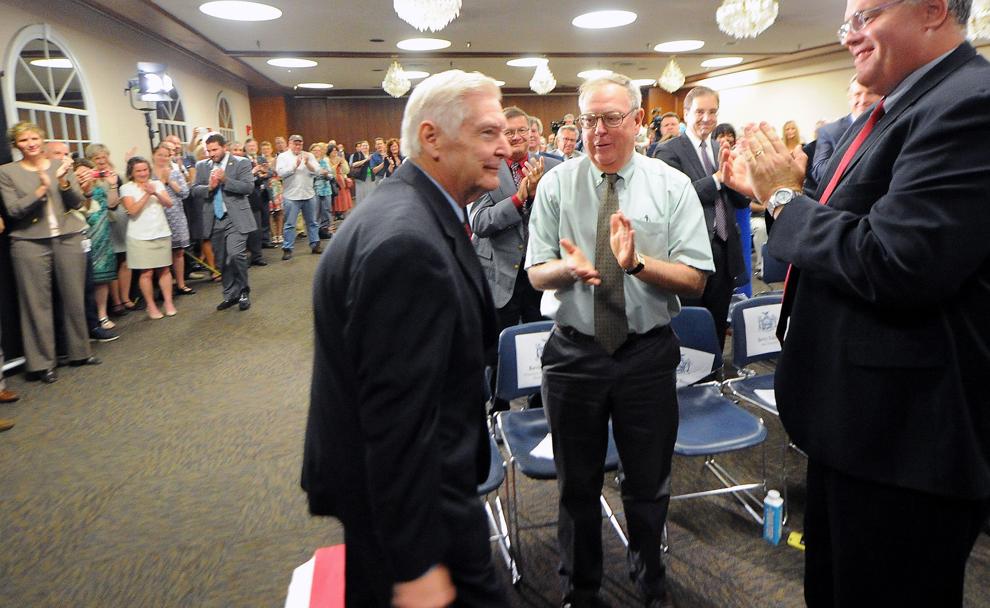 "I think 'promoter' is probably a good name or adjective to use for him. He was always promoting the city of Glens Falls," she said.
Mayor Dan Hall said in a statement that it is a terribly sad day for the city. Bartholomew's death creates a huge void and he left impossible shoes to fill, Hall said.
"I admired his passion and how he dedicated much of his life to the city he loved," Hall said.
Hall said Bartholomew helped make Glens Falls into what it is today, and he cited accomplishments such as redoing East Field and bringing minor league baseball to the city; opening the Civic Center and bringing hockey here; and helping Glens Falls receive funding from the Department of Housing and Urban Development.
Hall said Bartholomew's economic development accomplishments include establishing the Dix Avenue tech park; starting the Glens Falls Industrial Development Agency and the Greater Glens Falls Local Development Corp.; and helping establish the Greater Glens Falls Transit System.
"There is no one I know who worked harder than Ed. He could pick up the phone and talk to anyone. He was connected. His knowledge of Glens Falls history and politics, along with stories about his time working in the state Senate, made for very interesting car rides," Hall said.
He sought out Bartholomew for advice, Hall said.
"Ed was one of my mentors who would always take my call and freely share his opinion and advice, which I regarded highly. Ed pushed me out of my comfort zone because he knew I would grow into my position as councilman and mayor. He will always be on my mind and in my heart," Hall said.
Hall said Bartholomew loved his children and grandchildren and always asked him about his grandson, who has been going through some health issues.
Matthew Fuller, chairman of the EDC Warren County board, said Bartholomew was a great mentor and leader, with a never-ending energy.
"Ed didn't see obstacles. He saw opportunities. If you wanted to see Ed work, tell him he couldn't do something and watch what happened. He had an ability to see through problems and find a way to solve them — project after project," he said.
Assemblyman Dan Stec, R-Queensbury, said Bartholomew was a "real gentlemen" and "kind to everybody."
Stec said Bartholomew had a real intimate knowledge of how everything worked and worked together.
"He was a real resource for so many, many organizations and so many people," Stec said.
Stec said Bartholomew also had a knack for being able to see multiple perspectives — even from those with whom he disagreed.
"He wanted to be a bridge builder and he wanted to get things done for the community, to do things for the right reason. He was willing to help nudge people toward an agreement," he said.
Stec recalled a time when Bartholomew fought to keep Tribune Media in the area. The company was thinking of leaving its location in Glens Falls and was being wooed by other places in the Capital Region.
Bartholomew worked to secure land to create the new road, called Media Drive, which served as a connector between Luzerne Road and Main Street, near Northway Exit 18, in Queensbury, and helped find a new location for the company in that area. Those efforts culminated in an announcement that the company was going to stay in the region.
Stec lamented the loss of Bartholomew's institutional knowledge and memory.
"It was in Ed's head. He knew how things fit together," he said.
Harold "Bud" Taylor, who served as a councilman when Bartholomew was mayor, said it is hard to mention his name in Glens Falls without thinking about economic development.
"What I liked about Ed is he didn't just go for the big projects," he said. "He didn't forget that there's smaller projects, and he worked just as hard to establish them as the larger projects.
Pillar of the church, community
Bartholomew was very active in his church — Christ Church United Methodist. The Rev. Rich Weihing called him a "pillar of the church," who served in many leadership positions.
Weihing has only been pastor since July 1, but has known Bartholomew for about 20 years.
"One of his greatest gifts was his passion for the church serving outside its walls," he said.
That included the creation of the Saturday Suppers the church organizes for the needy and the annual Christmas breakfast.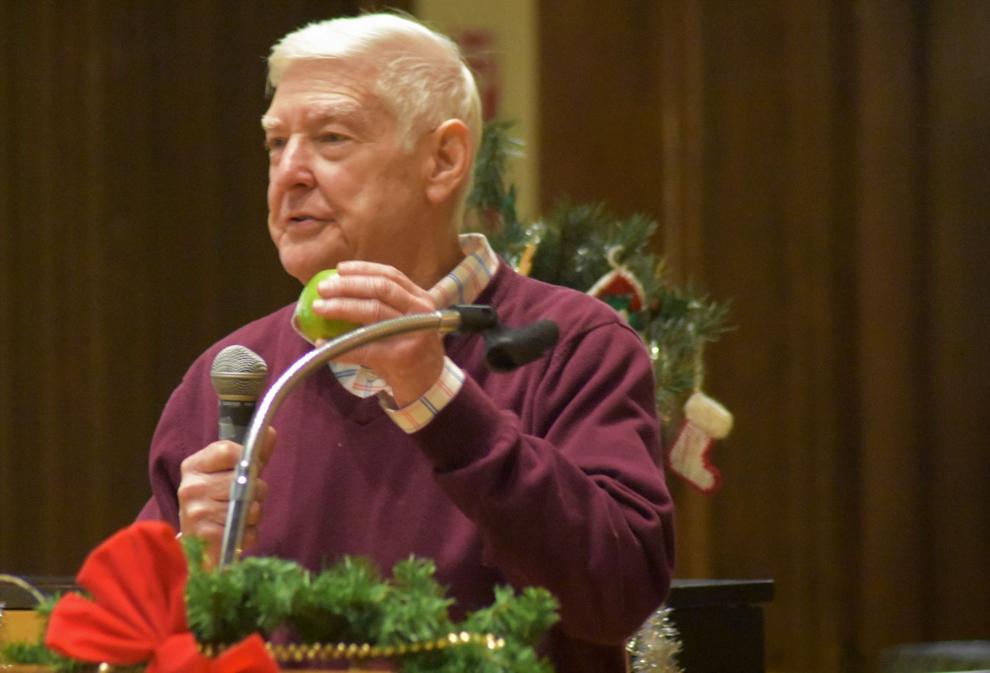 "I would call him a joy-filled person — excited about his church, excited about his city, his community," he said.
Former Post-Star reporter Maury Thompson also shared fond stories that Bartholomew told, including his excitement about introducing the Beach Boys on stage at one of the first concerts held at the Civic Center and throwing out the first pitch at a Glens Falls White Sox game at East Field.
"In his closet, he still has the uniform," Thompson said.
Thompson said Bartholomew spearheaded high-profile intermunicipal projects that have far-reaching effects to this day, including the wastewater treatment plant and the Greater Glens Falls Transit System.
"It really is a key point of economic development. Without the transit system, probably Great Escape, Aviation Mall and all the hotels in Lake George would not be able to operate because that's how the help gets to work," he said.
Thompson, who worked with EDC Warren County after leaving The Post-Star, said Bartholomew deserves credit for saving the building, where Spot Coffee is now, from demolition under the city's urban renewal initiative.
"He went out and found a tenant and saved it from the wrecking ball and we have that beautiful building today," he said.
Godnick's Furniture occupied the space until 2004.
Thompson said Bartholomew was not just about recruiting businesses, but also lending a hand. People would contact him if they were having an issue with a landlord or employer. Bartholomew would work quietly behind the scenes to resolve the matter.
Thompson said Bartholomew was very close with his family. Part of the reason why he decided to come back to Glens Falls in 2010 to become the city's community and economic development director is to save the two-hour round-trip commute time to Albany.
"He would also stop over to see his mother and sometimes go to the school to have lunch with one of his grandchildren, and he also went to other their Little League and football games," he said.
Tributes pour in
Tributes poured in Wednesday from all over the region as the news of Bartholomew's passing spread.
The Warren County Board of Supervisors issued a statement expressing its deepest condolences.
"Ed was the go-to guy for economic development in Warren County, and much of what has been accomplished here over the last five decades can be attributed to his hard work and dedication," said Frank Thomas, Stony Creek supervisor and chairman of the Warren County Board of Supervisors, in a news release. "Ed's passing is a tremendous loss for our area and he will be greatly missed. His presence, work ethic and institutional knowledgeable will be impossible to replace. Our thoughts and prayers go out to his wife, Maggie, and family."
County officials said Bartholomew worked up until the day he became ill earlier this month and was asking for his work to be brought to him at the hospital in recent days as he recuperated. Earlier this summer, Bartholomew played an integral role in working with Kirsh Helmets, which plans to open a motorcycle manufacturing facility in Queensbury, and he helped arrange funding through LDC.
He also was a key point person as the region attempts to recover from the COVID-19 pandemic.
"Ed was a fixture at economic response and recovery meetings and was an integral partner in stabilizing the future of Warren County's local economy post-pandemic," Warren County Administrator Ryan Moore said in a news release.
The Fund for Lake George said that Bartholomew was an inaugural member of the organization's Council of Business Advisors.
"Ed was a tremendous advocate for the health of the lake and the region's lake-based economy. He spoke out passionately before state legislative committees about the importance of state aid for the new village of Lake George wastewater treatment plant," said Jeff Killeen, board chairman, and Executive Director Eric Siy in a joint statement.
"More often, he worked quietly and tirelessly behind the scenes to protect the lake's legendary water quality and the thousands of regional businesses and jobs that depend on it. We will miss his keen insights, his big ideas and his enthusiastic pursuit of everything good for Lake George and our local communities," the statement continued.
U.S. Sen. Charles Schumer, D-N.Y., said in a statement he was saddened to learn of Bartholomew's death, calling him an "irreplaceable public servant," who as a Republican "transcended party and worked tirelessly with anyone who was willing to make his city and his region better."
U.S. Sen. Kirsten Gillibrand also issued a statement, calling him a "passionate advocate for the community."
"Ed worked tirelessly to secure funding and support for the projects that have built present-day Warren County, including his leadership in the continued revitalization of downtown Glens Falls," she said in a news release.
Former New York Gov. George Pataki, in a statement, called Bartholomew's passing a "tremendous loss."
"Throughout his career, in the state Senate, as mayor and as head of the Warren County Economic Development Corp., Ed was a person who always cared deeply about making a positive impact," Pataki said.
This photo of former Glens Falls Mayor Ed Bartholomew, his official mayoral portrait, hangs in City Hall alongside photos of past mayors. 
Bartholomew was a 28-year-old lawyer when he was elected mayor of Glens Falls on Nov. 8, 1977. He defeated Democrat William Mangine Jr., a former councilman-at-large, and Thomas Marzola, who ran on the Liberal Party line.
During the campaign, Bartholomew had called for a new tone at City Hall, including better communication with the public. He also ran on a platform of maintaining fiscal discipline, improving efficiency and seeking collaboration with other communities, according to Post-Star archives.