If you're looking for a drink fit for a king, a new recipe book has you covered.
Called Their Magesties Mixers: When They Reign, They Pour, the book is the brainchild of Thomas Mace-Archer-Mills, a former Bolton resident and expert on the British Royal Family.
It includes cocktail and food recipes, and it won the 2018 Gourmand Award for cocktail books published in the United Kingdom.
"The book is a really good combination of drinks and canapes so people can have their own royal celebrations using drink recipes and canape recipes that the royals have themselves," Mace-Archer-Mills said.
Mace-Archer-Mills will be talking about his book and signing copies at 4:30 p.m. on Wednesday, Aug. 28 at the Lakeside Lodge and Grill in Bolton Landing. The talk is free, but attendees may purchase cocktails made from the recipes and purchase a copy of the book.
While Mace-Archer-Mills has been a well-known historian and commentator, in addition to founding the British Monarchist Society, his fame spread last year after The Wall Street Journal profiled him.
Mace-Archer-Mills was born Thomas Muscatello, but following his passion for British history and monarchies, he changed his name, moved to the United Kingdom, attended classes to change his accent and made his career out of his expertise and extensive knowledge of monarchies and the British Royal Family.
It's been a couple of months since The Wall Street Journal published its article about Thomas Mace-Archer-Mills, formerly known as Thomas Muscatello.
The Wall Street Journal's reporting indicated several media outlets that used Mace-Archer-Mills as a commentator did not know he was an American.
Unhappy with the article and several other outlets' following coverage, Mace-Archer-Mills told The Post-Star in August last year that he wasn't a "fraud and a fake," because "you can't fraud or fake what I know. ... I'm a walking Encyclopedia about the Royal Family and its history."
That knowledge has led him to this book, which he hopes will educate the public about British history in an entertaining way.
For example, Mace-Archer-Mills said that during the Glorious Revolution between 1688 and 1689, rulers William and Mary "taxed the hell, literally, out of spirits." People were forced to turn to cheap alternatives, and gin was one of them.
Mace-Archer-Mills also worked closely with a mixologist to create drinks that fit the personalities of different Royal Family members. One of his favorites is based off Camilla, the Duchess of Cornwall. Since she smokes, her namesake cocktail has a smokey tea mixed in.
"We put in a lot of effort and everything, honestly, to make the book as fun, interesting and true to character," Mace-Archer-Mills said.
There are recipes for canapes, which are a kind of h'ordeurve, compiled with the help of a chef, who Mace-Archer-Mills said is the head of catering for the United Kingdom's armed forces.
Mace-Archer-Mills has another project up his sleeve, a book series called The Adventures of Little Queen Lilibet, which will be published by Austin Macauely Publishing in London and Ortodella Cultura in Italy.
He plans to have 33 books in the series, which focuses on the life of Queen Elizabeth when he was a young girl. The first in the series is set to come out around Christmas.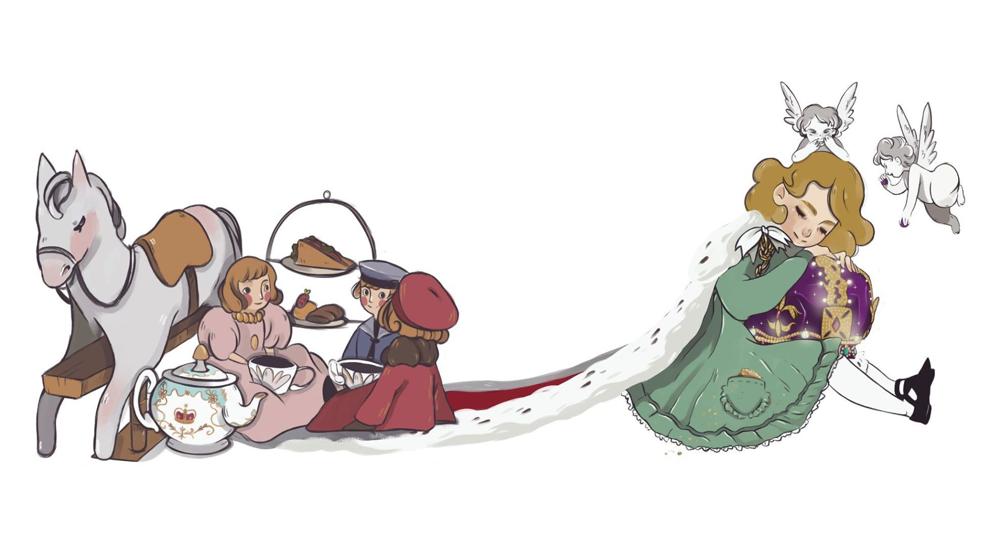 Many of the stories are set in historical places with details accurate down to the dolls the Queen used to play with, Mace-Archer-Mills described. Some of her journeys in the books are fantastical, but they provide life lessons.
"We're hoping that adults, as well as children, will see and understand the benefit of the education that we're putting out in an enchanted, fun way that shows the life of the Queen, but more importantly, shows how the Royal Family is. ... We're trying not only to educate, but create younger children that are aware of others, that feel they should do more for others. These are the underlying lessons."