JOHNSBURG — The immediate future looks bright for Gore Mountain Ski Area.
The past couple of years have seen renovations and improvements to lodges, a new Adirondack Express quad lift, snowmaking upgrades, more year-round activities and significant funding for capital projects from the state.
The ski area will also host the Alpine and Nordic NYSPHSAA Championships next year, and Gore Mountain General Manager James "Bones" Bayse is wrapping up "an exciting first year" as general manager.
JOHNSBURG — This season, Gore Mountain Ski Area attracted more than 215,000 visitors that took advantage of more than 120 inches of natural snowfall.
But Gore's long-term prospects are cloudy. An Environmental Protection Agency-funded study which documents the effects of climate change on winter recreation across the nation predicts the resort's season will get shorter, perhaps to the point it will have to close.
The success of winter recreation has a direct correlation with the economic success of the Adirondacks and Warren County in particular.
A state study found the Adirondacks to be a $1 billion tourism industry with more than $570 million spent in Warren County alone in 2015. Tourism is the biggest driver of employment in Warren County, resulting in jobs for 6,400 workers and 2,700 more indirectly.
But without winter recreation, Warren County would suffer, with drops in the number of visitors staying in lodging and supporting local businesses.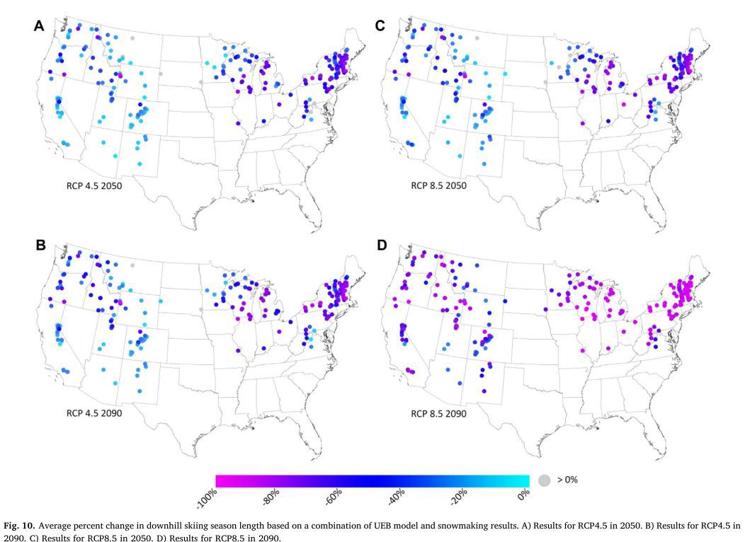 Climate study
The climate change study was published by Global Environmental Change, an international journal, and was conducted using 247 recreation locations across the nation under baseline and future climates, using data from five climate models and two emissions scenarios.
The study concluded the winter recreation season will decline significantly across the United States — more than 50 percent by 2050 and 80 percent in 2090 for some downhill skiing locations.
The study used a ski resort's ability to generate 450 hours of snowmaking as a baseline, which is typically required to open trails, with a target of opening by Christmas Day.
For many resorts, the holiday vacation sets the tone for the rest of the season.
What the study found was that by 2050, many low-elevation resorts will fail to reach the 450-hour snowmaking mark by Christmas Day, putting a successful season in jeopardy. By 2090, some will fail to reach the mark the entire winter.
For most downhill skiing locations, opening prior to the Christmas and New Year's holidays is critical to remaining profitable and staying in business.
The study found only the highest elevation mountains would be able to offer a prolonged winter ski season by 2090 on a regular basis.
The report details Gore Mountain as having an average 16-week season, but due to climate change, that will shrink to eight weeks by 2050. In the most extreme scenarios, the closing date will move from early April to the end of February.
The largest shift in the start date from the baseline involves several weeks from the beginning to the end of December, the study states.
The study does not factor in natural snowfall, with Gore Mountain averaging 128 inches of snow from 2012 to 2017, according to onthesnow.com.
Local economies will take a drastic hit, resulting in the loss of millions of dollars from recreational visits annually by 2050, with an annual impact of hundreds of millions of dollars at the 247 sites included in the study.
Gore Mountain has averaged 213,891 total visitors annually from 2012 to 2017. This season, they have had 215,804 visitors, with more days to come.
"It is one of the major economic drivers, especially in northern Warren County," Warren County Tourism Director Joanne Conley said.
A Warren County lodging survey conducted from July to October 2016 asked visitors their reason for the visit and documented their spending habits.
What the study found was that visitors spent $13 million in recreation on top of $235 million on lodging, $131 million on food and beverages, $105 million in retail shopping and $16 million for shopping.
Bed taxes
According to Conley, the winter season is a money-maker when it comes to occupancy tax.
In 2018, she reported demand was up 1.3 percent over 2017 from January to March, according to the strategic tourism report by properties.
"We had an excellent winter," Conley said.
She said Warren County collected 4.9 percent more in occupancy taxes this winter than in the previous year.
Occupancy tax funds are used to promote and fund events and beautification projects and are distributed to individual towns across the county.
January was powered by the popular ice bars at The Sagamore resort, with Adirondack Pub & Brewery and other restaurants joining the action across many weekends and increasing attendance by 20 percent.
The trend continued in February and March with a strong Lake George Winter Carnival and maple season.
Local businesses also attested to a successful winter, even for new businesses.
Becks Tavern opened June 1 after Matt Parobeck and his brother, Mark, dubbed "accidental entrepreneurs," bought the Alpine Lodge five years ago to offer an Alps après-ski experience. The lodge and tavern sits on Peaceful Valley Road, which leads to Gore Mountain.
Parobeck said 90 percent of ski visitors pass the lodge. It is not only the ski crowd Parobeck has to thank, but dedicated locals who are regulars at the tavern.
Becks Tavern Manager Kat Andonucci said the spot has grown through word of mouth.
"North Creek has great locals and they keep local business going between seasons," Andonucci said.
But without the mountain, the business would not be around, nor would 20 or so employees who worked there over the winter.
"If Gore was not here, there would be no need," she said.
Molly Vanselow-Badgely of Café Sarah, located on Main Street in the hamlet of North Creek, said "business was really up and down with the weather."
"Overall, it was a relatively good season. We have really strong local clientele and are super grateful for that."
The winter workers at Gore and river rafting crews in the summer also help the business prosper.
Vanselow-Badgely said the cafe could survive if Gore closed, but it would be harder without the workers coming in for their coffee and meals.
Nordic success, lodging and sewer
Gore Mountain's world-class Nordic Center, offering snowmaking on its trails, gives the region a leg up for competitions.
Gore filled in to host the NYSPHSAA Nordic Championships in 2018 because a site in the Rochester area didn't have enough snow. It will host both the alpine and nordic championships for the first time ever in its history in 2019.
"One of the benefits of hosting events is it brings families and people who have never been to Gore before. We hope to treat them well and have them be regular customers," General Manager Bayse said.
He said the mountain has "really excelled as a competition venue."
The 2019 event will attract about 400 athletes and their families, he said. One thing lacking in the area is lodging, though.
"We could use some more rooms up that way," Conley said of the Johnsburg/North Creek area.
The area lacks a hotel. The main hotel for next year's NYSPHSAA championships will be in Lake George.
Bayse said Airbnb seems to be popular with people renting rooms in local homes, but many visitors stay in the Lake George/Glens Falls area.
Currently, Gore Mountain has its own wastewater facility and the town is working toward a wastewater plant, an important step in offering additional lodging.
Johnsburg Supervisor Andrea Hogan said the project remains years out and the sewer commission will make a recommendation in the coming months.
"It is a benefit to everyone. Sewer would increase the value of homes. We are moving it along as thoughtfully as we can," she said.
"The regional struggle is real, as we don't have enough hotel rooms," Hogan said.
Weather-proofing
Some ways Gore Mountain is gearing up for the future is through its snowmaking technology and the way it produces and uses energy.
Two years ago, less than 40 inches of natural snowfall fell over the winter. Last year, the mountain received 122 inches of snow. Investments were made to ensure the snow continues with upgrades to snowmaking capabilities in 2016.
This summer, the mountain will increase the capacity of its snowmaking pond from 21 million gallons to 35 million gallons. An upgrade to the pump house will also allow Gore to take advantage of its high-power tower guns.
Currently, the pump house is maxed out at 4,800 gallons per minute, but with the upgrade, it will jump to 8,000 gallons, Bayse said.
A lot of energy is needed to operate Gore Mountain, and its officials are aware of its footprint on the environment.
Gore maintains more than 14,000 solar panels at two sites across 20 acres in Whitehall, which supplies the mountain with enough daily energy when it is not making snow.
The mountain was recognized with the Golden Eagle award as the greenest ski area in the nation.
Only time will tell what the effects of climate change will be, but until then, Gore Mountain will continue to be an economic driver for the area.
"Any time we are open for skiing, it benefits the entire region," Bayse said.