Lake Mitchell, a 4-acre lake located in Peekskill's Depew Park in Westchester County, is more of a pond than a lake, especially compared to Lake George.
But it's been part of a state experiment on methods to rid water bodies of harmful algal blooms, and locals taking part in the effort presented some of their findings at North Country Climate Reality's climate change conference Saturday at the Silver Bay YMCA in Hague.
The pond isn't used for swimming or drinking water, but John Neering, a science teacher at La Salle Academy, and Nicole Crane, a member of the Peekskill Park Board, showed how the lime green algae impacted the enjoyment of visiting the park.
Looking for natural ways to get rid of the algae, they tried throwing in bales of barley straw, introducing bacteria that eat decaying organic material and creating and distributing floating islands.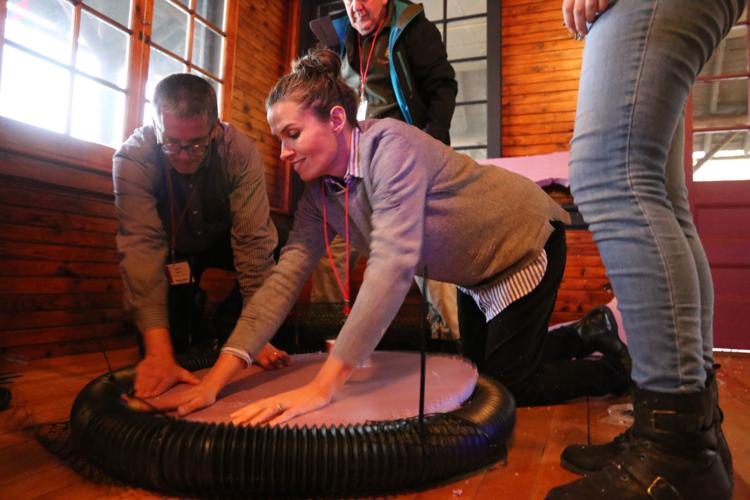 Neering and Crane were most excited about the floating islands, which are made of tubing, styrofoam, chicken wire, soil and native aquatic plants. The root system grows deep into the water surface, they said, absorbing nutrients that algae usually need to grow.
Not only have the mini man-made islands cut back on the algae, they've attracted more wildlife to the park including dragonflies, fish, turtles and birds.
Hague Deputy Supervisor Steve Ramant and Glens Falls contractor Burns Hinck, who attended the session, said they couldn't see the islands working for a water body like Lake George, but they could see them working for smaller lakes in the area. Moreau Lake, for example, has had multiple harmful algal blooms this summer that closed its beach to the public.
Boat inspections
About 175 boats were stopped this summer with visible invasive species on them that were about to launch into Lake George, said David Wick, executive director of the Lake George Park Commission.
He gave members of the Warren County Water Quality Strategy Committee an update on Oct. 10 about the boat inspection program for the lake, which runs from May 1 to Oct. 1.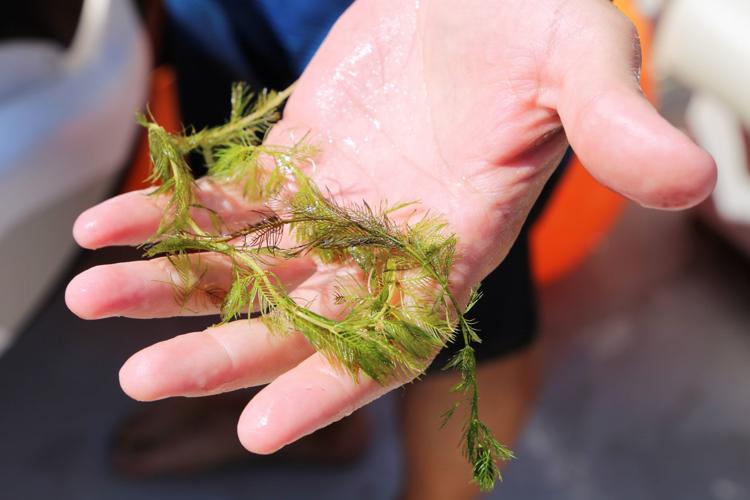 The boat launch at Million Dollar Beach is an exception, and will have a staff member to check vessels until the end of November.
The boat inspection program is a regulatory one, requiring "the inspection of all trailered boats prior to being launched into Lake George," according to the commission's website. There are seven stations around the lake.
Fighting milfoil
Brant Lake got quite the milfoil haircut this season, with about 13,000 pounds of invasive Eurasian watermilfoil removed from its waters.
The report came out of the Warren County Water Quality Strategy Committee meeting.
Bob Bombard, a water resource specialist with the county's Soil and Water Conservation District, said Brant Lake has a larger problem than Schroon Lake, which had about 1,300 pounds of the plant removed this summer. Schroon Lake, however, saw some newly formed milfoil sites in deeper water.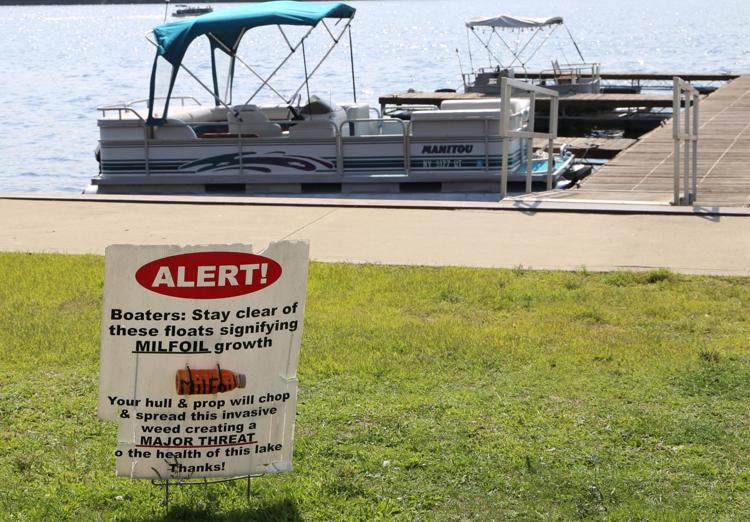 Chester's Loon Lake had about 18,000 pounds removed, down significantly from 43,000 pounds last year, said John Nick, of the Loon Lake Park District. That's because there appears to be less of it in the lake.
"I think where we are right now is the best I've seen it in 14 years," he said.
Mountain protected
More than 317 acres on French Mountain in Lake George and Queensbury could soon be open to the public.
The land was purchased on Oct. 18 by the Lake George Land Conservancy for $525,000 and will include conservation easements with the towns of Lake George and Queensbury. The towns are looking to create a multi-use trail system that will lead to sweeping views of Lake George, the village and surrounding Adirondacks, according to a news release.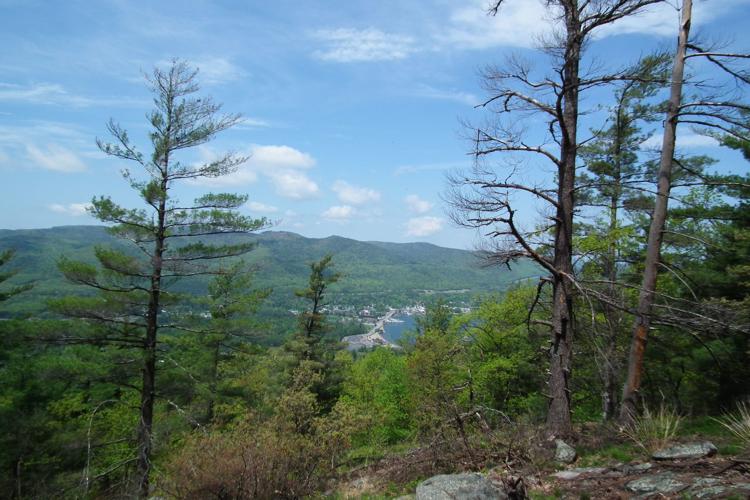 The property is also linked to the East Brook Preserve, which contains wetlands and over 500 feet of the brook. The land conservancy is working on a trail system for that, too.
"The creation of a 317-acre jointly owned French Mountain Park is huge," said Queensbury Supervisor John Strough, in a news release. "This effort initiated by Lake George Town Supervisor (Dennis) Dickinson and LGLC's Jamie Brown is going to be a boon for both Lake George's water quality and our area's recreational offerings. A beautiful property with beautiful views — flora, fauna, visitors and locals will love it."
The land conservancy said besides recreation, the French Mountain property includes more than 2,000 feet of seasonal streams. The land had the potential to develop up to 15 new houses, which the land conservancy said could have contributed to runoff that flows into East Brook and then into the south basin of the lake.
The land has been in the McPhillips family for over 90 years.
"The beautiful view from the top is from the village straight up the lake and will most definitely be appreciated by the hikers and bikers using the trail system," said Bernice McPhillips.
Conservation easement
Eighty-nine acres of farmland will be protected in Wilton, according to a news release.
Donald Tooker, a retired dairy farmer, turned down multiple offers from developers to, instead, donate a conservation easement on his property with the assistance of Saratoga Preserving Land and Nature, a nonprofit land trust.
The farm is near the junction of Jones and Old Gick roads, and was used for growing alfalfa for the Kings-Ransom Farm and vegetables for Vincek Farm. There is also 27 acres of woodland.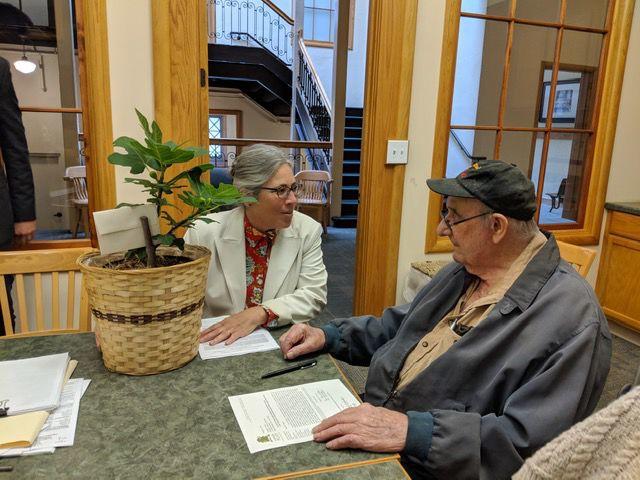 "I've been offered money by different developers they didn't feel I could turn down," Tooker said, in a release. "But I never wanted a housing development down through the fields. There are so many farms just plain being used for development and going out of business."
Maria Trabka, executive director of the land trust, said with farmland disappearing in Saratoga County, she was glad Tooker preserved this property. The organization secured $23,144 in funding from the county, $10,000 from the town and $25,000 in private donations to help with easement costs.
"This one-time investment in land conservation will ensure there is a source of locally grown food for future generations," she said.