Nearly ever morning, Gordon Ellmers gets up with the birds.
He puts on a ball cap, gets out his tripod and walks along a road or canal, lugging a camera and a more than 7-pound lens covered in a camouflaged pattern, slung over his back.
"One of the things I like about this hobby is you never know what you're going to see," Ellmers said Tuesday morning, walking along the Old Champlain Canal.
"There's a bird right there," he said, pointing at a tree on the opposite side of the canal. "A cardinal, a female."
In just a few, smooth motions his tripod was set, camera poised, and with military focus, Ellmers was moving the giant lens side to side, tracking the bird. A machine-gun staccato of shutter clicks signaled Ellmers had snapped a couple dozen photos in just seconds.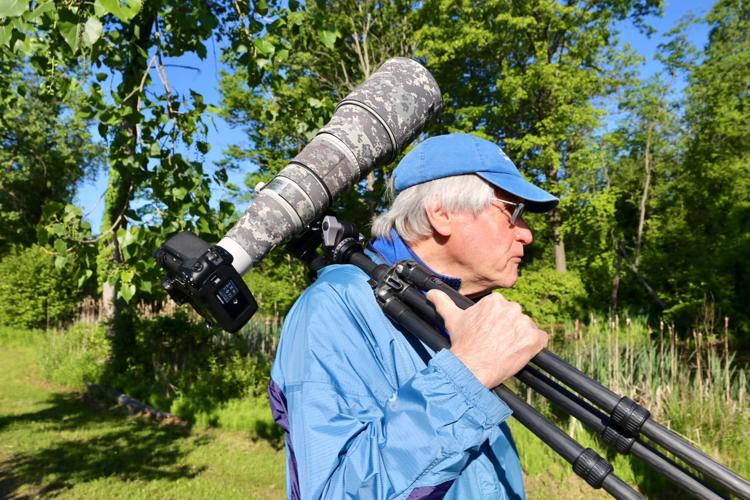 When the cardinal had ducked into the leaves, sure enough Ellmers had gotten a mid-air shot of it flying. It was another addition to hundreds of shots taken earlier that morning in the grasslands, where he saw a ringed-neck pheasant and a killdeer, sitting on her eggs.
One of the area's most well-known nature photographers, Ellmers and other local bird enthusiasts are ushering in a world of wildlife- and bird-watching that spans from the backyard bird feeder to the wild grasslands of Washington County and beyond.
Wildlife watching rakes in nearly $4.5 billion in tourism dollars to the state, said Laurie LaFond, executive director and founder of the Grassland Bird Trust.
"My original vision, which our board has embraced, is to conserve as much habitat as possible through whatever means landowners are willing to use, and part of what I saw from the beginning is that we need to not just think about us, but the community," LaFond said.
Bob Henke
Bob Henke is the chairman of the Washington County Board of Supervisors, town supervisor for Argyle and a retired conservation officer with the state Department of Environmental Conservation.
Since October 1989, he has written a weekly naturalist column for The Post-Star, and many of them end up being about birds.
"That's what people are interested in," Henke said. "The sorts of questions I get, a lot of them relate to birds."
He has never considered himself an avid birdwatcher. He wouldn't spend his vacation looking for the ivory-billed woodpecker, he said. But his grandfather loved birds and helped him learn identifications.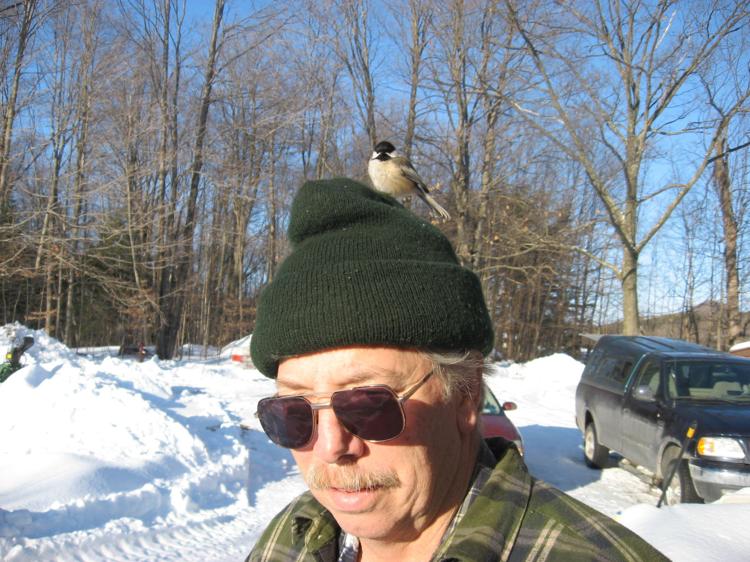 The landscape has changed since he was a boy, but he's glad to see places like the Washington County grasslands habitat get preserved.
"There's a lot of stuff in the area for really specialized people," he said. "I see a sparrow, and it's kind of 'LBJ,' a 'little brown job,' whereas others are wildly excited because they've seen a grasshopper sparrow, which is on the endangered species list."
Lately, Henke has been getting emails about sightings of indigo buntings. The vibrant blue bird likely had a good season in Central and South America. Also showing up are orioles, scarlet tanagers and other neotropical birds.
"There are dozens at their feeders," Henke said, based on emails he gets. "It's nice to see when other parts of the world are affecting us and knowing what it is."
Laurie LaFond
LaFond's mother bought her identification guides and encouraged her to learn about birds and wildlife.
LaFond started out writing and photographing for various publications in the area. It wasn't until about 12 years ago that she went birding with the local Audubon Society chapter. She realized the flitting creatures in the treetops, once focused on with a pair of binoculars, were bright, beautiful warblers.
"I didn't realize how colorful they were," LaFond said. "That got me hooked."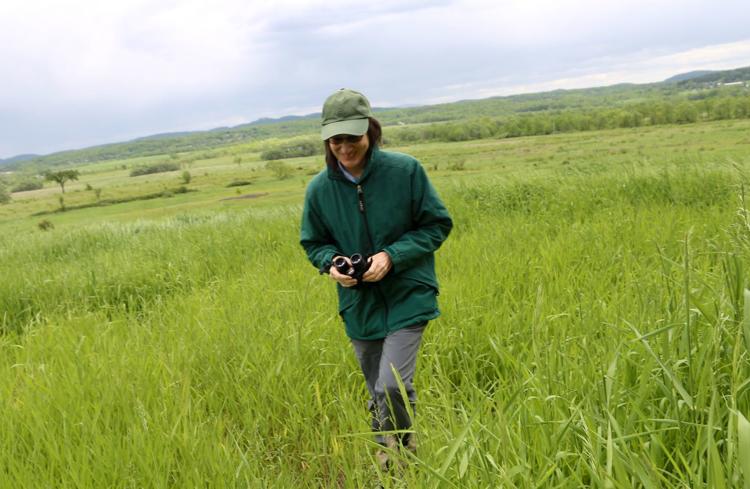 Nearly 10 years ago, LaFond founded Friends of the Washington County Grasslands Important Bird Area, since renamed Grassland Bird Trust. The grasslands, in the Fort Edward area, are home to some threatened and rare bird species including the short-eared owl.
The trust now owns 78 acres in Fort Edward and Argyle, which complements the state's 468 acres at the Washington County Grasslands Wildlife Management Area.
The short-eared owl is one of LaFond's favorite birds. She loves their fearlessness and piercing gaze.
You have free articles remaining.
"I think they kind of see us as some kind of two-legged cattle or deer or something," she said, laughing. "For the most part, they're not too intimidated by us, which is really unusual (for birds) to not be like, 'Humans? Ah!' and run away."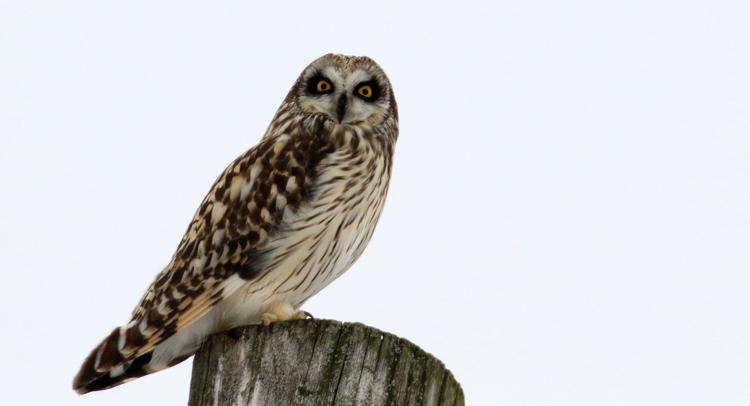 The short-eared owls have migrated back north for now, but LaFond said this time of year, until about mid-July, the grasslands are filled with birds. Bobolinks, vireos, scarlet tanagers, yellow warblers, indigo buntings and other songbirds are here, mating and raising their young.
As more people learn what a gem the grasslands are, LaFond and her bird trust are working on expanding bird guide opportunities, trails and educational signs and events. She has also been working with travel companies outside the United States on promoting local bird tours.
One group, Avian Adventures out of the United Kingdom, has come to the grasslands for four years now. The tour goes to New York City for birding in Central Park, and travels up to the grasslands and to Saratoga National Park.
"Spring birding is absolutely top notch for migrants and breeding species in this extensive state, which lies in the center of the 'Atlantic Migration Flyway,'" the tour's site reads.
Fred Wehner
Fred Wehner has run the "Fort Edward Magazine" Facebook page with his girlfriend, Mary Ellen Russo, since 2015.
Wehner's wildlife and bird photography has captured the interest of nearly 7,000 followers.
"Nobody is more surprised than me," Wehner said. "It has drawn a lot of people here. Every day, I go out there and I see a dozen people in cars going by that I know."
Wehner, who was born in Germany and traveled around the world with his family while growing up, lived for a short stint in Fort Edward at 10 years old. As an adult, he ran a company that imported machine parts from Europe. After he retired, he found he kept coming back to the Fort Edward area.
He bought a house on the Champlain Canal from his fifth-grade classmate, and every day around lunchtime, he meets Russo for lunch and they go birding.
"I take her to all the best places — swamps, road kills, manure piles, do you get my drift?" Wehner said. "Ever have a boyfriend like that? Birds like bugs, and bugs like cow flops."
Their routes change with the seasons, and on their local adventures they see and photograph everything from squirrels to black vultures to bald eagles to snowy owls.
Wehner estimates he's photographed 120 different species.
"So many unexpected experiences, you know?" he said.
It was Ellmers that got Wehner into photographing wildlife. He saw a photograph Ellmers had taken of a red-tailed hawk diving into the snow for a mouse.
"It just seemed so spectacular to me," Wehner said.
Gordon Ellmers
It all started with X-rays.
Ellmers, a veterinarian at Fort Edward Animal Hospital, took over his father's business and lives in the same house he grew up in on Prospect Street.
About 20 years ago, he bought his first digital camera to take photos of the film X-rays of patients. Usually, he would have to take a film photo, get it printed and mail it out to a radiologist before they could get back with an answer about what the X-ray showed. The digital camera files made the feedback almost instant.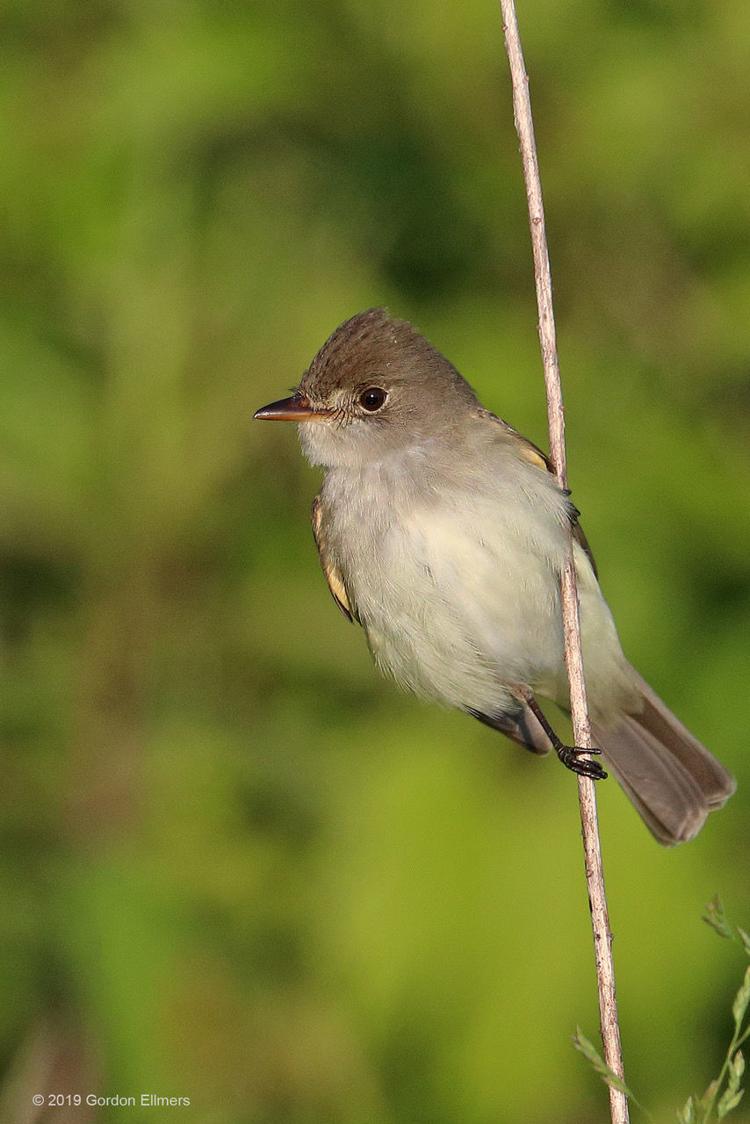 While he had the camera, Ellmers started taking some photos of birds in his backyard mulberry tree. The zoom was piddly.
"It's like a tiny bird in the middle of a photo of your whole yard," Ellmers said.
He invested in a 500mm lens and a good camera, and ever since then he has gone out bird-watching and photographing for at least 30 minutes a day.
"If you find something to do, and you really enjoy doing it, you can't miss over time getting better, and better and better at it," Ellmers said. "If you're going to have fun at work all day, you're going to win. You can't miss."