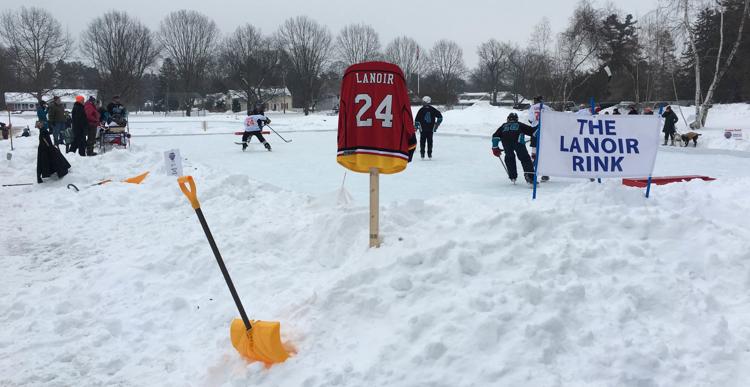 Organizers of the inaugural Adirondack Pond Hockey Tournament in Glens Falls said they are very happy about how the Crandall Park event went.
"The players said great things about the event and we're looking forward to next year," said organizer Christian Dutcher.
Dutcher said the participants liked that they received an Adirondack Thunder ticket, a goody bag and a dinner.
"They don't get that at other tournaments, so they loved that," she said.
A total of 20 teams from as far away as New Jersey competed Saturday and Sunday. The winning team was "Coach 24," which was named in honor of local men's hockey league player Adam LaNoir, who died unexpectedly in October.
Dutcher said it was fitting that this team won the championship on the rink named after LaNoir, whose jersey hung rinkside during the tournament.
Each of the rinks was named after a local hockey personality or entity, including the Dineen Rink, after the late Adirondack Red Wings coach, Bill Dineen, the Thunder Rink, and the Strader Rink, after the late hockey broadcaster, Dave Strader.
The team donated the $500 prize to LaNoir's children.
Dutcher estimated that a few hundred spectators viewed the action throughout the course of the weekend.
Switching gears
Now that the inaugural Adirondack Pond Hockey Tournament is in the books, Dutcher can turn his attention to that big event he oversees in Lake George — Americade.
Dutcher said he is planning to do the block party again, but this year it is going to be on Beach Road instead of Canada Street and it is going to be for charity.
Last year, Americade began a "Ride for Kids" to benefit the Pediatric Brain Tumor Foundation, which started at The Queensbury Hotel in Glens Falls and concluded in Lake George.
All the proceeds are going to benefit the Ronald McDonald House, according to Dutcher.
'Coffee with the Mayor'
Village of Lake George Mayor Robert Blais is hosting a "Coffee with the Mayor" on Wednesday at 8:30 a.m. at the Holiday Inn on Canada Street to let people know how they can assist in the Ronald McDonald House's efforts to renovate a home on Ottawa Street into a vacation retreat home for families with sick children or who have suffered a loss, according to a news release.
The house had been owned by former Village Attorney Howard Krantz and his wife, Marcia.
David McAvinney of McAvinney Builders LLC has offered his services as manager for the project to renovate the house at 161 Ottawa St., which has been dubbed "Krantz Cottage."
Blais is seeking people interested in providing sponsorship, in-kind donations, trade skills or other assistance, according to a news release. Those individuals interested in helping but who cannot attend the meeting are asked to call Village Hall at 518-668-5771, ext. 8.
More room
The Open Door has acquired a piece of property behind its current facility on Warren Street, Glens Falls, to expand its parking lot.
The homeless shelter purchased the vacant land at 5 Platt St. for $15,000, according to Warren County deed records.
Executive Director Kim Cook said the space will allow the facility to put its freezer and cooler outside, which will free up space for a door for deliveries.
"It's making it much more accessible for the kitchen for us," she said.
Cook thanked Melchizedek Realty and Property Services for making the deal and donating the funds for the closing.
A two-family house once stood at the site before an arsonist set it on fire in 2016.
Cook said the organization is in the silent phase of fundraising for Phase II of its project, which include a 100-seat dining room and space for a culinary arts program, food pantry, laundry facility, new entrance with security desk, chapel and computer desk. This phase is estimated to cost about $1.3 million.
The first phase was an eight-bed shelter, which opened in June and has been full. The shelter also housed up to 18 people at its Code Blue facility during the recent cold snap.
Generous shoeboxes
Nearly one-third of all shoeboxes collected in a six-county region to benefit Operation Christmas Child, a project of Samaritan's Purse, were collected in Glens Falls.
The shoeboxes are filled with toys, school supplies and hygiene items and are sent to countries all over the world. More than 8.8 million shoeboxes were collected in 2018, according to the organization's website.
A total of 9,789 shoeboxes were collected in the six-county region of Warren, Saratoga, Hamilton, Fulton, Montgomery and Washington counties. A total of 3,231 shoeboxes were donated and dropped off at the Glens Falls drop-off location, according to Gretchen Belanger, Southern Adirondack volunteer area team coordinator for Operation Christmas Child.
Red Cross at Winter Carnival
The Northeastern New York Chapter of the American Red Cross will hold a fundraiser at the Lake George Winter Carnival this weekend.
The organization will present "Stories From the Stage" from noon to 3:30 p.m. at the Lake George Historical Museum at the corner of Canada and Amherst streets on both Saturday and Sunday.
It will feature local volunteers who have responded to natural disasters talking about their experiences and showing videos.
"We wanted to highlight our volunteer heroes who give their time and talents in responding to our ever-increasing natural disasters," said Red Cross volunteer Linda Plante.
In addition, from 11 a.m. to 4 p.m., there will be a Red Cross emergency response vehicle parked outside for demonstrations and registration for smoke alarm installations.
Donations will be accepted at both locations.
"With so many natural disasters, the Red Cross is really overwhelmed and we need people to help us out financially and also body wise," she said.
Other highlights of this weekend's Lake George Winter Carnival are ECS-sanctioned snowmobile snocross races from 10 a.m. to 4 a.m. at the Warren County Fairgrounds in Warrensburg and sanctioned car races on the ice of Lake George from 11 a.m. to 4 p.m. Both will take place Saturday and Sunday.
There will be an ATV poker run on Saturday from 9 a.m. to 11 a.m. beginning at the Back Street Bar, and a barbecue cook-off at Shepard Park amphitheater. On Sunday, there will be a cooking demonstration at 3 p.m. at the Shepard Park amphitheater and a snowman-building competition at 3 p.m.