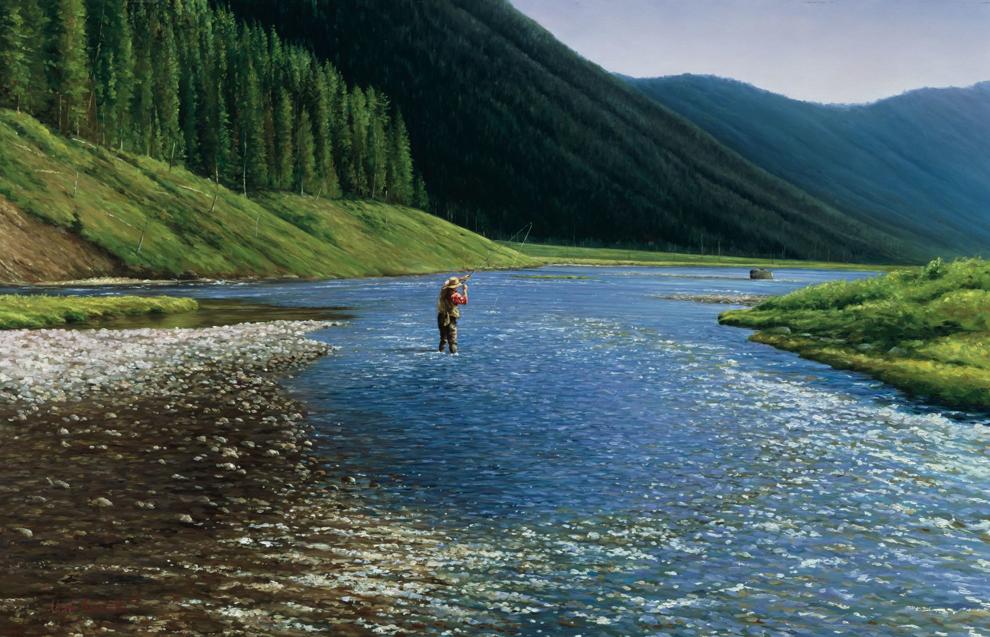 CAMBRIDGE — The near slow-motion rising of the fly fisherman's casting arc before its gentle, near-seamless descent into the river is at the same time Adriano Manocchia's lure and his muse.
It is in the way his hand moves back and forth across the line before the cast, the way the early morning violet light spreads across the water's ripples, that the Cambridge artist eventually trades rod and an angler's cunning for brush, palette and an Italian opera.
"It is very meditative and peaceful," said Manocchia about fly fishing, the scent of baking bread filling his kitchen Tuesday afternoon. "I am trying to recreate a moment that meant something. I want to recreate that scene so I can relive that moment on the river."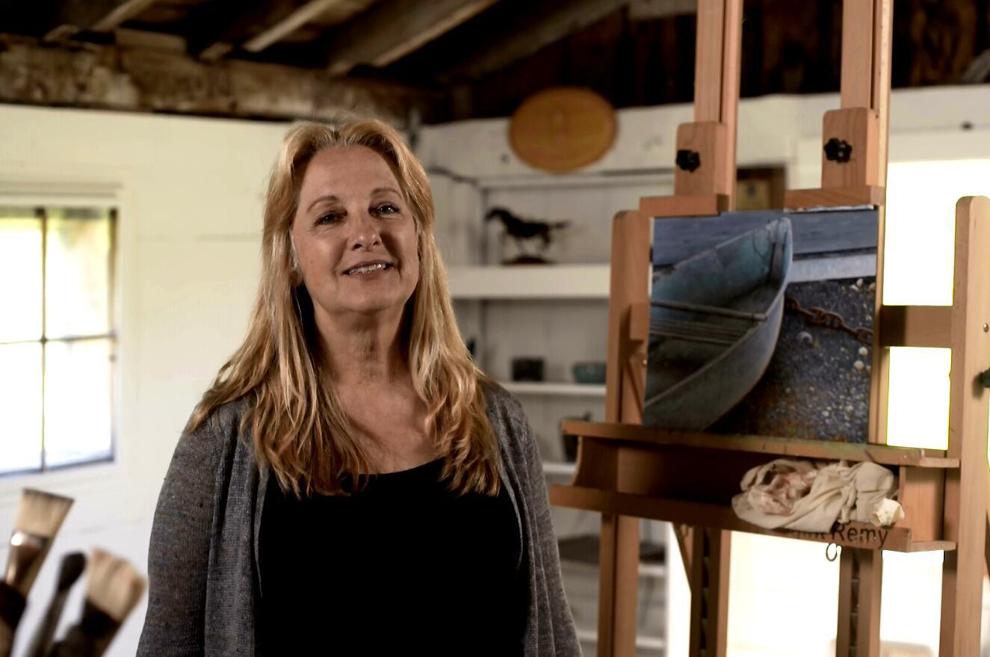 It is in this inspired push and pull that local filmmaker Serena Kovalosky, founder of Artful Vagabond Productions, is hoping to capture the essence of Manocchia's creative process in her film, "In Search of Magical Waters."
"I'm trying to get people to see what he sees as a fisherman and as an artist," she said Tuesday. "We're making it real. This is about the life of an artist and the entire creative process."
Currently in post-production, "In Search of Magical Waters" journeys with Manocchia during his everyday creative process from river to painting to gallery.
For the film, Kovalosky and her two cameramen — Kenny Hopkins and Jim McLaughlin — took several of Manocchia's paintings and, with the artist's help, planned scenes for the film that began at the river at sunrise.
"We had to get to the bridge very early," she said about the Bridge at the Green, also known as the Arlington Bridge. "It's located two miles from the New York state border, off Route 313 in Arlington, Vermont."
The film crew had to wade in the Batten Kill's trout-filled waters to get the perfect shots.
"We had to wait for the light to come up over the bridge," Kovalosky said. "They were out in the middle of the river with these $30,000 cameras."
Bringing life to his paintings is about capturing the light and how it responds to colors, shadows and the depth of the water, according to Manocchia.
"Painting the water is like dessert after dinner," he said.
A day or night in his studio, a red-painted converted barn on his 34-acre Cambridge property, usually means playing Giacomo Puccini's operas.
On a good day, his favorite, "Turandot," is playing and accented by a good cigar.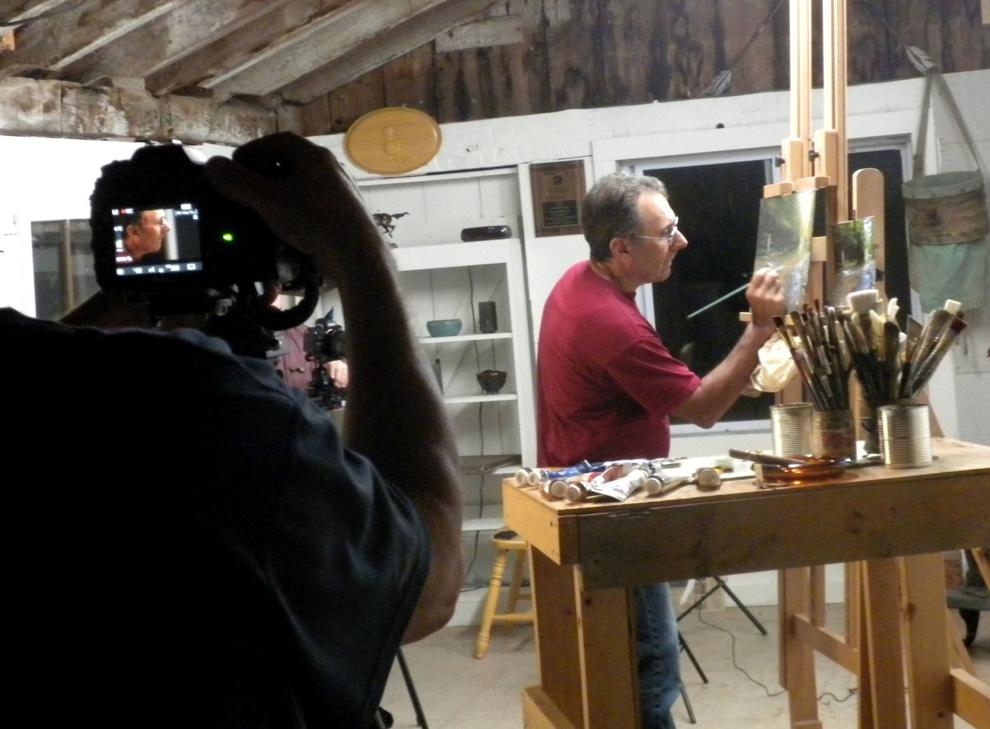 "Any free cigars my fishing buddies bring on an outing," he said.
And his wife, Teresa Manocchia, said she can always tell when things are going well — she can hear the opera at the house.
According to Kovalasky, they filmed a night painting scene with Manocchia, Puccini and cigars.
Interestingly, Manocchia has been painting and fly fishing for about the same number of years, 35, and his best friend, Ted Patlen, who he calls 'the brother I never had,' is in most of his paintings. And trout fishing scenes started all those years ago, when Patlen suggested he paint him while fishing.
"All my best stories are with Ted," he said, laughing, one fish tale adventure leading into the next, including the time the took their wives on a fly fishing trip.
Previously a photojournalist based in New York City, Manocchia generally takes photos of the scenes he eventually paints.
"In Search of Magical Waters" is Kovalasky's producing and directing debut, but her first experience in film was with the BBC.
"The travel company I worked for at the time chose me to be the tour host for a fall foliage motor coach excursion to Maine, filmed by a BBC camera crew for the TV travel show 'Holiday,'" she said. "On the production side, I worked on the film crew of 'Life on the Run,' an innovative independent film created and directed by Roger Wyatt that asks the question, 'Why do art?' where I filmed behind-the-scenes footage."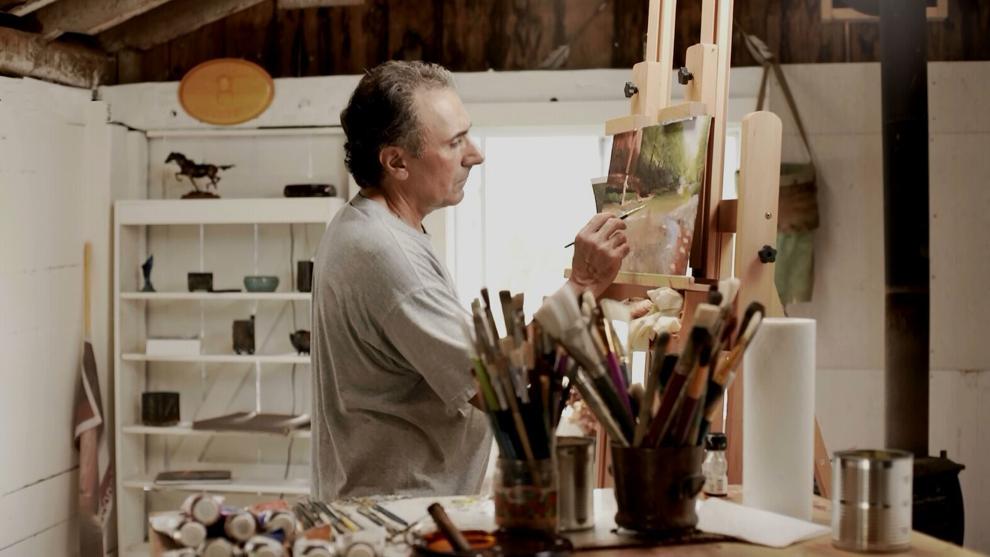 The film's consulting producer, Debra Pearlman, has worked with National Geographic, A&E, Discovery Channel, the BBC and others, Kovalosky said, adding that film editor Tracy Nichole Cring, of Troy, has edited over 40 films, documentaries and television series.
Currently seeking financial support for post-production expenses, Kovalosky envisions this first film as a pilot for a docu-series about artists around the country.
"We are aiming for it to be a 40-minute film; however, we may initially release it as a 10-minute short for film festivals," she said. "I want to show what an artist goes through."
Kathleen Phalen-Tomaselli covers Washington County government and other county news and events.