Luke Garret is a singer, songwriter and guitar player. But he's also an expert in the state regulations on hiring at-home nurses and the desperate shortage of nurses in general.
The gifted band leader happens to also have been born with an incurable genetic disorder, Pompe disease. With treatment, he is stable, and able to live at home with support. But he needs round-the-clock nursing care, and he can't find enough nurses.
For now, his parents are filling the gaps. But they're not getting younger.
In the long-term, if he does not have round-the-clock nursing care, he can't live at home.
At 26, he treasures his independence.
"People might say, 'Oh, he needs nurses, why doesn't he go into a hospital and live there?'" he said. "I can't imagine anyone in their right mind would want to go into a (nursing) home."
And a nursing home would certainly put an end to his musical ambitions.
"Can you imagine saying to them, 'Can you set me up with my guitar now?'" his mother said.
Jason Bovair, one of Garret's home care nurses, added, "Or take him out to the clubs. He's a regular gigger."
Bovair and Garret's other home nurses do take him out, maintaining his ventilator and the myriad medical equipment he needs. It has allowed him to have a full life.
"I am able to be an active member of the community," Garrett said.
His mother thinks he is thriving because of his home care.
"He's doing so well because he gets the one-on-one care," she said. "Going to a nursing home would possibly be an end to his well-being. It wouldn't just hurt his music, it would hurt his whole health."
But the family is struggling with a nursing shortage that has hit every facet of the health care industry, throughout the country.
The problem isn't that too few people are interested in becoming nurses, but that too many nurses become dissatisfied with the profession and choose to leave it.
Job shock
Nursing is still a popular profession. SUNY Adirondack fills every nursing class, 112 students per year, and has a short waiting list. Many more students are enrolled in college science and math classes at SUNY Adirondack to prepare themselves for the nursing program.
Upon graduation in the first two quarters of this year, 96.7% of the nursing students passed their nursing exam. The college also has a 100% job placement rate.
The whole state of New York has about 180,730 jobs for registered nurses, with 234,940 licensed RNs to fill them. Yet there is still high demand for nurses. Hospitals and home health care companies have difficulty finding nurses, and families like the Garretts can't fill all the shifts they need for home care.
So where do all the nurses go?
A survey in 2007 of 3,200 new nurses found that many of them were disenchanted with the profession. One-fifth of them left their first job within 18 months of being licensed and 41% of them said they were going to find a "significantly different" career.
"There's a well-documented transition shock from nursing school to nursing," Glens Falls Hospital's assistant program director, Jamie Aliperti, said. "We all know nursing is a hard job."
Among the shocks: deaths, bad injuries and medical problems that a new nurse hasn't been taught how to treat.
"In nursing school, it's impossible to cover all the potential things that could happen. Wounds sometimes that can be shocking and not knowing where to even begin," said Emily Jenks, a new nurse at Glens Falls Hospital.
At SUNY Adirondack, teachers are trying to prepare for those shocks with realistic simulations. They use manikins that can scream, bleed, give birth and have seizures, among other things. While the teacher sits behind a two-way mirror, controlling the manikin by computer, teams of students try to handle whatever emergency occurs.
Afterward, they spend more than an hour going over their mistakes.
"I remember my nursing school days," Health Sciences Division chairwoman Kim Hedley said. "You have no idea what that mom was going to look like during delivery. You walk into that room, my peers were passing out."
Now, she hopes, the next generation of students will be ready — and won't quit the profession.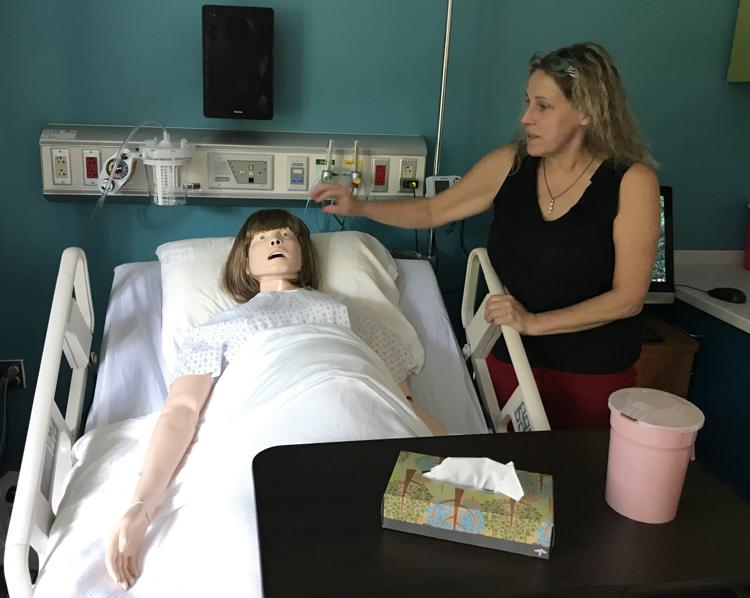 Finding the right fit
Institutions like Glens Falls Hospital are adding or overhauling nurse mentoring programs, and other employers are looking far afield. Albany Medical Center Hospital has been hiring nurses from the Philippines for decades to fill gaps.
Several local nursing homes have started training their own staff and offering to pay for them to get their RN — if they'll just agree to stay and work there afterward.
Bovair, the licensed practical nurse who provides some of the care for Luke Garrett, thinks the problem is that nurses need to be counseled to find the right nursing job for them.
"You're taught you can work in a hospital, a doctor's office or a nursing home," he said. "They push everybody to the facilities."
But nurses have other options, from schools to substance abuse clinics. Hundreds of patients live at home and hire nurses through the state's Medicaid program.
At SUNY Adirondack, teachers try to get nurses to consider those other options.
"Once you have an RN, it allows you to go in many directions. Psych, obstetrics, pediatrics — the entire life span," Hedley said. "If they would like to learn more about obstetrics, we have a one-credit course."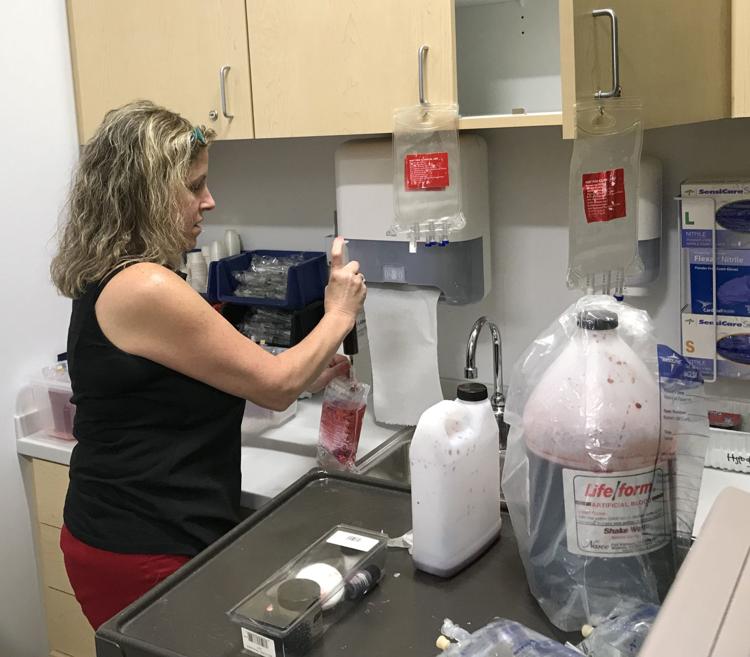 A job you love
Bovair advises new nurses to seek out a nursing job they love. For him, that means working as a home private-duty nurse for Garrett.
"This is a whole different kind of nursing. This is not burn-out nursing," he said. "This is where nurses should come if they're burned out. In home care, you end up becoming part of the family."
Bovair's experience shows the diversity of work options open to nurses, but it also shows how a failure to keep pay competitive can lead to a shortage.
Unlike hospital care, home care patients are generally stable. The nurse usually has just one patient to focus on and become an expert in, rather than handling a series of new situations every day.
Bovair has been caring for Garrett for 16 years. He likes the home care setting.
"You learn your patient, you know your patient," Bovair said. "It's a slow pace. You have more one-on-one time."
But compensation has become a problem. Hospitals report that nurses were satisfied with their pay and benefits, although hospitals still had difficulty finding nurses with more than two years' experience.
Nurses in hospitals tend to get paid more, with better benefits, than nurses in home care. Making matters worse, home nurses for adult patients on Medicaid have not gotten a raise in 25 years.
The state increased the Medicaid pay for fragile children so that families could find nurses who would take care of the child at home. That's much cheaper than hospital care. But the pay increase was only for pediatric nurses.
That means, when Garrett turned 21, Bovair had to take an $8-an-hour pay cut.
"I was lucky they didn't all leave me," said Mary Garrett, Garrett's mother.
But one died, one moved to Florida, others stopped working to start families, and she slowly lost the nursing team she had built up through Garrett's childhood.
She petitioned the state.
"I said, 'I cannot attract any nurses because of the pay.'"
After 18 months, in 2015, she got a $4 increase in the rate, to $30 an hour for LPNs and $36 an hour for RNs.
That was still much less than what the nurses had been paid before, despite no change in Garrett's needs.
She's still struggling to find home care nurses. When she finds one, it takes the state about four months to process the new nurse's paperwork, and then the nurse can start work. That delay has lost her at least two possible nurses.
One has stuck with it and even tried to ask for an expedited processing recently.
"She said, 'This family really needs help.' And they said, 'It'll take 90 to 120 days to process,'" Mary Garrett said. "The state is just awful."
Get local news delivered to your inbox!
Subscribe to our Daily Headlines newsletter.