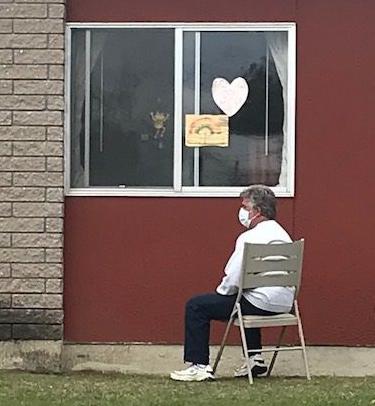 Bruce Mumblo watched from a window as his mother died.
For two weeks, the Hudson Falls family gathered outside Glens Falls Center, peering into Midge Mumblo's bedroom window. At first she waved to them. Then her roommate, who had caught coronavirus first, died. Soon she got very ill.
The family had a choice: don full protective gear and visit her room, while encased in plastic, or stay outside the nursing home.
They agreed that "Ma" would have been horrified if her illness led to any more deaths. So they stood at her window for two weeks.
Midge, 96, had dementia but was otherwise healthy. When her roommate tested positive for coronavirus, the family wanted one of the two women moved so that the virus did not spread. But Glens Falls Center, like most nursing homes, did not have space to quarantine dozens of people who tested positive. Instead, nursing home officials simply said they were treating every resident as if they had it. Since then, the virus has spread widely.
In recent days that policy has been criticized and the state has opened facilities for nursing home residents who have coronavirus. Those facilities are downstate, making it harder for many families to get there, even if it is only to look through a window.
In any case, Midge became ill before those facilities were opened.
Her death would have been a terrible loss at any time. But losing her during the pandemic was exponentially worse, her family said.
"The window was the only way to feel close," said daughter-in-law Chris-Anne Mumblo. "Standing for hours, in the cold, sometimes in the rain and there were even a few snowflakes. But for her children it was never a question to be there for her."
Previously, the family had visited daily, usually at mealtimes. She had six children.
After visitation was banned to try to keep the virus out, they waved to her from a window at meals every day. The window was a happy place, providing a glimpse into her life.
Then they were called to say that she had taken a sudden turn for the worse.
That began a two-week vigil at the window.
"Her roommate passed, and several other residents also passed. We saw family members like us sobbing and saying goodbye also through a window," Chris-Anne Mumblo said. "The last few days for my family was horrible to watch as she faded away. The family gathered outside her window and stayed for hours."
To see in, family members had to stand — the windows are too high to look through from a chair. Sometimes, family members sat and just tried to feel as close as possible to the loved one on the other side of the wall.
On April 30, Chris-Anne stepped away to give her husband a last moment alone with his mother. She took a picture of him sitting in a folding chair in the cold wet grass.
Perhaps the worst was the very end — a few hours after Bruce Mumblo left for the night, after his moment alone with his mother, she died.
"We had left earlier and she left us when no one was there. In a different time someone would have been there around the clock holding her hand, telling her it was OK. Telling her she had been the most amazing mother and we loved her," Mumblo said.
When they hurried back to the center, the head nurse asked if they wanted to don all the protective gear and see their mother's body.
They said no, deciding their mother would not have wanted them to jeopardize their health.
"Ma would have told us absolutely not. We went back to the window, they opened the curtain and the frail but ever beautiful woman we called Ma was finally at peace," Mumblo said.
And so they made their last farewells from the window.
It's something they will never forget, said Chris-Anne Mumblo.
"It was heart-wrenching," she said. "We were forced to watch her suffer and say goodbye through a window, watching as she drew her last breaths. Well, this beautiful, very well-loved woman is now at peace and suffers no longer. But this nightmare continues and we can now only pray that somehow we can gain control over it."
While 182 people in Warren County have tested positive, most people who live independently have recovered. As of Monday, 12 of those who have died have died in nursing homes and four were in assisted living facilities. Only two people who had been living independently have died.
Unless prayer works, Chris-Anne Mumblo is very afraid that many more people will die at the nursing homes — while their families watch from afar.
"This is no way to say goodbye," she said.
Concerned about COVID-19?
Sign up now to get the most recent coronavirus headlines and other important local and national news sent to your email inbox daily.