BOLTON — The Adirondacks are covered in Eastern hemlock trees, evergreens that take nearly three centuries to reach maturity. But in just a fraction of that time — four to 20 years — an invasive insect could kill it.
State and local conservation groups are hoping the public will take advantage of the bare trees during the winter and help examine hemlocks for signs of the bug, the hemlock woolly adelgid.
Monica Dore, a conservation project manager with the Lake George Land Conservancy, turned over the branch of a hemlock tree Monday morning at Amy's Park in Bolton. She was looking for a white clumpy mass, which she said could be mistaken for a spider's nest.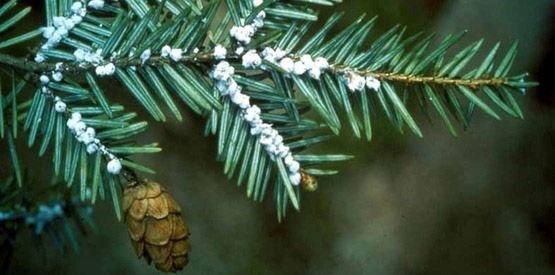 To her relief, there were no white globs, which are the "wool" nests the adult bug will lay its eggs in. These may also be easier to see and identify in the winter than the small, black aphids that congregate at the base of a tree's needles in the summer.
Alexander Novick, land steward for the conservancy, was also checking out some of the trees.
It can be boring work, they both acknowledged, but as the saying goes, no news is good news.
Mark Whitmore, an adelgid expert from Cornell University, said there's two ways to look at it.
"You can sit around and wait for it, and hope that it doesn't (arrive), or you can assume the worst, which is my conservative nature, and be fortunate if it doesn't," Whitmore said.
He does expect it will arrive again in the Adirondacks. It already did in the summer of 2017 on Prospect Mountain in Lake George, though the infestation was caught soon enough that state and local officials tackled it right away. The site continues to be monitored, and so far, no more woolly adelgids have been found.
But historically, the bug has creeped up north and has established itself in southern parts of the state. Besides Prospect Mountain, the closest infestation was Ballston Lake, Novick added.
"We're not delusional," Novick said. "We know it's going to get here."
That's why Novick walks miles upon miles of the land conservancy's properties, especially along wetlands and water bodies, to see if these unwelcome guests have arrived.
Novick said woolly adelgids may be hitchhiking on birds. When the birds, especially waterfowl, stop for a rest in a nearby lake or stream, their passengers get off and begin setting up a home underneath the hemlock branches.
That's bad news for water quality. Hemlocks grow in steep, rocky areas and don't need a lot of soil. Their roots help stabilize some precarious places along water bodies and keep sediment from eroding into the water.
There are no other trees that could provide this service, Novick said, so should they be wiped out, deltas could jam up with soil and the influx of nutrients could create better environments for algal blooms.
Hemlocks are also great friends to trout. The shade they provide along water keeps temperatures colder for longer, something that trout need to survive.
While Dore and Novick's surveys are like looking for a needle in a haystack, they said when they do find a sign of the invasive insect, there's an action plan in place.
Right now, the most likely plan of attack would be to use pesticides at the base of an infected tree. The roots would suck up the pesticide, targeting the place of infection and keeping chemicals from spreading to unnecessary trees and vegetation.
For the past decade, however, Whitmore has been working through the New York State Hemlock Initiative to introduce predators to this pesky pest.
Whitmore said that in the Pacific Northwest, woolly adelgids are native, but they have predators to keep their populations in check. There, they provide a service as part of the larger ecosystem, feeding on the weaker hemlock trees and thus strengthening the tree population. Whitmore compared them to lions, thinning out the herd.
One of their predators, a Laricobius beetle that Whitmore affectionately calls "Little Lari," feeds on the woolly adelgid eggs. Another, silver flies, also feed on the eggs. There are release sites kept in confined areas, all across the state, but Whitmore said there's still much to be worked out before these predators are the ultimate solution.
For now, he said, the goal is to keep the hemlocks alive.
"Right now in my mind, one of the most important places that needs to be monitored is in the Mohawk Valley, Saratoga, Glens Falls, Lake George, and I think that one of the easiest things people can do is hook up with organizations like the Lake George Land Conservancy or get in touch with us at the Hemlock Initiative," Whitmore said.
Walking under the hemlock-filled canopy at Amy's Park, Dore and Novick said the place would look unrecognizable without hemlocks. Monday, the only white they found was snow.