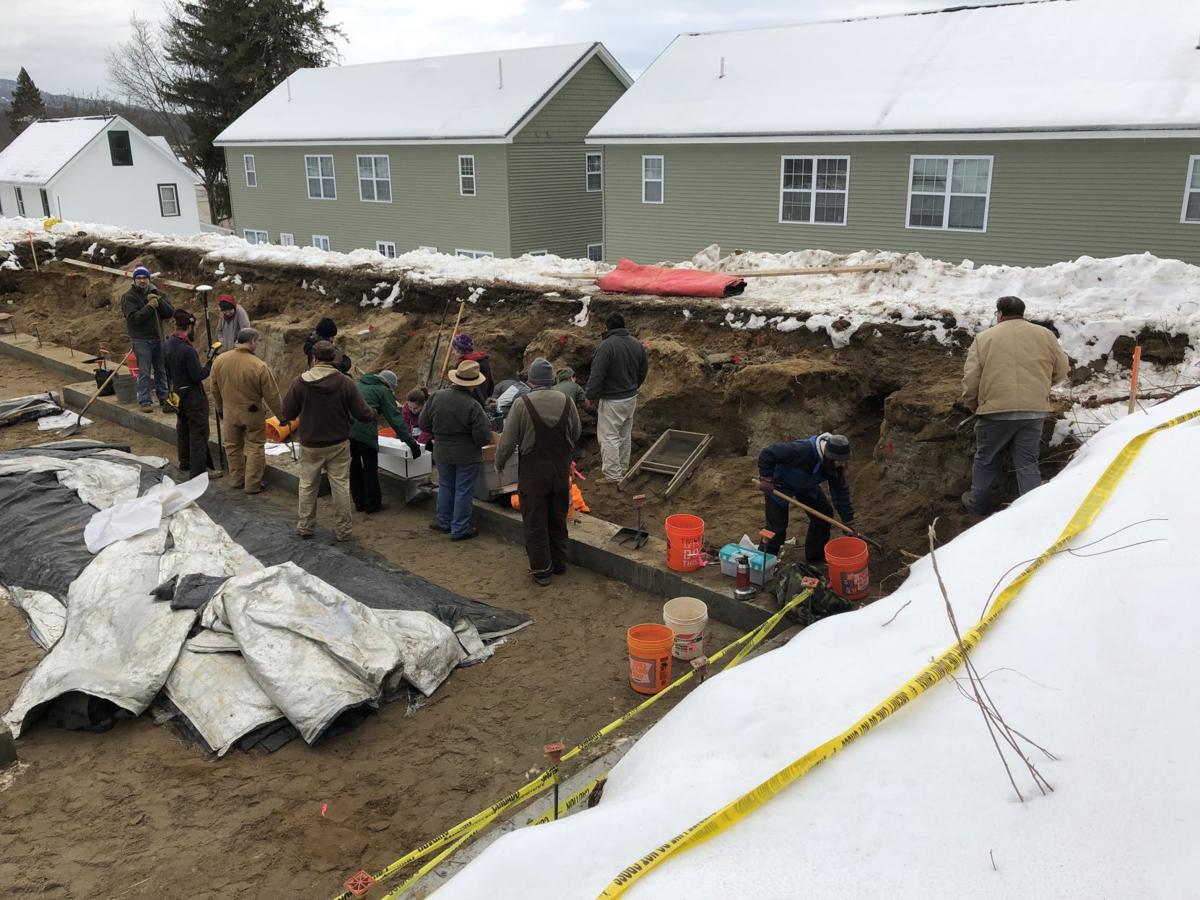 LAKE GEORGE — Experts will be returning next week to continue searching for any additional historical artifacts at the site where 18th-century bones were found in February.
About six to 12 people, primarily from the New York State Museum, will be on the site of a housing project at the intersection of Courtland and Mohican streets. A total of 11 graves were found in February, along with the partial remains of 13 people.
"They will be sifting a large backfill pile at the site to recover any remains within it. There will be no new excavations at this time," said State Museum spokeswoman Antonia Giuliano in an email. "Due to the scale of the work and the need to safely perform this work on an active construction site, we do not have an estimated end date at this time. If necessary, staff will perform work one day each following weekend as needed until work is complete."
In addition to the remains, also found were buttons associated with the First Pennsylvania Battalion, a regiment present in the Lake George area during the Revolutionary War. The battalion was part of a failed invasion of Quebec.
Dan Barusch, director of planning and zoning for the town, said developer Ruben Ellsworth is continuing to build on the portion of the lot that was not affected by the excavation. A two-building apartment complex had been planned for the site.
"Ellsworth is continuing construction on the one building there, not messing with any of the grounds that had been disturbed previously. They're being a good steward," said.
The second building is on hold indefinitely, according to Barusch.
One idea is to turn that site into a pocket park by obtaining grant funds, he added.
State Museum experts will be examining the remains. Once that is complete, they will be brought back to Lake George for re-interment, according to Barusch. Then, there would be a ceremony of some kind, perhaps timed to Memorial Day or another significant event, he added.
The tentative plan is for the remains to be re-interred at Fort George, where the remains of four unknown Colonial Americans were reburied. The remains were found in 1931 in a ravine during road construction on Route 9.
The Lake George Battlefield Park Alliance is planning to put a visitors interpretative center at the 35-acre site, which was the site of battles during the French and Indian War and the Revolutionary War. The center would occupy the first floor of a building that would also house the new offices of the Lake George Park Commission.
Get local news delivered to your inbox!
Subscribe to our Daily Headlines newsletter.