The U.S. Environmental Protection Agency has released a "proposed decision" that denies New York's petition requesting a finding that industrial sources in upwind states contribute to the poor air quality in New York City and Chautauqua County.
New York officials assert that hundreds of pollution sources in Illinois, Indiana, Kentucky, Maryland, Michigan, Ohio, Pennsylvania and West Virginia are in violation of the "Good Neighbor" provision of the Clean Air Act.
EPA administrator Andrew Wheeler signed the document, released May 6, which proposes to deny New York's petition because "the EPA has not independently found relevant air quality problems."
Gov. Andrew Cuomo said in a news release the EPA's proposal is another example of the Trump administration's "frontal assault on our environment and public health."
"Unfortunately, the Trump Administration, once again, proved they do not care what kind of air we are leaving our kids and grandkids to breathe and announced their proposed decision to deny New York State's petition."
The public may submit comments on the matter on or before July 15. The EPA will also hold a public hearing on the proposal on June 11 in Washington D.C. To submit a comment go to regulations.gov and type in the docket number EPA-HQ-OAR-2018-0170.
New York adopts coal regulations
By the end of 2020, power plants across the state will no longer be allowed to use coal.
The DEC has adopted regulations that require new carbon dioxide limits on power plants, Cuomo announced Thursday. The state said in a news release that it is a "first-in-the-nation approach." The move will help the state achieve its goal of reducing greenhouse gas emissions by 40% by 2030.
"The regulations adopted today represent real action on climate change," said DEC Commissioner Basil Seggos, in a news release. "By eliminating the burning of coal for electricity, New York is cementing our place in history as the nation's leading environmental champion and helping all our communities realize the economic potential of environmental funding and climate action."
Kit Kennedy, senior director for climate and clean energy at the Natural Resources Defense Council, said the state's regulations are the kind of urgent action needed to fight climate change.
The move will also transition the state to more clean energy use and "banning coal will help protect the air we breathe, the water we drink and the health of New Yorkers statewide," Kennedy added.
The Adirondack Council also praised the state's regulations, pointing to the damage that acid rain caused.
You have free articles remaining.
"Because the Adirondack Park's forests, fish and wildlife have not yet recovered, they are in a vulnerable, compromised state where a little more pollution now will cause much more damage than it did decades ago," said William Janeway, executive director of the council. "We cannot return to the days of heavy coal use. We are thrilled to see New York setting an example for others to follow by foreclosing the possibility of a return to burning coal at is power plants."
Mushrooms for packaging
Two Troy engineers are getting international recognition for a product they made that uses parts of mushrooms to make packaging material in place of plastic and polystrene foams.
Eben Bayer and Gavin McIntyre are finalists for a European Inventor Award, nominated by the European Patent Office, according to a news release.
The packaging material could help limit the amount of single-use plastics that get discarded in landfills.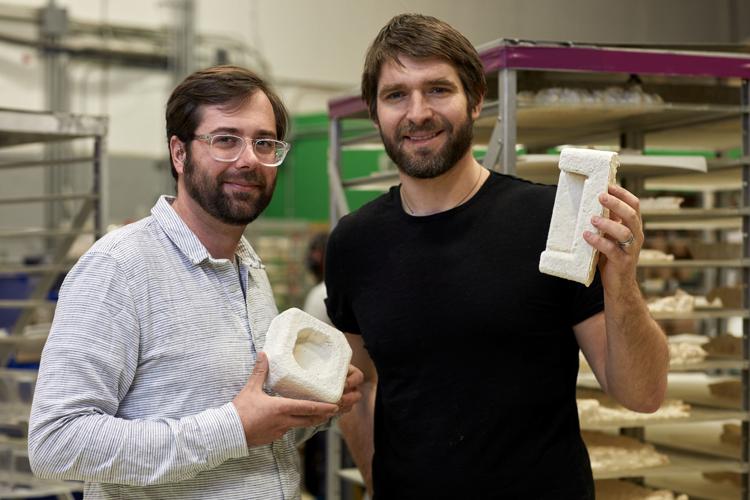 Bayer and McIntyre first thought of the idea on Bayer's family farmstead in Vermont.
"The forest has always been a source of inspiration for me and a place of peace, and it was part of the inspiration behind the concept of using mycelium (the root structure of mushrooms) as a binder to grow materials," Bayer said in a news release.
Bayer and McIntyre started to create their new packaging material at Rensselaer Polytechnic Institute during a class called the "Inventor's Studio."
They used the binding powers of mushroom roots to glue together things like corn husks, rice or hemp. The roots can grow in a mold, forming specific shapes desirable for packaging. Once dried and baked, the roots stop growing and the material becomes a biodegradable packaging material.
Bayer said the packaging is "strong and durable," and "grown with a fraction of the energy of conventional plastics. And at the end of this material's useful life, you can actually compost it in your garden."
McIntyre and Bayer later formed the company Ecovative Design, and they supply several companies with the material.
The patent award will be announced on June 20. To learn more about Ecovative, go to ecovativedesign.com.