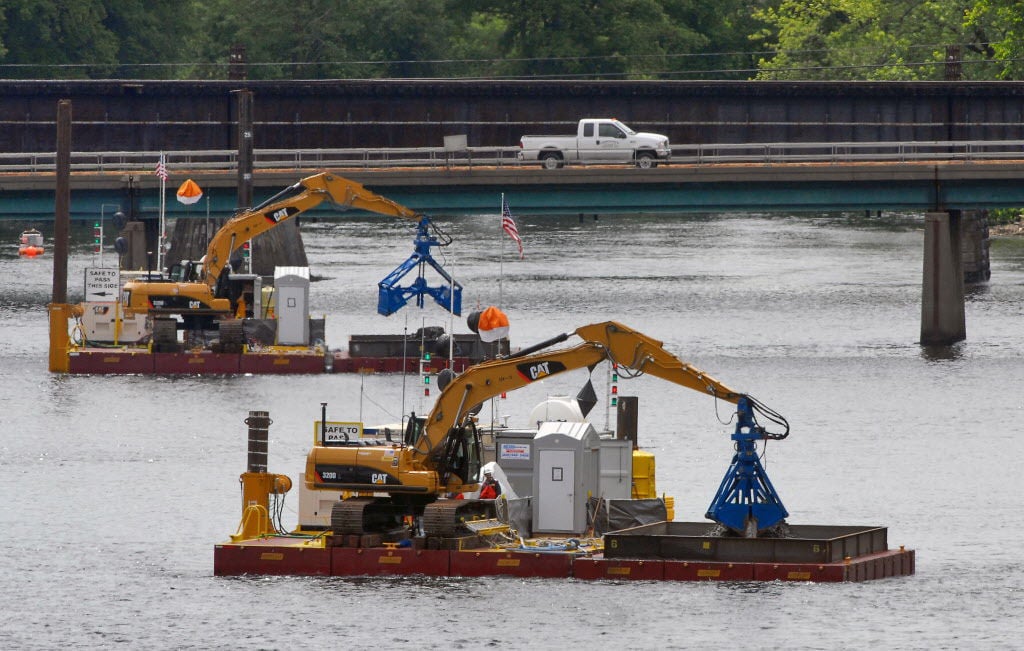 The U.S. Environmental Protection Agency had mixed messages Thursday about the cleanup of the Hudson River Superfund site.
It issued the General Electric Co. a certificate of completion of the remedial action for the dredging, capping and habitat restoration of the Upper Hudson River.
But, separately, its five-year review was also released, which said EPA is not sure about whether parts of the 40 miles of Upper Hudson River are clean enough to protect human health and the environment, and more fish tissue data will be collected. The federal agency has decided "to defer a determination of the protectiveness of the remedy," according to a news release.
The EPA said the two actions are separate, and the issuance of GE's certificate of completion is not related to the five-year review. GE also has one more certificate to get — the "certificate of completion of the work."
In a phone press conference Thursday, EPA Region 2 Administrator Pete Lopez said the federal agency's determination does not mean GE is "off the hook," and it will be decades before GE is issued the final certificate.
"It's effectively a legal receipt that confirms GE did what it was directed to in terms of the construction work required in the (2006) consent decree," Lopez said of the certificate of completion. "The consent decree explicitly contains re-opener provisions, which allow EPA, under specified circumstances, to seek additional work."
In an emailed statement, GE said the EPA's decision confirms that it "successfully completed the Hudson River dredging project."
"GE will continue to collect environmental data to assess ongoing improvements in river conditions and to work closely with EPA, New York state and local communities on other Hudson environmental projects," the statement continued. "During six seasons of dredging, GE removed twice the volume of PCBs from the river than EPA expected. As a result, as EPA reported, more than 99 percent of sediment samples taken by New York state in the Upper Hudson met the standard EPA set for the project. GE invested $1.7 billion in the project and, as EPA confirmed, has met all of its commitments."
From the 1940s to 1970s, GE released about 1.3 million pounds of PCBs into the Hudson River at its former plants in Hudson Falls and Fort Edward. PCBs were used as a fire preventive and insulator for manufactured devices, but in 1977, the EPA banned their production.
PCBs are probable human carcinogens and can cause health problems like learning, memory and immune disorders, according to the EPA's Hudson River Superfund website.
It has been 16 years since the EPA issued a record of decision, requiring the General Electric Co. to dredge about 2.65 million cubic yards of sediment from Troy to Fort Edward. Dredging was completed in the fall of 2015.
Lopez said there's been calls for more dredging, and he understands that desire.
"Once we have more years of fish data, we should have a better idea if the remedies are on track for the fish and thus the Upper Hudson as a whole," Lopez continued. "What happens in the future is really how the river performs."
EPA could require more dredging, he added, and could put up another temporary dewatering facility to process sediment.
"It's not uncommon," Lopez said. "Temporary dewatering facilities can be put back in place, and if it has to be, it has to be."
You have free articles remaining.
Extensive sediment and fish testing done by GE and by the state Department of Environmental Conservation have brought conflicting statements from the two about whether the remedial action is working.
The DEC has said that PCBs remain in the Upper Hudson River at varying amounts. Fish PCB concentrations are going down, but the DEC had said they are three times higher than the EPA-targeted concentrations to be reached by 2020.
GE has said the data shows PCB levels in the water, sediment and fish have dropped.
The five-year review was supposed to be released in 2017, but the back-and-forth between GE and the DEC about the fish and sediment data continued to be reviewed by EPA. Lopez said Thursday that two years of post-dredging fish data doesn't give the EPA a comprehensive view of whether the remedial action has worked.
The EPA is looking for at least eight years of fish data before likely making a determination.
Mark Behan, president of Behan Communications and spokesman for GE, said the EPA has often said it will need more time "to fully evaluate the benefits of the dredging project." GE will also continue to collect water, sediment and fish samples and provide the information to DEC and EPA.
"I think that what I take away from this is that EPA confirmed that GE successfully completed dredging, that GE met all of its commitments and that dredging produced declines in PCB levels as EPA expected," Behan said.
Gary Klawinski, director of the EPA's Hudson River Office, added that EPA collects fish data twice a year, but there will be more monitoring done than previously. In 2019, there will be more fish sampling and more species of fish sampled. For example, Klawinski said they'll start looking at walleye fish.
The ultimate goal is to have the fish tissue reach PCB concentrations of 0.05 parts per million over 50 years.
"Ultimately, again, if we're not heading in the right direction as we stated, then we would consider whether a re-opener is needed and additional work is required for trajectory," Lopez said.
Lopez said there are no "hot spots" of PCB concentrations in the river, but there are three areas of interest. They are downriver, two in Mechanicville and one in the Northumberland area.
In a separate action, GE will need to perform remedial work on segments of the old Champlain Canal and river floodplains. Lopez said that work is under a separate consent order and EPA will be selecting a final cleanup plan.
The floodplains include about 3,000 properties between Hudson Falls and Troy. In a release, EPA said GE has already collected about 8,000 soil samples from more than 500 properties.
"Before EPA finalizes a cleanup plan for the floodplain, it will propose a plan and make it available for full public consideration," according to a news release. "EPA will then decide on the final cleanup plan with input from the public, as it did for the dredging project in the Upper Hudson."
The EPA is also considering local governments' requests to expedite the floodplain remediation.
That was the one piece of good news for Schuylerville Mayor Dan Carpenter, who was disappointed with the EPA's decision to issue the certificate. With the Empire State Trail adjacent to the towpath and the Champlain Canal Region Gateway Visitors Center there, Carpenter and other village leaders are worried that a lengthy cleanup investigation could hinder economic development.
"I'm concerned about the future work without additional information, but I'm also pleased to see they're (EPA) still focusing on the canal," Carpenter said.