QUEENSBURY — Architects, Board of Education members and students attended the groundbreaking ceremony of the Queensbury Union Free School District's turf project on Wednesday.
Superintendent Kyle Gannon said the project has been in the works for three long years, and he and the student body are excited to see the final outcome this fall. Work will take place throughout the summer, with fields done by Aug. 1 and bleachers installed by Aug. 16.
"Right before school is back in session," he said.
Scott Whittemore, assistant superintendent for business, said the project will cost between $3 million and $4 million. Long-range planning was used to pay for the project.
"The state gives aid that the school is eligible for every five years and it's use it or lose it. We are leveraging that state aid to construct this field and it's going to get a lot of use," he said.
Board of Education President Dan Mannix said the turf will be an asset to more than the students.
"We couldn't be more excited to commence this part of the drive for excellence to modernize our facilities for the athletic community and Queensbury community," he said. "We couldn't be more proud. I've been on the board for about 12 years now and it's been something Vice President Tim Weaver has talked about before I became a board member."
Weaver added that turf has been something he's wanted to see in the district for over a decade.
"This is my 19th year on the board and I think for 18 of them, I have been asking for a turf field for our student athletes. It's here and it's great," he said.
Also attending the ceremony was Greg Klokiw of CSArch in Albany and Rob Kernan of The LA Group of Saratoga Springs. Klokiw said he is proud to see the district strive through the copious years of planning for turf.
"I want to congratulate the Board of Education, the district's administration, Superintendent Gannon, students and the entire community for participating in moving forward on such a transformative project," Klokiw said.
The spirit band, conducted by band teacher Jim Cirillo, performed "Don't Stop Believin'" by Journey. The Madrigals, a chamber group, sang the school's alma mater and was conducted by choir teacher Matt Gaulin.
Gannon said that in the past years, students have dealt with cancelled games due to field conditions, but that will not be a problem for the district soon.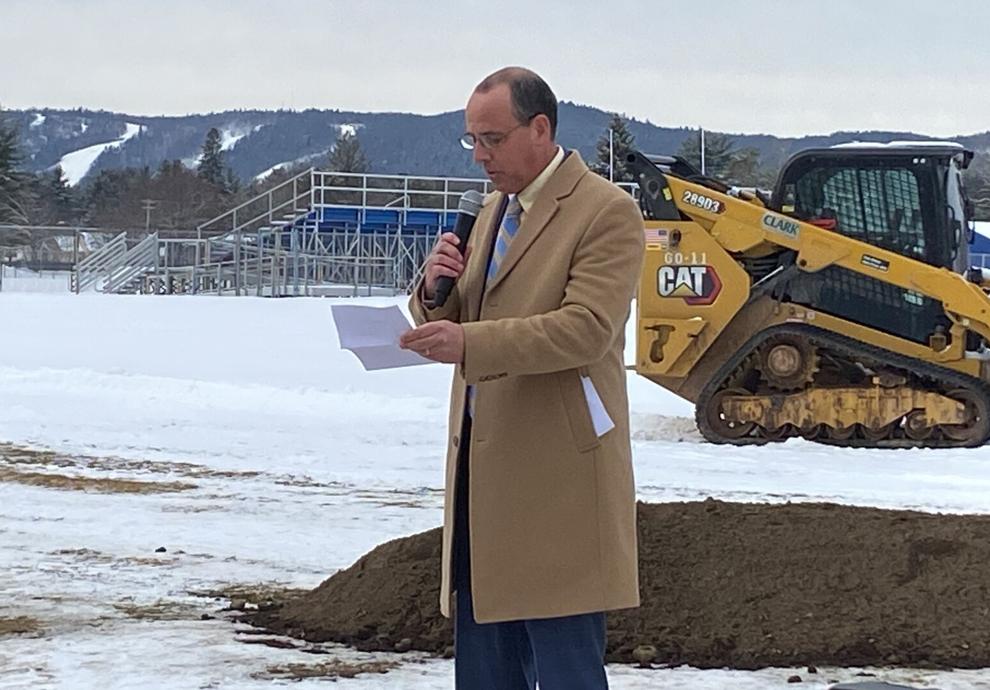 In honor of the students that won't be able to play on the new fields, there was a passing of the shovel among them to mark of the games they lost out on during their high school athletic careers.
"It's taken a long time to get to this day," Gannon said. "The project came from when athletes couldn't play during the spring. They were playing in parking lots. They were playing all over campus. We were driving them to Golden Goal Sports Park in Fort Ann. Now we're able to finally have games at home."
Richard Keys, director of health, physical education and athletics, said it's time students have the chance to play a full season.
Even during his time as principal and assistant principal of the middle school, Keys has been pushing for the improvement of the athletic facilities through conversations with students, parents and the community.
"Over the last seven years, I have researched the benefits of such a facility. For the last three years, we have planned and designed it with an amazing group of people," he said. "We sought feedback and insight about this facility and how it will impact the students for generations to come."