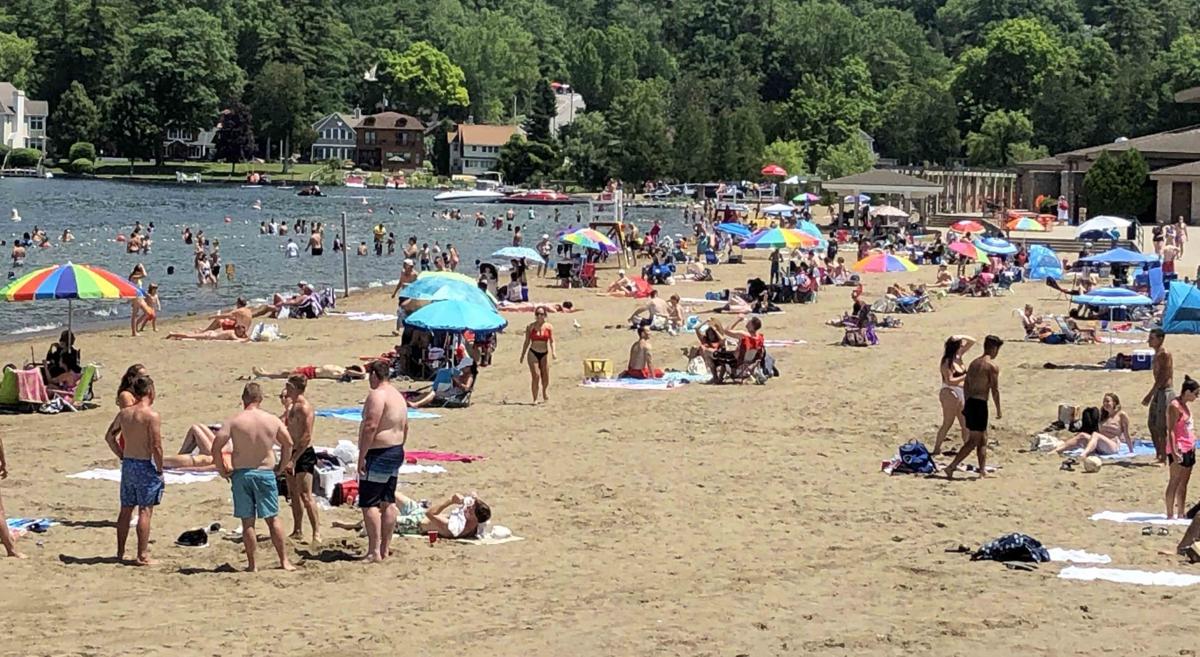 The summer season of E. coli beach closings has started in Lake George even before summer has, and we expect there will be more, along with discoveries of algae growth, which also can result from septic system spillage.
On Saturday, the state Department of Environmental Conservation closed Million Dollar Beach after tests detected elevated levels of E. coli, which officials blamed on heavy rains.
The past several years, at least, has featured a parade of failed water quality tests in the southern basin, leading to beach closures, widespread hand-wringing and silly statements from Mayor Bob Blais.
Maybe it's the geese, Blais has speculated. Maybe it's a couple of boaters whose toilets aren't working properly.
That last excuse was floated by the mayor in the summer of 2009, a month after old village sewer pipes near Shepard Park ruptured, releasing a torrent of raw sewage into the lake and closing local beaches all summer long.
The ruptured pipes were fixed, but water quality problems have persisted, leading to numerous beach closings and more silly statements. The problem with closing the beaches, as we have pointed out before, is they get closed after the water has tested unsafe for swimming. Unfortunately, swimming was almost certainly taking place before the test, in the foul water.
This is an unpleasant subject, which may be one reason why so little has been done to solve the problem. Publicity about sewage in the water is bad for business in Lake George, and for years, the seriousness of the problem has been downplayed and the need for dramatic steps discounted.
It is no coincidence that two of the leading obstructionists have been Blais, with his obtuse attitude, and Dennis Dickinson, supervisor of the town of Lake George, who has been blocking a push at the county level for septic system inspections of lakefront properties.
A Glens Falls supervisor, Claudia Braymer, introduced a modest proposal to require inspections countywide on lakefront property when it changes hands. That would mean a slow bringing up to code of the septic systems, with decades-long gaps between inspections in many cases. Regular inspections — every five years, say — would be better.
But Dickinson won't even entertain Braymer's proposal. It would be expensive for people trying to sell their lakeside homes, he said.
It will be more expensive, for everyone, if the famously clean lake water becomes dirty.
Lake George is the victim of its own success. More visitors, more cabins being converted into year-round houses, more seasonal rentals, more Tiki tours and pontoon party boats and pleasure craft of all sorts — it all adds up.
The village is finally building a new, overdue wastewater treatment plant, which will help. But much more needs to be done.
Responding to Dickinson, Braymer said, "What you're saying is that it's too hard to deal with this now. So let's not do it. We're just kicking the can down the road for people 20 years from now to fix their systems — maybe. And in the meantime the failed systems are going to continue causing problems for water quality."
Water quality is what brings people to Lake George. Allow that to be destroyed, as those standing in the way of stricter regulation are doing, and you destroy the local economy.
Local editorials are written by the Post-Star editorial board, which includes Ben Rogers, president and director of local sales and marketing; Brian Corcoran, regional finance director and former publisher; Will Doolittle, projects editor; and Bob Condon, local news editor.