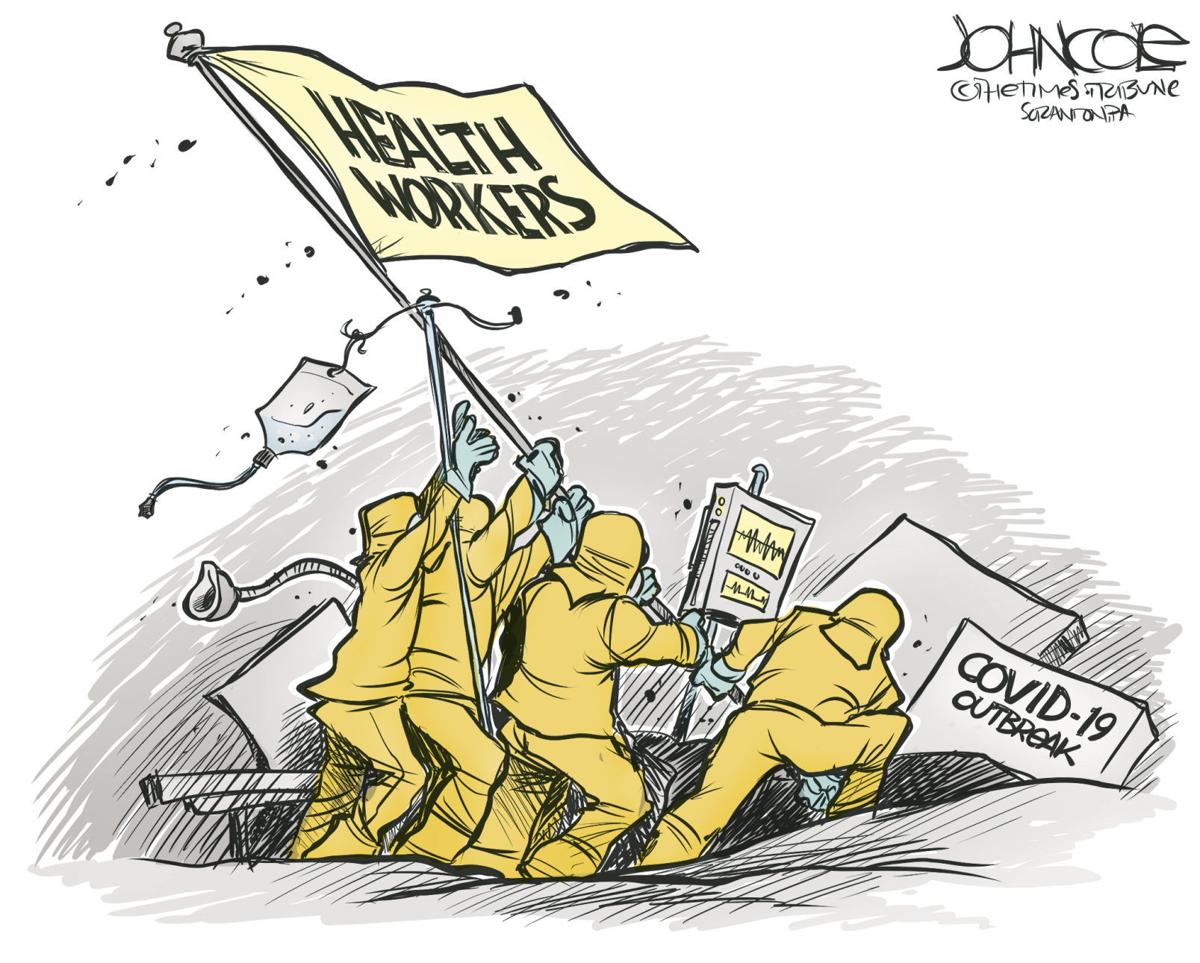 In the weeks and months ahead, we expect we will be hearing a lot about the shortcomings of our health care system.
We're not talking about the quality of care given by our health care professionals so much as who is insured, how much they pay, and if we don't provide medical help for everyone.
We suspect we will have many questions about what needs to be fixed.
Many of us will soon have some first-hand experiences we will want to share.
Considering this is an election year, we believe the next presidential election should have a healthy discussion about health care. We need to decide once and for all what type of system we want – single payer, universal health care, Medicare for all – and make the change, even if it costs a significant amount of money, because as we have all seen this past week, pandemics are extraordinarily expensive, too.
We hope it is not true, but we expect the current crisis will reveal significant problems and gaps in our health care that will dramatically affect many of us.
The first thing to address is that many people do not have and cannot afford even cheap insurance. The result is they do not practice preventative care.
They don't go for checkups, and if they do get sick, they avoid the doctor until it feels like they have the plague.
Many of us have grown up with a mindset of avoiding doctors and medical treatment at all costs and we brag about it religiously, especially since $30 and $40 copayments can be significant hits to our pocket books.
As the challenges to our health care system are revealed, it should not surprise us that the United States has fewer doctors and fewer hospital beds than most other developed countries.
Medical treatment, as anyone who has ever gotten an emergency room bill knows, is expensive in the United States.
But even if the U.S. embraced another type of health care system, it is unlikely it would have avoided the pandemic.
After all, Italy has universal health care and it still has been forced to lock down the country.
But having a system that everyone can use would be far more favorable than what we are seeing now, especially if preventative measures are practiced before hospitalization is necessary.
Government officials have all jumped on board making care and tests free during this crisis – at least in the short term – because it is in the best interest of keeping the most people healthy.
Those actions might give you insights about what we all need – easy affordable access to health care – and expect, because if these are the "best practices" during a pandemic, then wouldn't it also make sense to do that the rest of the time?
As the medical community prepares for the challenges ahead, consider that Americans face higher out-of-pocket costs for medical care than almost any other country in the world.
That means many people make medical treatment decisions based on whether they can afford it.
You don't want to hear anyone saying, "I'll just have to save up for that penicillin."
Research shows as many as 33 percent of Americans see costs as a barrier to getting medical care. In Switzerland, it is 22 percent, Germany 7 percent.
Twenty-five percent of Americans said they delayed treatment for a "serious condition" because of cost.
According to a Vox article online, a 2018 study found that even women with breast cancer would delay care because of the high deductibles on their insurance plans.
There is something morally wrong about that.
Gov. Andrew Cuomo announced last week that he would require insurers and Medicaid in New York to cover treatment and testing cost-free with an emergency declaration.
Without the free testing for coronavirus, you might see a quarter of the population balk at testing because they felt it was too expensive, leading many to walk around infecting others.
It turns out that the United States lacks hospital infrastructure as well. During the pandemic, it is expected there will be a lack of hospital beds. The problem is that the U.S. has a higher rate of hospitalization for chronic conditions such as congestive heart failure, diabetes and asthma that many believe could be managed without hospitalization with better preventative care.
Regular doctor visits might lead to healthier eating and more exercise that might reduce hospital admissions.
The United States also has fewer doctors than other countries, by a lot. With fewer doctors seeing more patients, getting same-day or next-day appointments is almost impossible.
So even if you were sick with the coronavirus several weeks ago, it is unlikely your doctor would have seen you in a timely manner.
Considering the technological advantages our country has, we are perplexed why every single health care provider is not automatically able to access your health records and tests with the touch of a computer button.
In the coming months, we will hear a lot about the pandemic and who is to blame.
But what we really need to be talking about is whether everyone should have access to affordable health care and how much that will cost.
That's what the presidential campaign should be about.
The goal is to make our citizens healthier, happier and less susceptible to disease.
The system we have now is not working. We fear we are going to see that in the coming days.
Post-Star editorials represent the opinion of The Post-Star's editorial board, which consists of Publisher Brian Corcoran, Editor Ken Tingley, Projects Editor Will Doolittle and citizen representative Chuck Cumming.
Get local news delivered to your inbox!
Subscribe to our Daily Headlines newsletter.