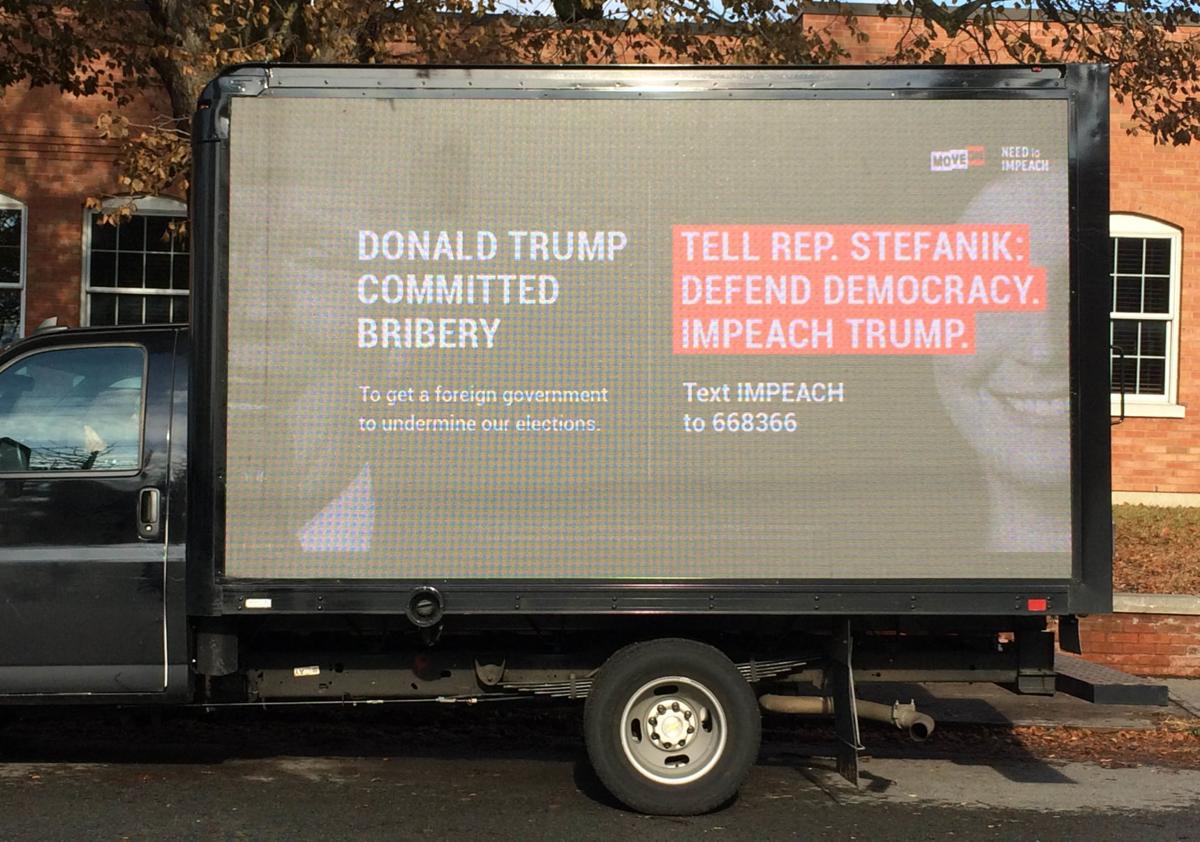 It's going to be a hullaballoo when the sign police show up and shut down the whole city bus fleet in Glens Falls, not to mention the summer trolley.
Those vehicles carry advertising signs, and although no one seemed to know it until Monday, the city does not allow advertisements on vehicles without the issuance of a temporary sign permit.
The sign police are going to be tremendously busy. Even if the city exempts itself from its own sign laws, which wouldn't surprise us, the sign police will be swamped trying to pry those funny lighted pizza signs off the tops of delivery cars.
Convincing all the building contractors and dry cleaners and florists that they've got to paint over the advertising on their delivery trucks could be a challenge, too. And beer trucks — those are big. Will the city at least provide the paint?
City officials were vague about the details of the sign ordinance and didn't seem able to cite which part of it applied to the truck that was parked recently in Glens Falls with an electronic political message displayed on its sides and back.
They were sure it wasn't allowed, but they weren't sure why, and neither are we. We've read the law, and it makes no reference whatsoever to signs on vehicles.
In this case, a truck with built-in electronic display boards was hired by the political groups MoveOn and Impeach Now to park in various places and display a few messages:
"Donald Trump committed bribery to get a foreign government to undermine our elections;"
"Tell Rep. Stefanik: Defend Democracy. Impeach Trump. Text IMPEACH to 668366"
"Impeach & Remove Impeach.org"
The signs glowed, because they were electronic, but they didn't move nor flash, which is forbidden under the sign law.
This was a panel truck, not as big as a beer truck, but big enough. It made a statement, but we are under the impression that making political statements is legal, even on trucks.
If the city is serious about forbidding political statements on vehicles, we wonder what the size limits are. Displaying a Confederate flag on your pickup truck, as some bewildered local people still do, is a political statement, and some of those flags are pretty large.
But people slap all sorts of political statements on their cars in stickers of various sizes and colors and degrees of tastefulness. If you're banning political speech on vehicles, what about on bicycles? What about T-shirts? That sounds silly, but silliness results when you stretch laws beyond their obvious sense to fit circumstances they weren't meant for.
The common-sense meaning of the city's sign ordinance refers to signs on buildings and on property, whether those signs are permanent or temporary. Nothing in the code refers to signs on cars or trucks or other vehicles. Since many of us spend so many hours in our vehicles we could be said to live in them, at least part-time, we should be allowed to express ourselves, too, and not only with a limited repertoire of hand gestures. This is not an issue the city needs to address. Let the car signs be.
Local editorials represent the opinion of the Post-Star editorial board, which consists of Editor Ken Tingley, Projects Editor Will Doolittle, Publisher/Controller/Operations Director Brian Corcoran and citizen representatives Barb Sealy and Alan Matrose.
Get local news delivered to your inbox!
Subscribe to our Daily Headlines newsletter.