SARATOGA SPRINGS — Glens Falls senior Austin Montello beamed as he unveiled the finished logo for Caffé Lena's summer song series, TruSongs, at the Saratoga Springs venue last week.
Montello is part of the team that developed the logo and the marketing campaign that will advertise the series leading up to its July debut, earning both high school and college credits along the way.
Montello is the project manager from the Early College Career Academy Business and Entrepreneurship program, a two-year program in which students step outside of the classroom for real-world experience through projects and internships.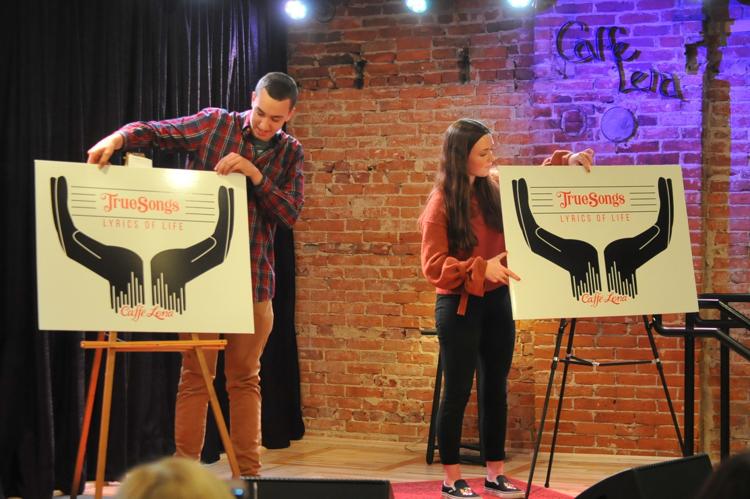 "From the beginning, I wanted a different setting for my high school experience," Montello said. "It gets us out to do more than it says. You have to get out and do projects, job shadows and we're all on internships at the moment as well."
Montello is one of the hundreds of local students that have opted for courses that allow high school students to begin their college careers before graduation, a trend that has grown significantly since the programs were introduced.
Students taking at least one course for high school and college credit has grown from 784 in the 2013-14 year to 1236 this year, a 57.7% increase.
Rising costs of four-year degrees, high expectations from colleges and an expanding selection of courses and programs have all played a part in propelling enrollment over the last five years, according to Michael Prutsman, assistant dean of Extended Programs at SUNY Adirondack.
There are four options for dual-enrollment programs through SUNY Adirondack and they consist of Early College Career Academy, Pathways in Technology, the Classroom Academy and the Campus Academy.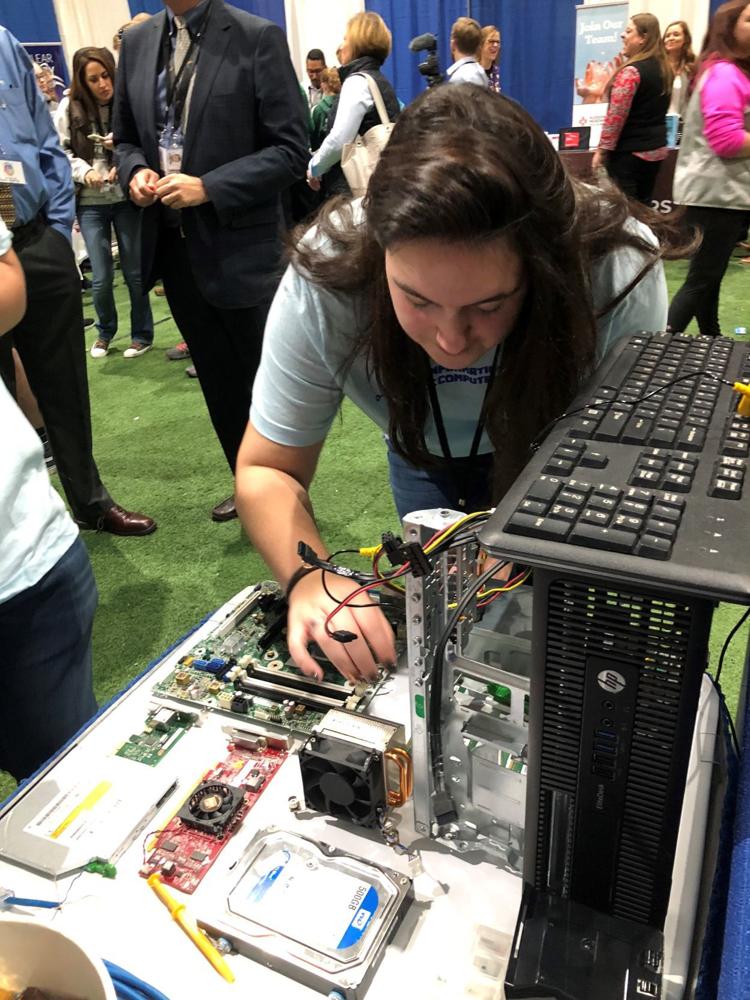 ECCA and PTECH are multiple-year programs that are completely cost-free to students, and the Classroom Academy and Campus Academy courses are taken on an ad-hoc basis with students covering a partial cost and the full cost of each, respectively.
The programs are partnerships between local school districts, SUNY Adirondack and the Washington-Saratoga-Warren-Hamilton-Essex BOCES. Twenty-two districts from BOCES currently participate in at least one of the program options.
Reasons for growth
Queensbury Superintendent Doug Huntley agreed there are many reasons behind the expanding numbers, and said, first and foremost, the increasing course options allowed students in his district to explore their own interests.
"These programs provide greater choice for our students and if they're more interested it's more likely they're going to succeed," Huntley said.
He said there are many benefits beyond the additional credits as well as preparing students for the transition from high school to college.
Fort Edward Union Free School District Superintendent Daniel Ward said smaller districts are taking advantage of these courses through the Distance Learning Network that allows several schools to partake in the same course through video conferencing.
Fort Edward has courses hosted by Granville and Hartford central school districts as well as others.
"Overall, our students are appreciative of the opportunity to access the classes, receive a reduced tuition rate and earn both college and high school credits," Ward said in an email.
Pruttsman said another factor driving enrollment is the dual-credit courses do not rely on a single test at the end of the year and needs a body of work from the student to determine if they pass just like any other class.
Students in Advanced Placement classes can take the course for an entire year, but often need at least a four out of five on the final test or they do not receive college credit from most schools.
Hadley-Luzerne Central School District Superintendent Beecher Baked agreed with Pruttsman's sentiment and said an option that factors in more than one test is a fairer reflection of a student's ability and reflects what college is actually like.
"You're not assured of the credit from a college perspective in AP classes," Baker said, "whereas a student with a B or a C still gets the credit in these courses and that makes more sense to us."
Fully prepared
These programs are an additional revenue source for SUNY Adirondack, but the college's president, Kristine Duffy, said the benefits of the free and discounted programs are great for students even if they don't decide to come to the college after finishing high school.
"We know if a student takes at least one college class in high school that it is more likely they will graduate college," Duffy said. "These courses are also a low-risk experience for students who may not be sure they want to go to college where they can explore whether it's an environment they think they can succeed in."
Montello said his program eased any nerves he had about arriving at college on his own because he is now comfortable navigating college courses and campuses.
"I already have experience and I know what it's like," Montello said. "It actually taught me a lot about what to expect from college, so I'm ready for when I have to go do it on my own."