Campuses have been visited, tests have been taken and retaken and essays are being written by high school seniors across the country as they prepare to complete applications to college this fall.
Although going directly into the workforce is regaining steam as an option for students post-graduation, the vast majority are still opting for some sort of college after high school.
The Post-Star gathered information from core school districts — Glens Falls, Hudson Falls, Lake George, Queensbury and South Glens Falls — from the last five to seven years, and more than 60% of students, sometimes as much as 82% in one year at Queensbury, opted for some version of college the fall immediately following graduation.
SUNY Adirondack is by far the most popular choice, while SUNY Plattsburgh is the top pick among four-year options and Siena College is first among private schools.
Being a community college, SUNY Adirondack has open admissions, meaning anyone with a high school diploma or equivalent can enroll.
All of these schools share a proximity to The Post-Star's coverage area, as SUNY Plattsburgh also has a satellite campus on the SUNY Adirondack campus.
High school guidance counselors and admissions officers said students like colleges that are nearby, because they can save money on housing by commuting and because they feel more comfortable close to home.
Hudson Falls senior Caroline Martindale said her decision will be based primarily on where she feels the most comfortable both as a campus and a community.
"I'm looking primarily at a smaller campus size because I think that would mean a closer-knit community and also how engaging the people are," Martindale said. "If it feels more like a sales pitch, it doesn't feel genuine."
Her current list includes Colgate University, St. Michael's College and Siena, among others. She wants a college far enough away that she feels independent, but close enough to visit occasionally and to get parental help if there's an emergency.
Cost is a factor for Martindale, and she said she hasn't ruled out enrolling for a year or two at SUNY Adirondack to take core classes before transferring.
She'll decide when she sees the final numbers, she said.
"I'm feeling pretty good about the process," Martindale said.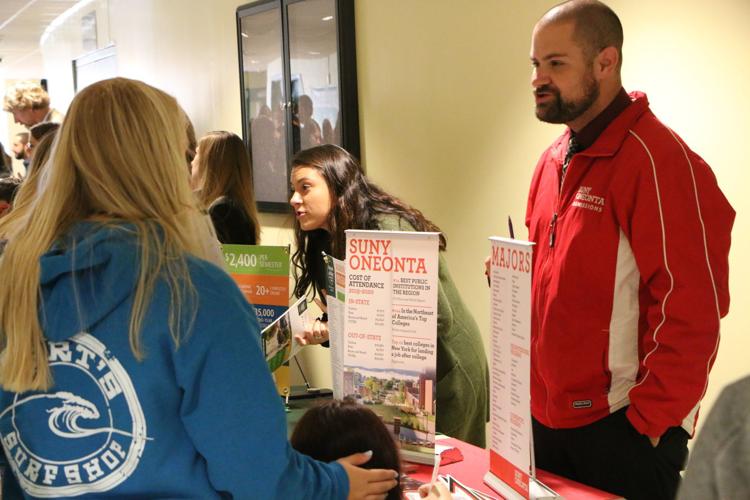 Guidance
Counselors encourage students to apply to several schools, usually ranging from the dream pick to a safer bet.
The rate of students opting for two-year schools has remained fairly consistent despite the growing price tag of four-year schools, according to counselors from across the region.
Even with higher tuition costs, private schools have remained popular among students. Hudson Falls counselor Jim Shaw said the sticker price shouldn't necessarily scare students away.
Private schools have more resources to offer financial aid, based both on need and merit, and sometimes they can offer enough to make the school comparable in cost, or cheaper, than a SUNY counterpart.
All schools, public and private, are required to have an aid calculator on their websites and to give families a rough estimate of what to expect in out-of-pocket costs, based on income and other factors, excluding merit.
Shaw said there's no exact way to know what the out-of-pocket cost will be until a student applies and finds out what their aid package will be.
South Glens Falls counselors Stacy Lloyd and Jodie McGough said they try to expose students to as many options as possible.
They use a program called Naviance that allows students to run college searches based on interest and career options and will match students with schools strong in that area.
Districts also offer free PSAT and, in many cases, SAT test days, so all students have access to the tests free of charge.
Lloyd, McGough and others said the costs of the tests can be a barrier and giving students an opportunity to take them for free on-campus raises the likelihood they will apply to and attend college after graduation.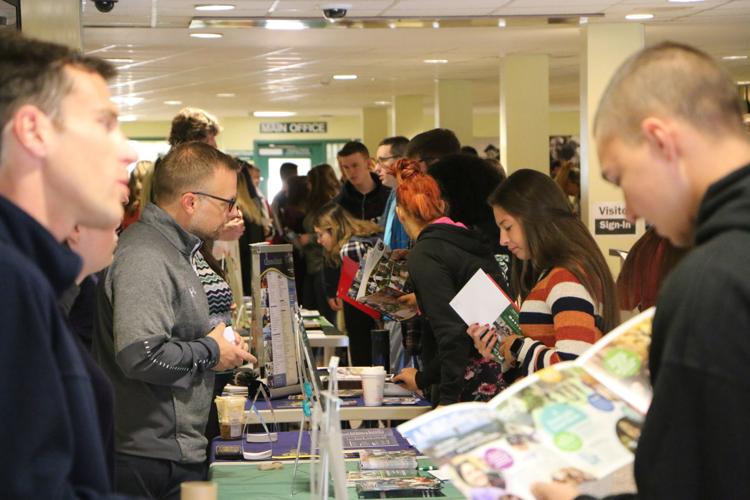 You have free articles remaining.
Academics are still the main factor when it comes to getting accepted, with student performance in high school classes the most important element of academic achievement.
Academic rankings have led to disagreements between district officials and residents, according to the chairman of the Glens Falls counseling department, Andy Akins.
Last year, the district held community meetings to discuss whether to move to an unweighted system, in which more rigorous courses such as AP courses or dual-credit classes would count the same as, for example, physical education. Many were opposed.
"The intent of the weighting is to encourage students to take them and provide an incentive to do well in those classes," Akins said of more challenging courses.
But a move away from a ranking system is being considered because, from Akins' perspective, that would engender a collaborative atmosphere rather than a hyper-competitive one.
HUDSON FALLS — A three-year journey came to an end for five Hudson Falls seniors Thursday ni…
Queensbury has used an unweighted GPA system for more than a decade. Superintendent Doug Huntley said the weighting was dropped for a variety of reasons.
"We want our students to have the greatest advantage they can possibly have, and if that meant weighting, we would. But what we found is that it doesn't do that," Huntley said.
The district looked at other schools across the Capital Region and found about half had a weighted system and, of those, there were no two that were the same.
District officials contacted college admissions offices and found that many of them had their own weighting systems to standardize the wide range of GPAs they were receiving.
An unintended consequence of weighting can mean highly competitive students trying to be named valedictorian may forgo arts courses that don't carry the same GPA boost as advanced placement or international baccalaureate courses.
SUNY Albany admissions counselor Loreily Escobar said, since students come from different schools, she and her coworkers use the secondary school report to determine whether a student was taking the most challenging courses available and evaluate the GPA from there.
"A scenario like that is when we will turn to the secondary school report, because we're really looking at the rigor of the classwork," Escobar said. "I would tell the family not to worry. We're basing it on that institution. It's really like an individualized process based on the school and the student."
She also said class rank is not a critical factor when deciding on an application.
South Glens Falls is also moving away from a class ranking system. Starting with the Class of 2024, it will use the Latin system colleges use. Students in certain brackets will graduate cum laude or magna cum laude, rather than having a numbered rank, according to Lloyd.
Other factors
More colleges are taking a holistic look at students to recognize unorthodox talent and diversify their student body, according to Katie Szalda, director of admissions at Siena College.
"One thing we really pride ourselves on is doing a holistic review," Szalda said. "Academically, we look at the performance over four years, the rigor of those classes and obviously GPA, but we do look at everything."
While traditional academic factors are important and will help a student's chances, leadership roles in clubs and sports teams, community service or skills developed through summer jobs and internships are all taken into account.
Local districts work to give students opportunities to get involved outside of the classroom.
The rising popularity of dual-credit courses in high schools across the region is also helping students when applying, as good grades in those classes demonstrate their ability to handle a collegiate workload, according to Szalda.
SARATOGA SPRINGS — Glens Falls senior Austin Montello beamed as he unveiled the finished log…
A recognition of the effort and a larger course offering such as Early College Career Academy have increased enrollment in these kinds of courses. Szalda said her office has seen many more students coming to the college with credits ready to apply toward their degree.
Even though the application process can be stressful, students should take time to enjoy it and reflect on their accomplishments, she said.
"The biggest thing is for them right now to enjoy it and have fun with it," Szalda said. "They should pick up the phone if they have questions, too, and talk to us. It's often seen as a time of stress, but they work so hard over high school; they should be enjoying this part."