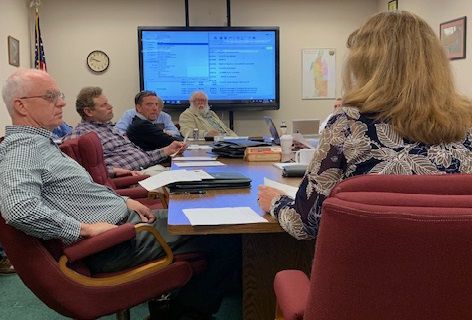 FORT EDWARD — Just weeks after a property tax assessment settlement with WCC, the previous owner of the former General Electric Co. dewatering site, the property was again turned over to the county on April 2 for delinquent tax collection.
In late December, WCC LLC donated the two parcels to the loosely defined Fort Edward Local Property Development Corp.
At the time of the property transfer, the 2019 tax bills were already addressed to WCC. But because tax liens travel with a property to new owners, WCC's gift to the LPDC came with a $400,000 property tax bill that is now delinquent and owed to the county.
On Thursday morning, during the Washington County Board of Supervisors Finance Committee meeting, several supervisors said they are angry about the situation and unwilling to coddle the new owners.
"So here we are a month later and we're going down the same sewer hole we went down for three years on those two parcels. We're owed 400 grand right now, is that correct?" asked Granville Supervisor Matt Hicks. "The new LDC (LPDC) owes us this $400 grand?"
"Correct," Washington County Treasurer Al Nolette said.
But little is known about this fledgling LPDC, with board membership, minutes and activities remaining relatively secret.
In the December articles of incorporation, three board members — Neal Orsini, Deanna Derway and Tom Roche — were listed with a 118 Broadway, Fort Edward, address, the same address as the town and village offices.
Still, Fort Edward school board president Roche said he had resigned from the LPDC in January, and Derway, the president and executive director of the Washington County Local Development Corp., said she never accepted any position with the corporation.
At this time, the only known LPDC board member is Orsini, also a member of the Fort Edward Town Board. After calls to his Fort Edward restaurant, Orsini was not reached on Thursday for comment.
In February, Fort Edward Supervisor Terry Middleton said that his son was also on the LPDC board.
"A month after all this, we're $400 grand in the hole, headed down the same avenue we went to before," Hicks said. "Because there's going to be, on one parcel, village taxes due in June and September more school taxes are coming due. All this is due by this Fort Edward LPDC, an entity that four months ago didn't exist. Correct?"
When WCC owned the Fort Edward parcels, the delinquent property taxes owed were nearly $6 million, but WCC was unwilling to pay because the owners said the property assessment was too high. The three-year delinquency left the county holding the bag for that amount.
Nonetheless, in March, several board-approved resolutions opened the door for the county to go back and collect that amount from the town, village and school district. An 11th-hour negotiated settlement with WCC, the town and school district prevented that action and resulted in the county collecting a portion of the delinquent taxes owed from the town, village and school district.
"Fool me once, shame on you, fool me twice? How can we get in front of this and be proactive and say we're not doing this anymore? These two parcels, pay the taxes. I don't know who they are down there," said Hicks. "And who is in charge to come up with $400 grand, and I don't want to let this linger and a year from now they come back and say, 'Oh, we didn't know we owed you taxes, we didn't think we did.'"
There was discussion about whether the new LPDC even got a tax bill because, when the tax bills were created, WCC was the owner of record.
"WCC and the new owner will be getting a package from me with corrected tax bill within the next few days," said Nolette. "They both will know about the 2019 bill. There are a couple of other quivers you have in your bow as a board, that tax lien is out there, it will go through all the normal foreclosure things like any other property."
Nolette explained that in 2021, if that tax lien remains unpaid, there will be an enforceable lien officials could choose to foreclose on. Other discussions included the possibility of buyers interested in the property and how the property cannot be subdivided with a tax lien on it.
"There are some protections, but that $400,000 could in theory be $1.2 million by the time to enforce," Nolette said.
Additionally, even though the new LPDC is listed in their New York State Articles of Incorporation as a not-for-profit, the new organization did not make the filing deadline to be tax-exempt and it owes the full amount due on the property.
Hicks continued wondering why the new owners would acquire a property with a $400,000 tax lien.
"It's going to be $900 grand a year from now," he said. "I'm afraid they're going to come back and say, 'If you don't do something about the road, or if you guys don't build a bridge.' No. We've got to draw a line in the sand now. We've gone through 2016 till now with this nonsense. We've got to say stop.
"You guys are sucking us dry of our fund balance and you're taking no pain," Hicks continued. "I've had enough. I'm mad as hell and I'm not going to take it anymore. This is nonsense."
Hartford Supervisor Dana Haff agreed, adding that county officials really don't even know who to contact on the LPDC.
"They change every day who the members are, and half the members don't even know they are a member," said Haff. "Do they have a budget or revenue? I think this thing is such a mess. At some point it's going to come back and you know we're going to be hearing about roads and bridges. And I think we should say, 'We are done with you. Don't come back here. If you're going to come back here, pay your bill.'"
Kathleen Phalen-Tomaselli covers Washington County government and other county news and events.