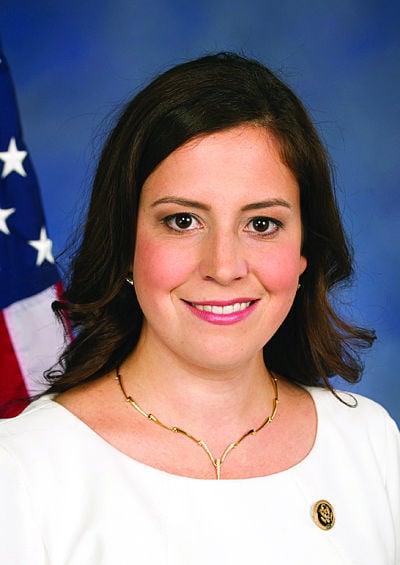 U.S. Rep. Elise Stefanik, R-Willsboro, doesn't want to talk about Donald Trump's defense policy.
Democratic challenger Mike Derrick, who does want to talk about Trump, doesn't want to talk about the defense spending bill that passed the House on Wednesday.
Derrick issued a press release earlier this week, linking Stefanik with "dangerous national security views" of Trump, the presumptive Republican presidential nominee.
"His abject lack of knowledge and his lack of appreciation for our international relationships and the nature of the role we play puts our nation at risk and certainly would put our military at risk," Derrick said in a telephone interview on Thursday, elaborating on the press release. "Our military might find itself being used in situations that are not in the best interest of our nation."
Derrick, a retired Army colonel from Peru, in Clinton County, said he is concerned Trump could spark military conflict with China.
"He has been wildly erratic in his comments on China," Derrick said. "On one hand he is talking about starting a trade war with China, and then on the other hand he says we need China to work with us in dealing with North Korea. You really can't have it both ways."
Stefanik, through a spokesman, would not comment about Trump's defense policy.
"Congresswoman Stefanik's strong, bipartisan record on military issues … speaks for itself," said Lenny Alcivar, a campaign spokesman.
Alcivar said Stefanik only speaks about her own policies and campaign, not for Trump.
"Mike Derrick is not running against Donald Trump," Alcivar said. "He's running against Elise Stefanik and (Green Party candidate) Matt Funiciello."
Stefanik has said she will support the Republican nominee, but she has not specifically endorsed Trump.
Derrick, meanwhile, would not comment about the National Defense Authorization Act, which passed the House on Wednesday by a 277-147 vote, largely along party lines.
Stefanik has touted positive implications of the spending legislation for Fort Drum, in Jefferson County.
"I have not gone through that legislation," Derrick said. "I am trying to win this election, and that has not been on my to-do list."
Funiciello, the Green Party candidate, said he is more concerned about likely Democratic presidential candidate Hillary Clinton's defense policy than that of Trump.
"I think she's a much more dangerous political creature than Donald Trump. … He's kind of like the crazy uncle who occasionally says some brilliant things," said Funiciello, a bread company owner and political activist from Hudson Falls.
Derrick said Trump's comments risk angering foreign leaders.
"We have this existing tension, and you add fuel to that … it only will make it worse," he said. "A chief executive in this country has to act very carefully in these ways because one misstep, one misinterpreted comment, can lead to significant consequences."
Funiciello said his main concern with the defense spending bill that passed the House Wednesday is a provision that will require future military enlistees to pay more for health insurance coverage.
Stefanik, who serves on the House Armed Services Committee, has said the House rejected an Obama administration proposal to increase the cost for current military personnel.
Follow staff writer Maury Thompson at All Politics is Local blog, at PS_Politics on Twitter and at Maury Thompson Post-Star on Facebook.
Get local news delivered to your inbox!
Subscribe to our Daily Headlines newsletter.