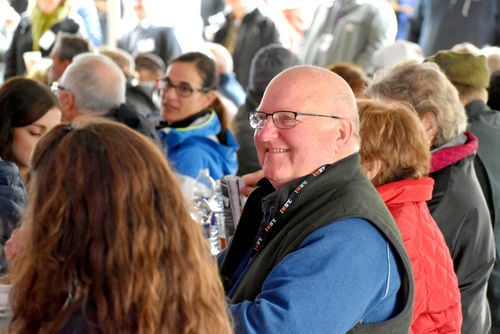 RAY BROOK — Friday was state Department of Environmental Conservation Region 5 Director Robert Stegemann's last day on the job, and he was cleaning out his office so he could leave it in a shape "that my successor cannot be intimidated by."
Stegemann chuckled and said most of the time his office looks like "pandemonium, but it's functional pandemonium."
Stegemann has held the position since 2011 and has recently been involved with some of the most pressing environmental issues in the area, including an increase of hiking in the High Peaks, a controversial rails-to-trail conversion and the state purchasing huge chunks of land to add to the Adirondack Forest Preserve. He also acts as the DEC's representative on the state Adirondack Park Agency board.
The ongoing projects are being handed off to staff, who will work on them with the next director. Stegemann said he is confident in their future because whoever is hired next will work with what he said is an incredible staff
"I've really never worked at an organization where the passion for the work is as high as it is here," Stegemann said.
He said it is the relationships with people he appreciates and cherishes most in his job, and said he will miss the society he was immersed in.
It was a tough decision to retire, but he said it was a good time.
"I've had a really good run here, and I feel really good about my time with the DEC," Stegemann said. "But my wife and I have managed our distances with this job and I'd like to be together with her."
His wife lives and works in Albany, and he lives and works here in the Adirondacks. He said they will retire to their Adirondack home, with his wife retiring, too, in the future.
Stegemann said retirement does not mean he is sitting down. He said he still wants to be engaged with the Adirondacks but have more time to enjoy all they have to offer. He said he wants to spend more time in the woods, canoeing, hiking and camping.
"In my life, my avocations have been my vocations," Stegemann said.
Stegemann's career at the DEC has been bookended by disaster emergencies. He started in 2011 in the aftermath of Hurricane Irene and now is leaving amid the COVID-19 pandemic, which is affecting all levels of society.
He said while these have both been busy times, the work of a regional director is usually pretty busy, with countless acres of land, bodies of water and fixtures under the department's purview.
The long-awaited unit management plans for the Sentinel Range Wilderness and Saranac Lakes Wild Forest are some of his biggest accomplishments, he said. The latest challenges have been the heavy use of trails, and land management decisions.
"It's bound to have tensions, but working through those tensions, it creates a beautiful place for all of us, and a fun place to live," Stegemann said.
He said the Adirondacks have amazing resources and a promising future, if the park is managed properly.
Stegemann said one of the upcoming challenges his successor will face is climate change. He wondered what the environment will look like 50 years from now and how it will be managed.
He also said the world is becoming more urbanized and that if the DEC embraces that, in a healthy way, it can be a strength.
He had a bit of advice for his successor, too.
"You need to be a good listener because you don't know everything and you can learn an awful lot if you listen first," Stegemann said.
The DEC is now in the process of hiring a new regional director and has collected all its potential applications for the job.
Get local news delivered to your inbox!
Subscribe to our Daily Headlines newsletter.