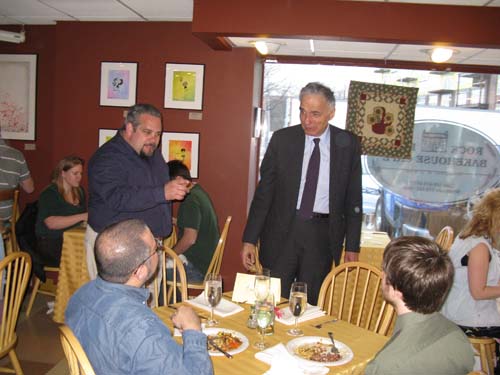 GLENS FALLS -- Being included in three televised debates will bring a huge boost to Green Party congressional candidate Matt Funiciello's candidacy, said former presidential candidate Ralph Nader, who will campaign with Funiciello on Sunday.
"For someone who doesn't have a large campaign budget, the debates are going to be very central, if people watch them, that is," Nader said in a telephone interview on Tuesday.
Candidates in the 21st Congressional District have agreed to participate in a series of three televised debates in October, one each in the Albany, Plattsburgh, and Watertown television markets, with all three candidates participating.
Dates and formats for the debates have not yet been announced.
Often, independent and third party candidates don't get invited to debates, and in some congressional races even major party candidates don't debate, Nader said.
He said getting in to debates was the key to former Minnesota Gov. Jesse Ventura's victory as an independent in 1999.
"Ventura, in Minnesota, he started out at 9 percent," Nader said, referring to early polls for the one-term governor. "He got in nine debates, and by the time it was over, he won."
Funiciello, a bread company owner and political activist from Glens Falls, said the debates will help him get exposure in Plattsburgh and Watertown, where he is not as well known as in Glens Falls.
In the past, Green Party candidates in the Glens Falls area, on occasion, have been included in congressional debates, but not televised debates.
Green Party congressional candidate Donald Hassig participated in a debate on economic issues that Adirondack Regional Chamber of Commerce sponsored in 2012.
In 2002, Green Party candidate Margaret Human participated in a congressional debate The Post-Star sponsored.
There was not a local Green Party congressional candidate in 2004, 2006, 2008, the 2009 special election, or 2010.
Funiciello is running in the 21st Congressional District, where U.S. Rep. Bill Owens, D-Plattsburgh, is not seeking re-election.
The Republican and Conservative Party candidate is Elise Stefanik, a plywood company vice president and former White House policy adviser from Willsboro.
You have free articles remaining.
The Democratic and Working Families Party candidate is Aaron Woolf, a filmmaker from Elizabethtown.
Nader, Funiciello and Green Party gubernatorial candidate Howie Hawkins will speak at a rally at noon Sunday at Charles R. Wood Theater in Glens Falls.
The rally is open to the public, for a suggested campaign contribution of $20 or more.
A contribution is not required to attend.
"We do not want anyone to miss an opportunity to hear Ralph speak because of a lack of funds," Funiciello said.
Nader also is speaking at a brunch at Rare Earth Wine Bar in Glens Falls earlier on Sunday.
Tickets to the brunch were almost sold out on Wednesday, Funiciello said.
Nader said he will encourage Funiciello supporters to take his message directly to voters and not take the election for granted.
"It's very important that we address the voters in the district there," he said.
This is Nader's third time speaking in Glens Falls in recent years.
He previously spoke at the Wood Theater in 2005 and 2008.
Nader said he keeps coming to Glens Falls because of "democracy's baker," his nickname for Funiciello, a longtime friend.
"He's extremely well read about American history, culture, politics and various policies," Nader said.
Nader said Funiciello is emblematic of a powerful independent political spirit of the '60s that is resurfacing.
"Back in the '60s and the '70s, the rumble from the people was quite audible. And it even got (President Richard) Nixon to sign into law, against his own ideology, the EPA, OSHA bills, air and water pollution laws, product safety laws," Nader said. "He just signed them and signed them because he was still hearing the rumble from the '60s."