I put off writing about this for weeks because how can you encapsulate 22 days on the road more than 5,000 miles with your 22-year-old daughter in a normal 22-inch newspaper column?
How do you even start it?
We drove from Glens Falls to Philly, to D.C. to Strawberry Plains, Tennessee to Nashville to Clarksdale, Mississippi to Dallas to Amarillo to Albuquerque to Santa Fe to Denver to Breckenridge to Salt Lake City to Reno to San Francisco and finally to Ukiah, California.
We saw and experienced A LOT!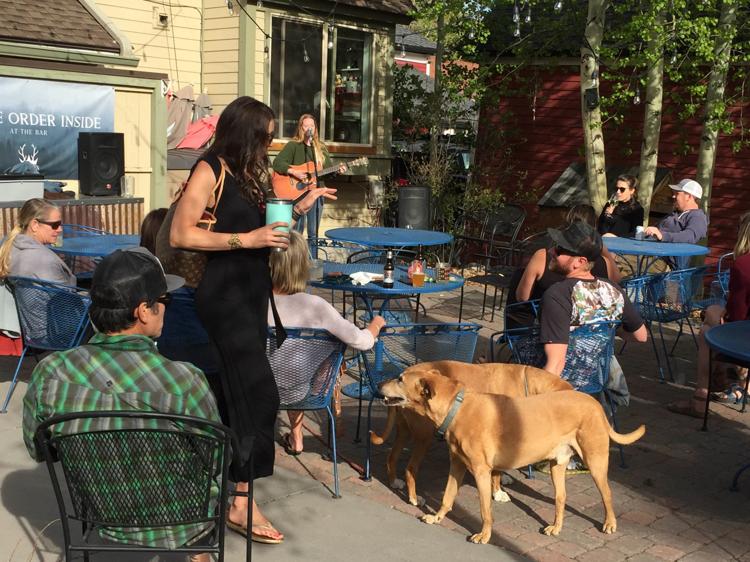 So, do I start with Kirsti's insanely rewarding, corn-liquor aided, impromptu two-song performance at a historic Clarksdale, Mississippi blues "Juke Joint" that happened just hours after she shed tears in Nashville?
Or do I set it up by first telling how a cool, 22-year-old fresh college graduate agreed to have her 52-year-old-uncool old man tag along on her cross-country tour of music and sights? Hint: Her initial vision was a solo trip …
Or do I start with the hours and hours of windshield time discussions about politics, life goals and music? I cherish those talks, some of which I recorded, about both serious topics and road-weary-laughter-inducing nonsense as our favorite tunes played in the background.
Music was a major theme of this trip in so many ways. I mean, she planned it as a mini "Dust" tour having just released a four-song EP by that name. And during the windshield chats, she told me she was doing it in part to see how people who had never heard her would react to her songs.
They liked her. Everywhere.
I got to watch her perform in six different cities — and watch people clap and whistle and tip. In Amarillo, a group of guys asked her for an encore — but specifically for another of her originals.
And as cool as the gigs were, I could also talk about our particularly solid car harmonies on tunes like Joe Jackson's "Is She Really Going Out with Him" or how we played and sang along to "Shallow" more times than we probably should have.
We also played a fun game about a third of the way through the trip where we had to think of a band and a song we hadn't played yet. Not easy after dozens of car hours with constant music. Our 75-minute list, which we wrote down, included everything from Tom Jones and Styx to Big Thief, Janes Addiction and Jim Croce.
Like planning every aspect of the trip, Kirsti also controlled the radio and Spotify, and did it masterfully, turning me on to new music and jointly savoring the old stuff like the Beatles and Stones.
But what do I leave out in this column?
The literally crazy Nashville Uber driver, who actually said — no yelled — that she was crazy multiple times?
The cracked windshield debacle?
The invasion-of-the-moths Airbnb in Albuquerque?
Panning for gold in Colorado?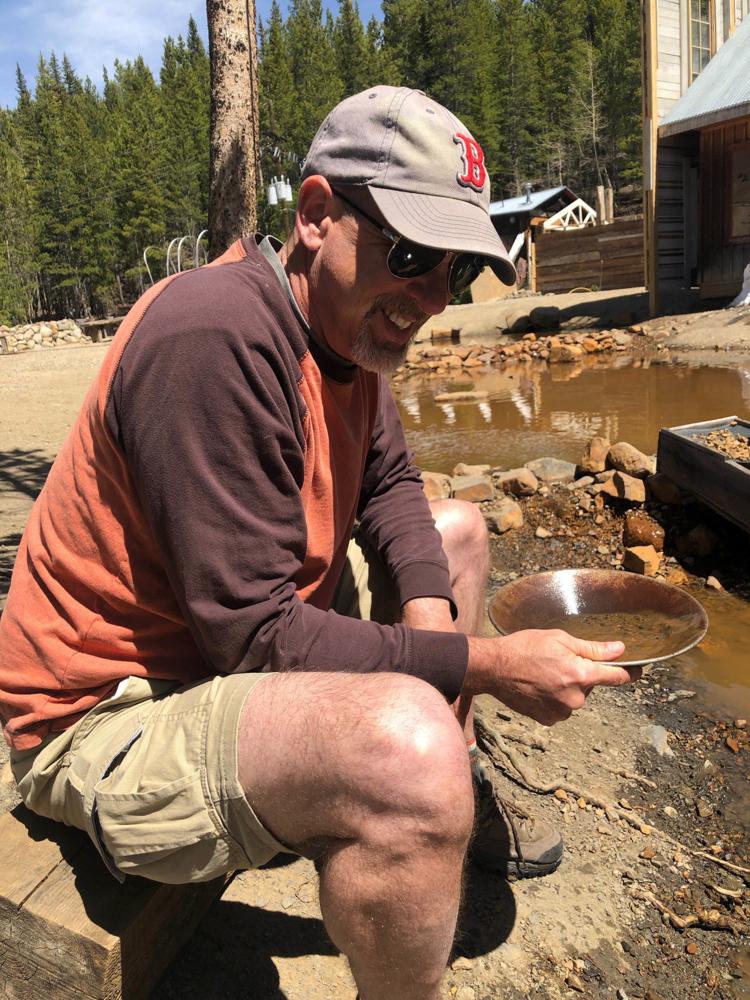 The $1,000 "Let it Ride" win in Reno?
Oh, and after the 5,000-mile drive, Craigslist and I sold the family's 2006 Toyota Sienna to a guy from Oakland and I flew home, leaving Kirsti to hang with her college friend in Ukiah, California.
Trust me, the planning and selling of the van is a column all its own!
We visited museums, a Native American cultural center, saw a Phillies games, and hiked a desert-ish mountain.
We had an amazing visit with a proud Native American woman who along with dozens of others sold handmade jewelry on blankets in Santa Fe in the same spots they've been selling for over a century.
Kirsti's college roommate drove 14 hours from Georgia to see her play in Dallas one night, surprising her mid-song after texting me all day to set it up.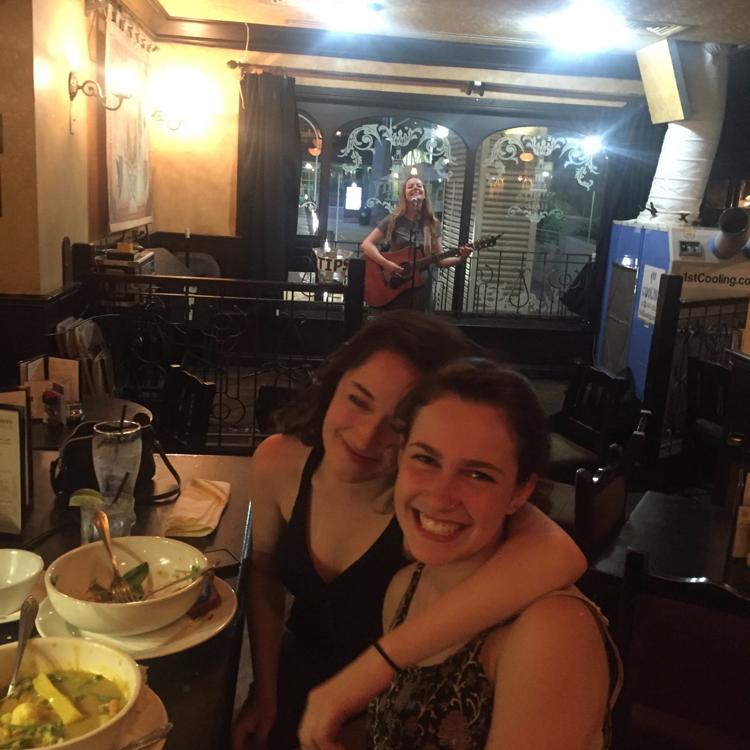 She played gigs in a Mexican place in D.C., an Irish pub in Dallas, an Amarillo biker bar and 12,000-foot above sea level patio in Breckenridge that included dogs and kids in the audience and a snow-capped backdrop.
You have free articles remaining.
In several of our dozen or so Airbnb's, we watched from a laptop the guilty-pleasure Netflix original "Riverdale" as we traversed the country, joking at how these high school "juniors" looked closer to my age.
The Airbnbs are a story all their own too, from the moth-plagued place in Albuquerque and sharing a stylish cotton-town home in Clarksdale to a palatial downstairs farmhouse apartment in Strawberry Plains, Tennessee and a cottage created as a retirement gig for a Filipino couple near San Francisco.
Oh, and there was the unique sign in Denver over a toilet that said it's OK to throw weed in the trash there and to NOT FLUSH IT. Funny, right?
I felt guilty about leaving my wife and other daughter home for more than three weeks. The dog has to be walked daily, the pool needs maintaining and the lawn needed mowing — a lot with that wet spring. The lawn is another story, with my wife at one point saying it was "consuming her."
The aforementioned tears in Nashville were tough too, the product of poor planning by the venue that had her trying to play over outdoor speakers they couldn't turn off (because people inside then couldn't hear the house music) — without the aid of a PA system — with friends there to see her.
Thankfully the impromptu mini-set in Mississippi's home of the blues came a day later and validated her musically, just when she needed it. That happened after we tipped the band, started to leave, and started chatting with the performer, Mark "Muleman" Massey (look him up on Youtube!) who had taken a break. He learned what we were up to while chatting outside with a small group over a sip of shine and asked her to go back in and play a couple tunes. She played to originals, "Black Mood" and "Cloudy" and the reaction of the crowd, including members of bands we just saw at the other place, was my favorite moment of the trip.
And despite being very compatible, Kirsti and I had our moments too.
I tell everyone, however, that literally we were testy with each other for maybe half an hour — IN 22 DAYS!
That's when she pipes in with a smirk, "I'd say more like an hour."
How many dads can hang 24/7 with their 22-year-old daughter for 22 days and only have an hour of issues?
Food is another theme, from Vietnamese pho and Indian dishes I can't even remember the names of, to Mexican tamales one day and tapas with a Portuguese band playing feet away the next.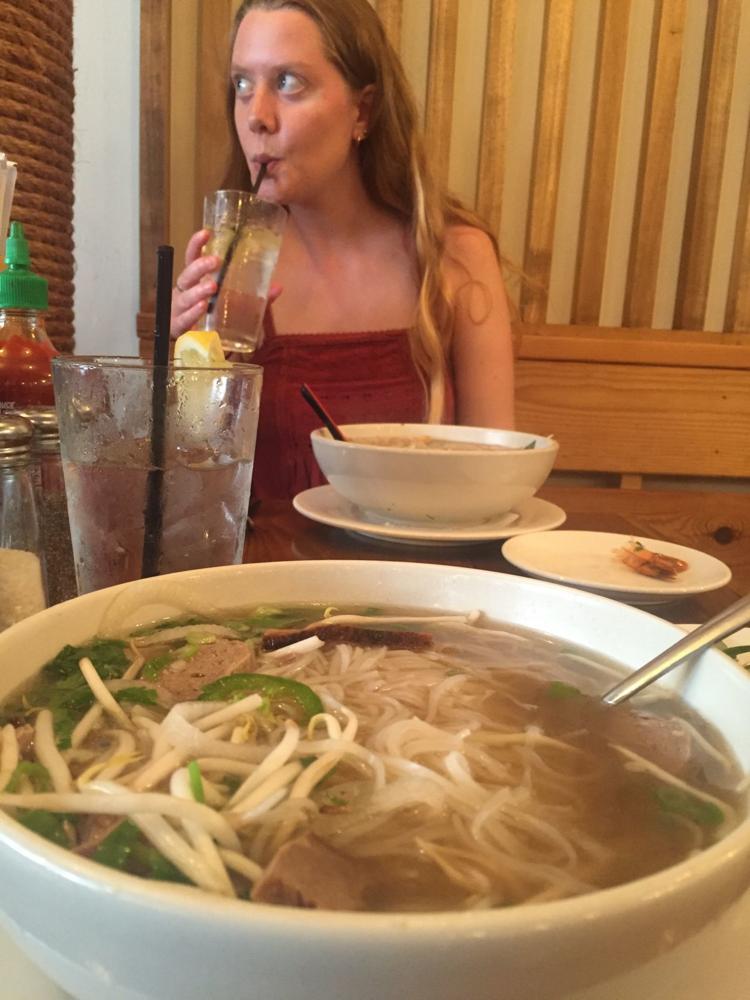 We also saw some novelty sights, like the American Pickers Nashville store, which is near a super cool old auto factory.
So, you can see my dilemma. I want to write about it all, and get into the smallest details. I want to tell it chronologically, with highlights interwoven to break it up.
Maybe it'll be another self-published effort like my last book, "Blow by Blow," or maybe a publisher will want it. But it will get written.
Even if it's just for me.
It was a trip of a lifetime that needs more than this column, but I had to at least get this off my chest, to get something out there. Writers need that.
I learned a lot on this trip, but a few things were very poignant.
I realized this country is vast!
I realized that people — all people — are generally kind.
I realized I want to do it again.
And I realized I could live in Santa Fe, New Mexico.
I put off writing anything about this trip for almost a month because it seemed too daunting.
Now I want to get started on it.
And in three years, when my second daughter graduates college, I hope I have a new adventure to write about.