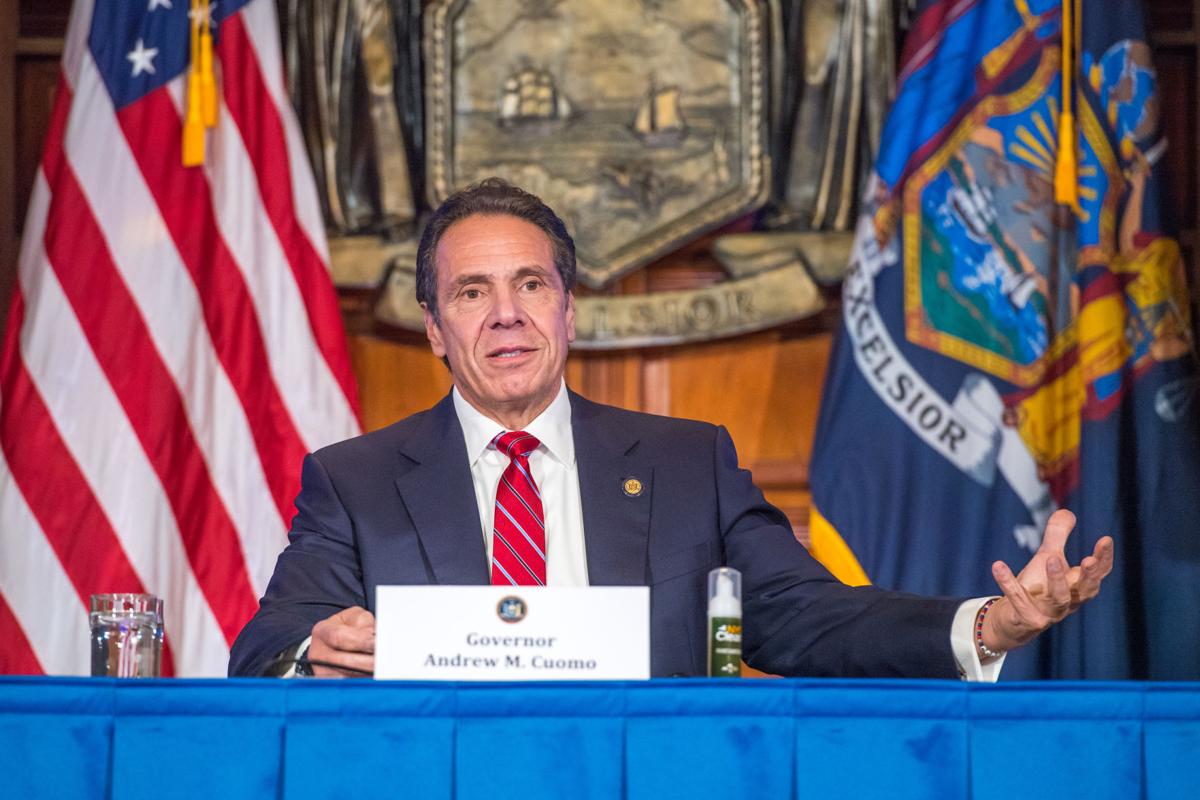 Gov. Andrew Cuomo on Wednesday criticized local law enforcement officials who said they would not enforce the state's 10-person limit on indoor gatherings, saying they have no business being in law enforcement if they are going to choose which laws to enforce.
"I don't believe as a law enforcement officer you have the right to pick and choose what law you will enforce," he said. "An executive order is a law."
Cuomo made the remarks at a coronavirus briefing in Albany, where he warned New Yorkers to avoid family gatherings on Thanksgiving and predicated that the state would likely see an increase in COVID cases as a result of the holiday, which would lead to further restrictions.
The governor last week issued an executive order requiring bars, restaurants and fitness centers to close at 10 p.m. and limit indoor gatherings to 10 or fewer in an attempt to reduce the spread of the virus, which has steadily been increasing in recent weeks.
"There's a law and you have to enforce the law or don't call yourself a law enforcement officer," Cuomo said.
But several law enforcement officials — including Warren County Sheriff Jim LaFarr and Washington County Sheriff Jeff Murphy — have said they would not enforce the order, citing a lack of sanctions and constitutional concerns.
Murphy, who is president of the state's Sheriff's Association, said he believes the governor had good intentions when issuing the order, but added local law enforcement officials have been put in a bad spot because the order cannot be enforced.
He said law enforcement cannot enter someone's house without attaining a search warrant, a process that could take hours.
Murphy also noted that the executive order does not clarify what a law enforcement official should do or who they should arrest or ticket — if anyone — if someone is found to be in violation of the order.
"These rules that are put in place … if they don't have the enforcement capability, he can't put it on local law enforcement and that's exactly what he's doing," he said.
When asked how local law enforcement should enforce the law, Cuomo acknowledged it would be a tricky situation.
"Is it hard to police? Yes. If you see it, stop it. That's really the point of the law. Don't invade privacy or anything like that, but if you see it stop it," he said.
Exposure in Warren County
Meanwhile, Warren County Public Health Services on Wednesday announced a low-risk COVID exposure for several businesses inside Aviation Mall and at O'Toole's Restaurant Pub in Queensbury.
A person who tested positive for the virus earlier in the day frequented the businesses last week, but wore a mask at all times, mitigating the exposure risk. The person, however, removed their mask while eating at O'Toole's, according to Health Services.
The exposure was identified through contact tracing.
Anyone who visited the following locations is being asked to monitor for symptoms for the next 14 days.
Target, Aviation Mall, Saturday, Nov. 14, during mid-afternoon hours.
JC Penney, Aviation Mall, Saturday, Nov. 14, during mid-afternoon hours.
Famous Footwear, Aviation Mall, Saturday, Nov. 14, during mid-afternoon hours.
O'Toole's, Quaker Road, Sunday, Nov. 15, 1 p.m. to 3 p.m.
Warren County reported one new case, for a total of 450 confirmed cases. Two people are hospitalized and one person is in critical condition. There are 27 people in the county still sick.
Washington County reported two new cases, for a total of 379 confirmed cases. No one is hospitalized, but 22 people in the county are still sick.
Saratoga County reported 35 new cases, for a total of 1,744 confirmed cases. Nineteen people have recovered, but 296 people are still sick and 12 are hospitalized.
Essex County reported seven new cases, for a total of 282 confirmed cases. A total of 24 people are still sick and one person is hospitalized.
On Tuesday, the latest day this data is available:
The Capital Region reported 177 new cases, for a positivity rate of 3.3%. Warren County had a positivity rate of 0.8%, but Albany County had a positivity rate of 4.7% and Schenectady County had a positivity rate of 4.6%. The goal is to be below 1%.
Statewide, 154,434 people were tested for the virus, which resulted in 5,294 new cases. That's a positivity rate of 3.34%. The state's hot spot areas had a positivity rate of 4.73% and the state without the hot spots had a positivity rate of 3.10%.
There were 2,202 people hospitalized and 35 people died.
Chad Arnold is a reporter for The Post-Star covering the city of Glens Falls and the town and village of Lake George. Follow him on Twitter @ChadGArnold.
Get local news delivered to your inbox!
Subscribe to our Daily Headlines newsletter.