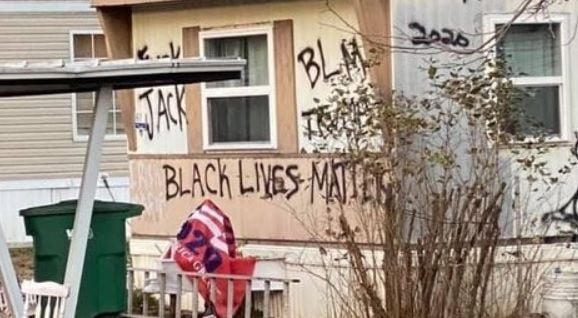 QUEENSBURY — A Queensbury man who has a Black fiancée and biracial children said he painted racial slurs on his residence to draw attention to the insults to which his family has been subjected during the last few months.
Richard Lucivero, 37, who lives at 61 Gregwood Circle, was arrested Thursday and charged with two counts each of felony third-degree criminal mischief and misdemeanor making graffiti. He is scheduled to appear in Queensbury Town Court on Nov. 23.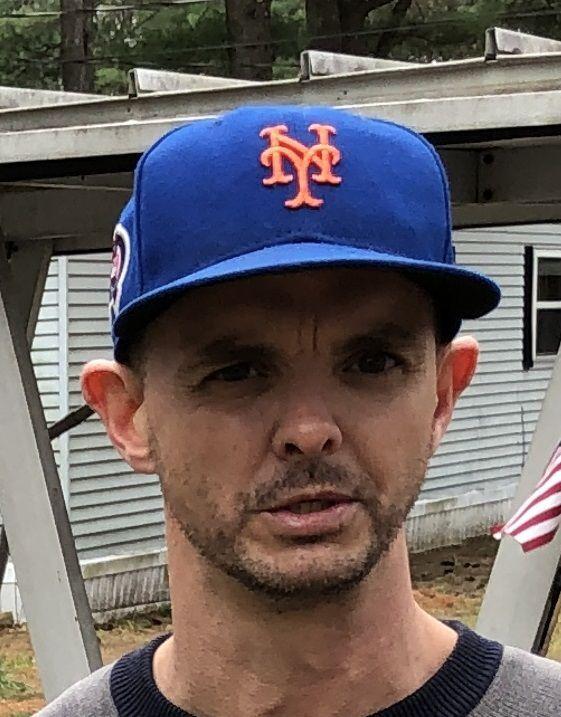 Lucivero said he moved to Queensbury from Long Island with his family in September 2019 because his mother was having health problems. He moved into her mobile home in Forest Park in June after she was hospitalized and is now in an assisted living facility.
The problem, Lucivero said, started in June after his children had a sleepover at the home of Josie Sabo. He had concerns about Sabo not adequately supervising his children. That precipitated a dispute, in which he claims Sabo directed racial slurs at his family.
That incident has escalated into Sabo repeatedly harassing his family and other neighbors directing insults their way, he said. The residents deny using slurs.
Lucivero said he painted the graffiti in a fit of frustration on Oct. 18 because the police and the property management company were not addressing the issue.
"All of a sudden, I'm the criminal. No, I'm not a criminal. We've been a victim since we've been here and I think it's disgusting," he said.
The graffiti has messages such as "Black Lives Matter," "N-word lover" and "Racist Park," as well as the F-word directed at one of the property managers.
He said his children, ages 8 and 6, have been called racial and homophobic slurs.
His 8-year-old son, Peyton, said he wore a long-sleeve shirt to cover his arms so his skin color would not show.
"I'm going to put every hateful word that has been said to me on this trailer," he said.
Raven Smith, Lucivero's fiancée, said Sabo has gone out of her way to follow her children and yell racial slurs and disgusting comments at them.
Smith said the family has paid their rent and the property management company is trying to evict them instead of addressing these racial issues. When she called to complain, she said she was told if she did not like it here, the family should move.
Lucivero said he left home for a couple of days to go back to Long Island and when he came back he discovered that some of the graffiti had been repainted with smiley faces and his basketball hoop was broken and thrown into a trash receptacle.
Lucivero said he was trying to sell the mobile home. However, he accused the management company of convincing his mother to sell the company the property for $1.
His mother still owned the mobile home when he painted the graffiti, he said.
Lucivero said he has had many people drive by and signal their support for what he did.
"It took me doing this to my trailer to get the word out," he said.
He also was charged with throwing rocks at Sabo's car, which he said did not happen.
He also accused Tyler Olden, who lives at 41 Gregwood Circle, of ripping up signs he had placed on his lawn and getting into a fight with him. Lucivero's tooth was knocked out when he fell down, he said.
Lucivero also accused Olden of knocking his fiancée's phone out of her hand when she tried to call for help.  
Olden was charged with harassment and obstruction of breathing.
Lucivero said because the management company, RHP Properties, has failed to address the issue, it has gotten out of control.
RHP Properties President Joel Brown said the goal is to maintain a safe environment for its residents and the family is in the process of being evicted.
"We have a person that is not authorized to live in the home in question," he said in a statement. "The person does not own the home, nor are they a leaseholder. In addition, this person is disruptive to our staff, other residents and the police department. For the safety and well-being of our staff and residents, this unauthorized person is prohibited from living in the community and we have taken the necessary legal steps to resolve the situation."
Sabo was charged with trespassing and harassment and appeared in Queensbury Town Court on Tuesday.
Sabo denied using racial slurs and said she is the victim of harassment from Lucivero and Smith.
"I was scared to even go to work. I was scared to live here, because I was getting death threats consistently. I grew up getting racist slurs thrown at me. People thought I was Mexican. They called me 'Jose.' I would never do that to another family and to be accused of doing it to children. I'm a mom before I'm anything in this world and I would never go after a child."
She said her daughter, who is autistic, has been called "retarded" by Lucivero and Smith and her 10-year-old son does not even want to leave the house.
"He doesn't like the screaming that they constantly do at us," she said of her son.
She said Lucivero falsely accused her of abusing drugs.
Olden said Lucivero is instigating things, adding that for Lucivero to say that he is calling him racial slurs is "ridiculous."
"He is the issue. He has called the cops on me three times in three days because he's unhappy that I'm not sitting in jail," he said.
Olden called Lucivero a "squatter" because he is living in a mobile home he no longer owns.
Thatcher said he initially had a good relationship with the family. However, he said Lucivero has accused him of desiring Lucivero's fiancée and accused Thatcher's daughter of using racial slurs toward Lucivero's son. He said he has not used any slurs.
Lucivero then had him arrested for making threats with a knife. Thatcher said he doesn't own any knives other than kitchen knives.
Thatcher said Lucivero is making everything about race and making all kinds of false claims.
"It's ridiculous stuff. It's obnoxious," he said.
Sign up for our Crime & Courts newsletter
Get the latest in local public safety news with this weekly email.