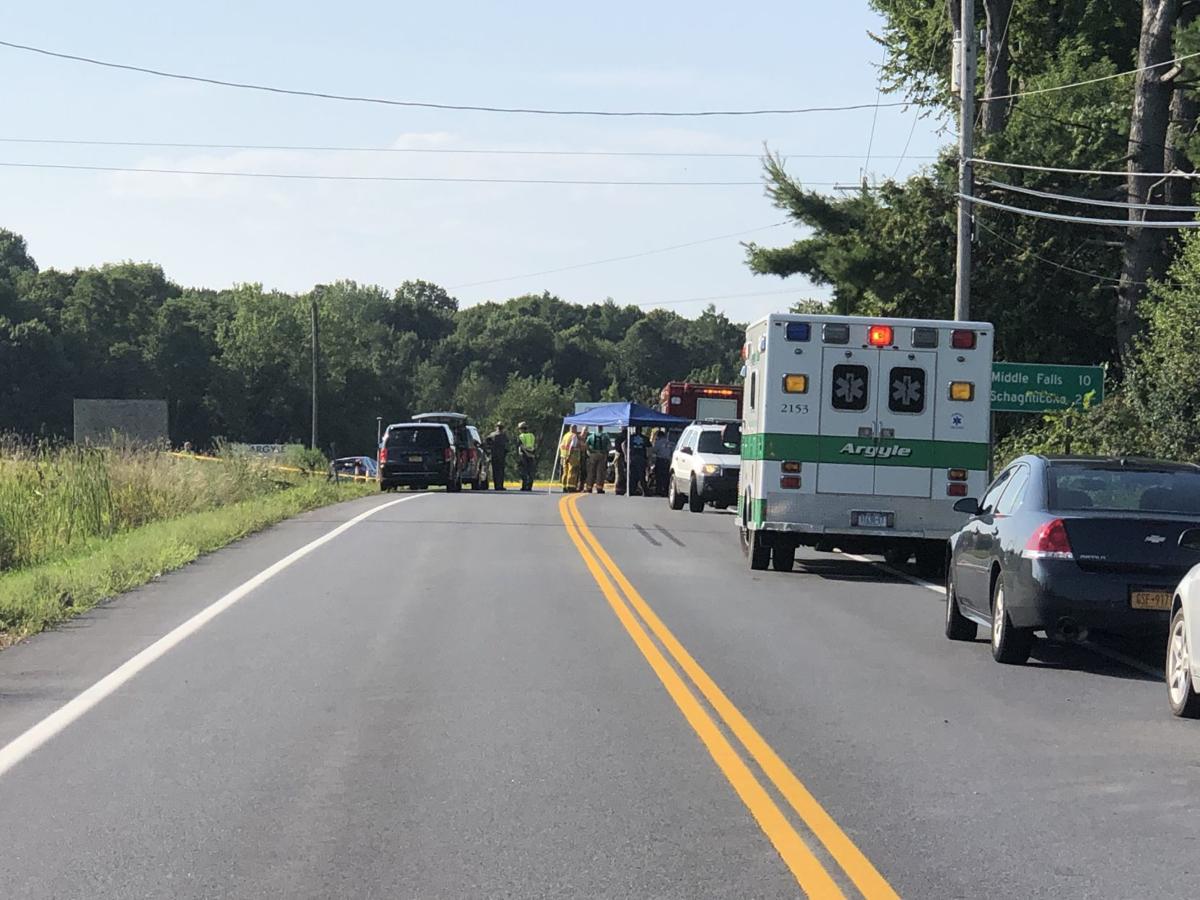 The wife of an Argyle woman who died in a crash with a police vehicle last summer has filed a notice of claim against Washington County, alleging that the officer involved in the collision was "negligent and careless" in causing the crash.
Joyce J. Paul of Argyle filed the notice against the county as the first step of potential litigation over the death of 72-year-old Susan J. Harrington. Those who seek to sue a municipality are generally required to file a notice of claim first.
Harrington died Aug. 19 when the Honda sport-utility vehicle she was driving on Route 40 in Argyle was hit by a Ford police SUV driven by Washington County sheriff's Deputy Cori Winch.
State Police investigated, and preliminarily determined that Winch, who was headed north, veered out of his lane and hit Harrington's vehicle. The agency's final report has not been completed, as the state Attorney General's Office is overseeing the investigation because of a police-involved death.
Harrington was well-known to visitors to local farmers' markets, where she and Paul sold baked goods under the name Effie's Baked Goods.
Paul was the executrix of Harrington's estate. A lawyer she retained, Pamela Nichols, served the county with a notice of claim that seeks "substantial" compensation because of the death that resulted from the deputy's actions. An exact figure was not included in the claim.
Should a settlement not be reached on the claim, a lawsuit could be filed in state Supreme Court.
You have free articles remaining.
Winch suffered serious lower body injuries, and has not returned to work. Washington County Sheriff Jeff Murphy said he has not been medically cleared to return to duty, and it was unclear when or whether he would.
Murphy said he could not comment on the crash and potential litigation.
Winch told investigators that he did not remember what happened as he headed south for a shift change shortly before 7 a.m.
Winch was completing an overnight shift as he was driving to the Sheriff's Office station on Route 22 in Salem when the collision happened near the Sweet Road intersection.
Authorities said he was not operating with lights or siren on, having just finished investigating a minor accident minutes earlier. There did not appear to be significant skid marks left by either vehicle at the crash scene, and the impact appeared to have occurred in the northbound lane.
State Police looked into whether poisonous carbon monoxide could have played a part in Winch losing control of the vehicle, and a blood test was done on him after the crash, officials said.
Ford Explorer police patrol vehicles such as the one Winch drove were found to have issues where exhaust leaked into the vehicle cabin, exposing occupants to carbon monoxide. A class action lawsuit was filed in Washington state last summer over the problems. The National Highway Transportation Safety Administration is investigating.
No elevated carbon monoxide levels were found in Winch, though that was not considered unusual if he had been exposed because the gas dissipates quickly when a person is exposed to oxygenated air after taking in carbon monoxide.
The Washington County Sheriff's Office equipped its Ford SUV patrol vehicles with carbon monoxide detectors, but after the crash one could not be found in the heavily damaged vehicle Winch drove.
Don Lehman covers police and court matters, Warren County government and the outdoors. He can be reached at 518-742-3224 or dlehman@poststar.com