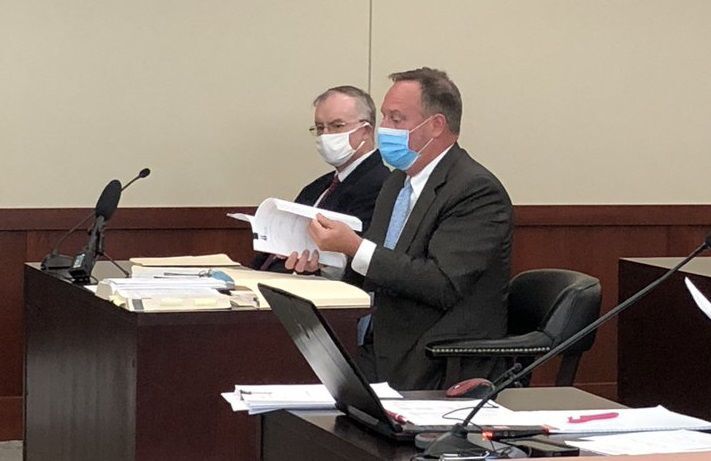 QUEENSBURY — The former director of the Lake George Watershed Coalition was sentenced in Warren County Court on Wednesday to 8 to 24 years in prison.
David Decker, 70, of Burnt Hills, was convicted in March of grand larceny, scheme to defraud and four charges of offering a false instrument for filing after a four-week trial. Decker is currently free pending an appeal of his case.
He was scheduled to be sentenced in June, but sentencing was delayed because of the COVID-19 pandemic.
Decker was arrested in 2017 after police said he stole $250,000 in state and federal grant funding between 2012 and 2016. During the trial, prosecutors said Decker had diverted funds from these grants into shell companies that he created, which did not provide any services or materials.
The coalition was made up of lake preservation groups and municipalities and was dedicated to improving water quality and the overall watershed.
Decker was also accused of not claiming the money on his taxes, as well as hundreds of thousands of dollars from a youth basketball league he ran.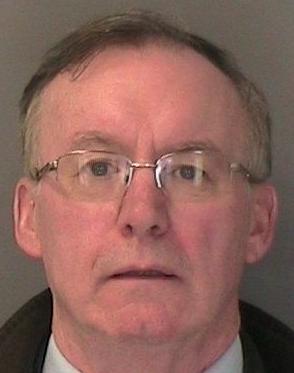 Prosecutors dropped several of the charges before the trial to streamline the case. He was convicted on six of the eight charges but acquitted of the weightiest one, scheme to defraud the government, which could have carried a sentence of 25 years in prison.
The fact that Decker has not shown any remorse dominated the hearing.
Assistant District Attorney Ben Smith said Decker had nothing to say during the pre-sentence investigation report.
"He's come before the court unrepentant, unremorseful and, at this point, unwilling to make his victims' whole," he said.
Decker's defense lawyer, Karl Sleight, said in his 30-year legal career he has never seen a more "glowing" pre-sentencing report than that for his client. Decker is a decorated military veteran who has dedicated his life to the environment, he said. Sleight said there have been many letters of support for his client.
"He's 70 years old. He's a two-time cancer survivor. He survived a serious heart attack," he said.
Sleight also worried about his client going to prison during the COVID-19 pandemic.
"To sentence Mr. Decker to a period of incarceration under the circumstances would be the equivalent of a death sentence," he said.
Sleight pointed out that Decker was indicted on 22 counts and 14 of them were dropped by prosecutors. He pointed out that prosecutors had offered Decker a plea deal of 5 years of probation and community service.
"Mr. Decker, being the innocent man that he is, rejected that plea," he said.
He alleged that his client was being punished for opting to go to trial.
Sleight asked for an unconditional discharge with no jail time.
"You're kidding," Warren County Judge John Hall said.
"This is an innocent man," Sleight replied.
"He's been found guilty of six felonies," Hall responded.
Hall took issue with the claim that Decker cannot be incarcerated because of the COVID-19 crisis. The judge said the state prison system has done a good job in preventing deaths from coronavirus among inmates and they receive excellent medical care.
"The fact that there's a pandemic going on isn't a get-out-of-jail free card," he said.
Hall pointed out that Decker is highly educated and knew what he was doing. It was not a case where he got in over his head in managing these funds, the judge said. Rather, Hall said, he was the "author of an insidious scheme to steal money and cover up for it."
Hall said that when auditors and municipal officials questioned what happened to the funds, Decker made up excuses including that New York state was slow in distributing the money.
Hall said Decker has not shown remorse for his crime and that was evident in the pre-sentencing report.
"I heard a lot of bad things about Mr. Decker and (it) really was quite an eye-opening experience to determine the depth of his depravity," Hall said. "I really didn't expect that. I see drug dealers and sex offenders and people who assault other people who can at least come in and say. 'Judge, I did a bad thing. I'm sorry. I get it I won't do this again.'"
"No one has tried to hide their criminal conduct the way Mr. Decker has. It's really quite extraordinary," he said.
As far as not having a criminal record, Hall said Decker's scheme went on for many years and he just got lucky that he did not get caught.
Hall sentenced Decker to 3 to 9 years in prison on the grand larceny charge, 1 to 3 years on the scheme to defraud charge and 1 to 3 years on each of the four counts of filing a false instrument for filing — all to be served consecutively.
Decker must make restitution
A restitution hearing will be held at a later date.
Smith, the assistant district attorney, asked the court to impose a fine of twice the amount of restitution. Decker owes $135,000 to the Lake George Watershed Coalition, $50,000 to Warren County, $53,625 to the Fund for Lake George, $4,129 to Fort William Henry and $1,709 to the village of Lake George. In addition, Decker should pay nearly $26,000 in unpaid taxes, Smith said.
Case being appealed
Sleight has appealed the conviction on several grounds. He believes that the prosecutors failed to prove criminal intent by Decker. He also alleged that prosecutors changed their theory of their case. After more than three years of arguing that Decker allegedly falsified tax returns to avoid paying taxes, prosecutors abandoned that theory in the middle of the case and argued that any mistake or omission on tax returns is a crime.
Sleight said afterward that it may be a year before the Appellate Division of state Supreme Court hears the case.
Officials react to sentence
State Comptroller Thomas DiNapoli and Warren County District Attorney Jason Carusone issued a joint statement praising the sentence.
They pointed out that Decker took over $100,000 in grant funds that were meant to reimburse subcontractors who he did not pay. Instead, bank records show that he withdrew funds from the watershed account and spent the money at Saratoga Race Course, Foxwoods MGM, Harrah's and Turning Stone casinos. The records also show that he paid his personal credit card bills as well as numerous other personal expenses and inappropriately transferred grant money to his personal investment funds.
"Mr. Decker helped himself to hundreds of thousands of dollars meant to help his community," DiNapoli said in a news release. "Thanks to my partnership with District Attorney Carusone, the Department of Taxation and Finance and the Warren County Sherriff's Department, Decker's shameless exploitation of his position of trust was exposed and he has now been held accountable for his actions."
Carusone said Decker's years of illegal conduct harmed local businesses, government entities and nonprofit organizations.
"The jury's verdict and the court's sentence send a strong message to the defendant that his ongoing criminal activity will not be tolerated," he said in a news release.
Carusone also thanked Smith and Assistant District Attorney Christine Stevens for prosecuting the case.
New York State Commissioner of Taxation and Finance Michael Schmidt said state grant funding is meant specifically for the betterment of local communities.
"When that money is instead used for someone's personal gain, they must be held accountable. We cannot stand by while the public trust is so blatantly violated," he said in a news release.
Citizen activist Travis Whitehead, of Queensbury, also sent an email to The Post-Star commenting on the verdict. In the past, Whitehead has raised questions about why the grant funds were taking so long to be reimbursed and the oversight of the programs.
"I feel good that justice has been served in the case of David Decker's actions, however I still wonder why his actions could go undetected for so long and why it took considerable efforts by someone outside of his reporting chain to detect, or at least to report those problems to the authorities," he wrote.