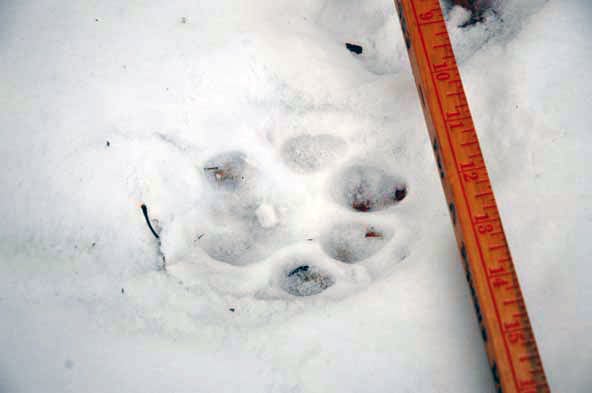 LAKE GEORGE -- State wildlife biologists have confirmed that a wild mountain lion passed through Warren County last winter before it was hit and killed by a car in Connecticut earlier this year.
The big cat was hit by a car in Milford, Conn., on June 11.
A series of DNA analyses have linked it to mountain lion fur left behind with cat paw prints in the back yard of a Lake George home last December, said Lori Severino, a spokeswoman for the state Department of Environmental Conservation.
Officials believe it was native to South Dakota, and said it was tracked through DNA samples and trail camera sightings from the upper Midwest through Minnesota, Wisconsin and Michigan, likely passing through southern Canada before it appeared in upstate New York.
That was where Cindy Eggleston, the wife of a retired DEC colonel, spotted it in her back yard off Truesdale Hill Road last Dec. 16, according to the DEC. It left behind paw prints and enough fur in a bedding site that it could be analyzed for DNA.
When a mountain lion was killed in Connecticut this spring, its DNA was compared to that taken from the fur recovered in Lake George, and there was a match, she said.
The cat was a mature adult male that weighed about 140 pounds when it was killed. Biologists believe it was searching for a mate as it wandered east.
"This sighting turns out to be a part of a remarkable and fascinating case," DEC wildlife biologist Kevin Hynes wrote in his report about the matter.
The eastern cougar was declared extinct by the U.S. Fish & Wildlife Service last spring. A population that existed into the 1800s was killed off by hunters and trappers.
Occasional sightings are reported in the region, but the Lake George case was the first confirmed cougar presence in the region since a small mountain lion was killed in Saratoga County in 1993.
That animal was found to be a native of South America and was believed to have been released from captivity.
Hynes wrote that the matter provides good insight on the status of cougars in the region.
"It is interesting to note that this one lone mountain lion passing through New York was detected and confirmed through track photographs and DNA (and also detected and confirmed several times in other states), which is good evidence that if a population of mountain lions lived in the northeastern U.S. they would likely be detected," he wrote.
Severino said the case shows the DEC takes reported cougar sightings seriously.
"This is really an extraordinary situation, but it doesn't necessarily mean that DEC will change any current protocol in terms of how we deal with reported sightings," she wrote in an email. "It does reinforce what is already done in New York. Reported sightings (and photos of tracks, etc. that come through) are taken seriously and investigated by the department."